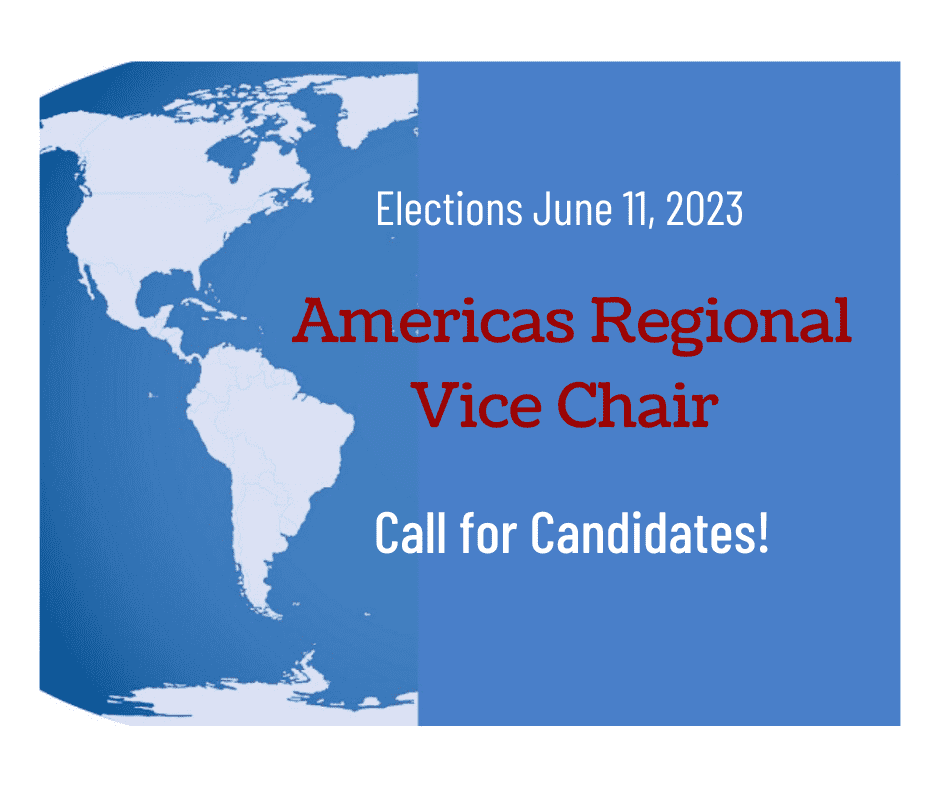 The DA Americas Nominations and Elections Committee (NEC) is pleased to announce that nominations are now open and welcome from members of Democrats Abroad (DA) residing in the Americas Region for the biennial election of the important position of Americas Regional Vice Chair (RVC).
The election will take place in-person and online at the Americas Regional Meeting in Washington, DC, at 9AM ET on June 11th, 2023, as a part of the DA Annual Global Meeting. At this election, one vote is allocated to each DA country committee Chair and Vice Chair in the Americas region.

Please read on for the following:
·  About the Position
·  Nominations
·  Eligibility
·  Important Dates
Contact the DA Americas NEC for any questions or to request additional information at: [email protected]
| | |
| --- | --- |
| |  About the Position |
DA has three (3) Regional Vice Chairs, one for each of its three (3) regions.
Each RVC:
·  Serves as one of eight (8) members of the International Executive Committee of the Democrats Abroad;
·  Is elected to a two (2) year term, and may not serve more than two (2) consecutive terms; and
·  Communicates Executive Committee decisions, policies, and Democrats Abroad best practices to regional leaders.
| | |
| --- | --- |
| |  Nominations |
Both self-nominations and nominations of others are welcome.

Please submit nominations via this Nomination Form ; Candidates must have completed the Nomination Form and submitted all requested materials no later than May 25th at 11:59pm ET.
Within the Nomination Form, each candidate will be asked to:
1.      Verify their eligibility and commitment to serve (private to the elections committee)
2.      Provide candidate profile information from which a Candidate Statement will be compiled and presented to DA members and publicly posted on the DA website. A personal photo is also requested and would be included in the Candidate Statement.

Note that all nominators must be members of Democrats Abroad.
Nominations from the floor are also possible at the election on June 11th. All candidates will be given time to make a short speech.
| | |
| --- | --- |
| |  Eligibility |
Each Nominee Must:
·  Be a member of Democrats Abroad for at least six (6) months prior to the election, so must have joined prior to December 11, 2022;
·  Have their principal residence in the Americas (outside of the US); and
·  Adhere to the principles of the Democratic Party of the United States.
Additionally, experience serving on a country committee, global caucus committee, or other equivalent leadership experience within DA is helpful, although not required. We particularly encourage candidates from historically underrepresented backgrounds to stand for office.
| | |
| --- | --- |
| |  Important Dates |
·  April 27: Official announcement of elections and call for candidates, with the Candidate Submission Form included, sent 45 days prior to elections

·  May 12th: 30 day reminder announcement

·  May 25th: Candidate Nominations Deadline, 11:59pm ET

·  May 28th:  Announcement of candidates, with Candidate Statements' sent to all members and posted on the DA website
·  June 11th: Americas RVC Election at 9am ET; in-person and online participation (link to be provided)