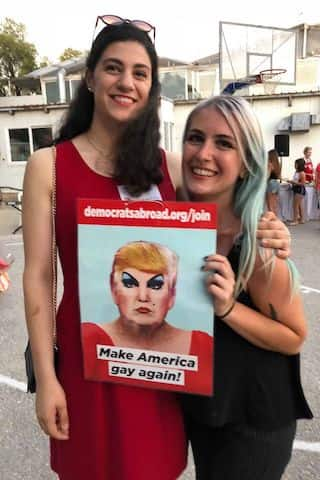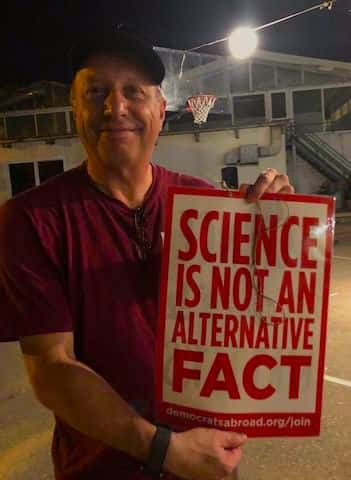 Of what use is a photo of yourself holding a sign? Well, it IS a message! And it's a fast way to send that message. You send friends pictures from the beach, with your family, of your latest grandkid. Why not send one to your elected official?
It's just a mini billboard and a lot cheaper than those big ones along the Interstate! You don't even have to send $3 to help us put it up!DAGR tried something new at the 4th of July celebration in Athens … the Selfie Helper. As noted below, sending a selfie is a piece of cake for some phone owners and alien turf for others. So, we asked a volunteer to stand by to help the selfie challenged. The goal was to carry on from a virtual presence on June 30 "Families Belong Together" action. And to learn.

The ubiquitous mobile phone ... a recorder of history, a news camera, to amplify official versions or add substance to claims of mistreatment. From traffic stops to paragliding, the camera tells it all.
When phone designers added a second camera pointed back at the user, the selfie took off! Selfies started out as a lark, one more way to say 'Kilroy is here, and I'm Kilroy!'. Then the afficianodos began to find more serious uses of this instant sharing facility.
Selfies as a Dems Abroad tool
DA's tech-savvy leadership has encouraged selfies and virtual messaging. On a social media page, they're a visual 'list' of supporters. Put together in a montage, hundreds of them together form a virtual march from all around the world. The virtual amplifies the live protests and official statements sent to the party lawmakers.
Some country committees have been represented better than others, depending on savvy, connectivity, and knowledge of which link to send their selfies to. But, before each major event, there seems to be a welter of hashtags and addresses that might or not land the photo where someone else can pick it up and include in a montage..
This is especially so if the protest is launched by another group, or coalition in which DA takes part. Everybody's got a hashtag in the game. Where do I see myself after the event? The fog of addresses is clearing slowly, but for those accustomed to more traditional letters, calls and now emails and petition clicking, the key question is whether anybody cares about a selfie.
Who can get a Selfie?
Selfies aren't everybody's cup of tea. And you can't send them to all politicos. But DAGR Vice Chair Steve Medeiros and Athens Chapter Chair Marion Kavallieros did a bit of digging and found some promising possibilities.
They started with the "Indivisible" proposition that the message should be sent to one's own Congressman and Senators. They're all listed in government websites. Each one has an email option for contact. Easy, right? Um, nope! Unfortunately, the dialogue box only accepts written messages, typed or pasted in.
Steve discovered a web facility that would send a selfie directly to your designated public official. A perfect solution, but, it's only set up for stateside users. He wrote off to them to suggest they expand their service abroad. They haven't written back. Yet.
And then, it hit them. Facebook.
In FB Messenger, you can upload a photo. Save it to your computer or phone Internet app, and upload it to a message. Do all congresspersons have Messenger service? No. But a lot do. And each of us only has to check three officials. Ours.
You can probably do this in Twitter and Instagram, too. The team just didn't have time to get that far before the fireworks went off. Stay tuned. For now? Instructions below.
For the camera-confident, Go For It!
if you're good with your camera and have some confidence with 'posting selfies,' here's what you do:
Look up your Congressperson or Senators on the gov't websites.

Drop their full name into Facebook search box. They may have more than one page. Look for one with a Message link. If they have one, you're good to go.

Print out a sign or scribble one on a piece of A4 paper.

Hold your sign and take your selfie.

Upload it to your personal Facebook timeline.

Then Share it via Facebook Messenger to each congresscritter you've found.
If you use Twitter, you can try the same method as for Facebook. Your elected officials may accept photos. If they do, tweet them a selfie with message!

Text Messages … Say It With Words!…
Some elected officials don't have Facebook or Messenger or a Twitter feed. If not, or if you're not up to selfies, you can use the old-fashioned written word.
Almost all congresspersons have a 'contact me' link in their government listing. Find your three (one congressperson, two senators) at these two sites:
Click on the "send email" or 'contact' link to open the dialogue box.

Fill in your voter info so they know they should worry about getting YOUR vote.

Select a 'category.' Note: There's rarely one that fits what you want to say.

Type in a Subject line, e.g. "Re-unite Immigrant Families"

Type your message in the box. It can be quite short, or longer and heartfelt. But it should be clear, e.g. "The zero-tolerance immigration policy keeps kids in jail, with or without their families. Please do all you can to reunite families IMMEDIATELY, release families from detention, and then work for a sane, humane, effective immigration policy in compliance with international standards of human rights."
Most officials now ask for a US phone number. If you don't have a US phone, borrow one. (First, ask your friend, agent or relative for permission … and which number they keep only for telemarketing and nuisance calls.)
Or go to voice communication
The links above for Senate and House also have the phone numbers for their DC offices. If hometown offices are not listed, and you want to call during a holiday break, click on their website address. There may be several offices for a senator across the state. Most congresspersons have just one. Find these numbers in the personal websites.
Long distance to the US used to be expensive. If you have a flat-rate calling arrangement, it may cost the same as a local call now. If not, use calls for the most urgent matters you want to weigh in on. Be prepared with your information and talking points. Keep it short.
These calls ARE counted by staffers. So are the messages left for some lawmakers. They're definitely worth the effort!
Do you like this post?