The Pandemic's Impact on Harassment and Violence Against Women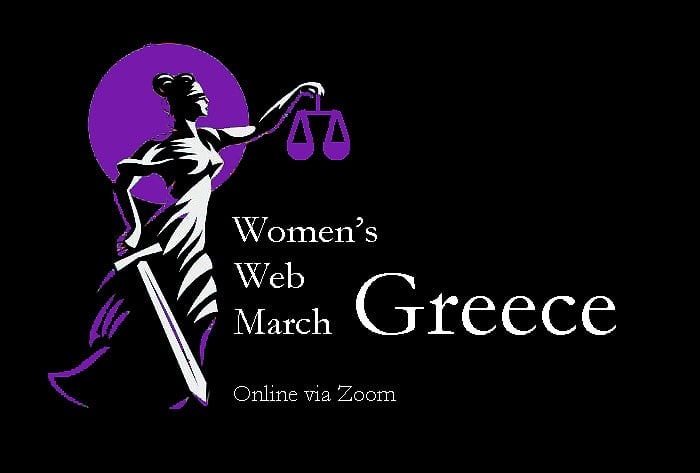 Democrats Abroad Greece Women's Caucus will hold an online conversation on March 31 at 8 pm via Zoom, for the Women's Web March: Sexual Harassment, Violence Against Women and the Pandemic
This event, now celebrating its 5th anniversary, gives each attendee the opportunity to take action on the most pertinent female issues through the expertise of three women hailing from different fields: law, politics and the arts.
Maria Alvanou, attorney and criminologist, director Eugenia Arsenis, and political scientist Zefi Dimadama discuss sexual harassment and violence against women during the pandemic.  The discussion will focus on #MeToo -- what it is and what it is not, the reality of living in lockdown and the cultural barriers to calling out and overcoming sexual harassment and violence against women.
In 2017, the first Athens Women's March took to the streets to voice the numerous women's issues that all women around the world confront:  ending violence against women and girls, sexual harassment in the workplace, equal pay and reproductive rights, bodily autonomy and sexual consent. 
For 2021, the Women's Web March via ZOOM will raise awareness of the negative impacts that COVID-19 has had on women and the explosive #Metoo movement in Greece. During this pandemic year, domestic violence has surged affecting 1 in 6 women. In addition, over 200,000 women were forced to give up their jobs in order to stay at home and take care of family members. Once again, women's rights are experiencing a massive rollback. At the same time, the #Metoo movement has brought to the forefront sexual violence and sexual harassment in practically all sectors, from athletes, to the arts, and in schools etc. These attempts to subvert women's human rights are what drives the platform for women to  be heard and empowered through discussion on these multiple pressing issues.
The program will run 60 minutes and is organized by Georgia Kallis and members of the Democrats Abroad Greece Women's Caucus.
The Speakers: 
Dr. Maria Alvanou, Criminologist
Criminologist Maria Alvanou holds an International Research Doctorate in Criminology from the University of Trento and is actively engaged in the study of homeland security issues. A participant in the International Visitor Leadership Program of the U.S. State Department Counterterrorism program, she is featured as IVLP/Leadership Exchange Alumni Leading the COVID-19 Global Response - The Builder: https://youtu.be/paPgC7afvlQ). Her doctoral thesis concerned suicide incidents and women perpetrators. Alvanou also holds a postgraduate diploma in History, Philosophy & Sociology of Law. She is a member of Women Experts' Network/Foreign & Security Policy, the Italian Team for Security Terroristic Issues & Managing Emergencies, the Disaster & Emergency Research Network, and the Radicalization Awareness Network. Her teaching, tutoring and lecturing experience includes: Neapolis University Pafos (Cyprus), Essex Online University, and the Greek Police and Military Schools. As a member of the "COVID-19 and Viral Violence" Working Group (supported by the National Science Foundation funded Social Science Extreme Events Research-SSEER Network & CONVERGE/Natural Hazards Center at the University of Colorado, Boulder) she studies COVID-19 pandemic-related forms of violence. Alvanou is a defense lawyer (Thessaloniki Bar Association) and mediator.
---
Dr. Eugenia Arsenis, Director
Dr. Eugenia Arsenis is a director and dramaturg with a doctorate in philosophical aesthetics. As a director, she has collaborated with international organizations (Royal Albert Hall, Center for Contemporary Opera, San Francisco Opera Center, Skylight Music Theatre, Greek National Opera, National Theatre of Northern Greece etc). For her artistic work, she was honored by important festivals all over the world, from the BBC Proms in London to the San Francisco Opera Center in the United States. As a writer, her play, Women of Passion, Women of Greece, has travelled the past few years from Australia to India. She was the coordinator and dramaturg of the Experimental Stage of the Greek National Opera from its inception, and she is the dramaturg of the Center for Contemporary Opera in New York. Her education includes directing and dramaturgy at Royal Holloway University of London, musical analysis and opera directing at Boston University, philosophy at University College London, film directing and screenwriting at the New York Film Academy, and she holds a PhD in Philosophical Aesthetics, Opera and Greek Drama from the University of London. Holder of numerous scholarships, she has participated with lectures in international conferences and has taught at many universities. She was board member of the National Theatre of Northern Greece, the Greek Film Center, Registrar of Public Relations of the Hellenic Theatre Studies Association and President of the Hellenic Center of the International Theatre Institute. She is Creative Director of the international forum Artivism Drives Democracy and the delegate of the Greek Directors' Guild at the Federation of European Directors (FERA).
---
Dr. Zefi Dimadama, Political Scientist
Dr. Zefi Dimadama is a lecturer in the Department of International, European and Regional Studies at Panteion University and holds a Doctorate (PhD) and Postgraduate Diploma (MSc) in "Regional Sustainable Development and Environmental Policies." Dimadama is the Vice President of Women of the European Socialist Party (PESWOMEN) and she is a Deputy Spokesperson for the Change Movement-PASOK, Greece. Dimadama is active internationally on issues related to climate change and environment as well as on human rights and gender equality.
She has a significant presence in international forums and important scientific work in international organizations and has participated in research activities on European environmental policies and human rights (Germany, Belgium, UK).
---
Join us for a fact-filled and very timely discussion.
Wednesday, March 31st, 2021
20:00 (8 p.m.)
via Zoom
RSVP on the DA Greece Events page to receive the Zoom link!
If you have any questions, please contact Stacey Harris-Papaioannou, [email protected] or call 694 294 0720.