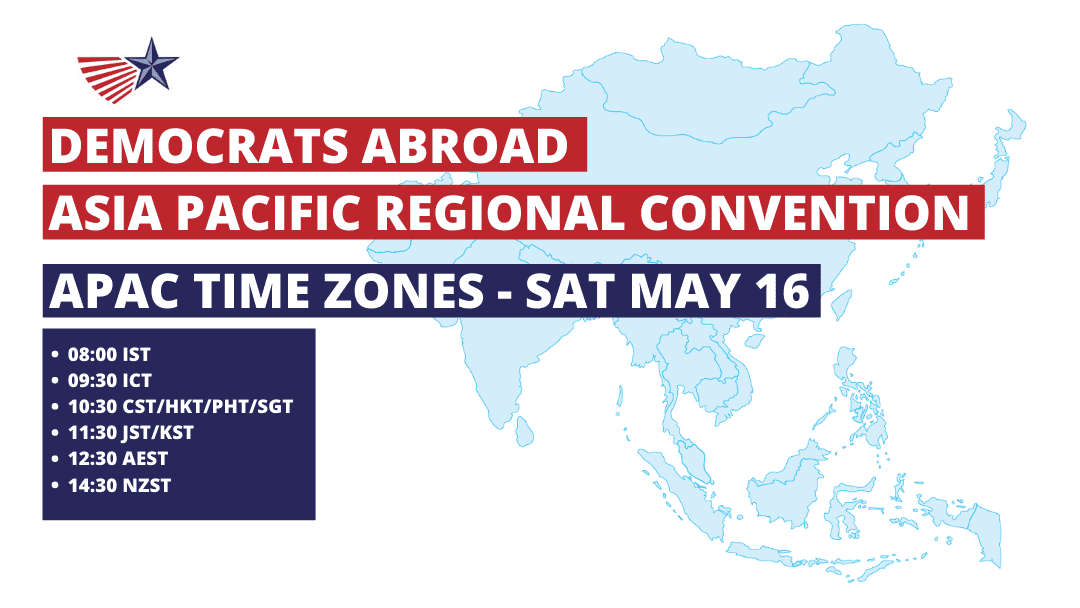 Thank you for your interest in attending the Democrats Abroad AP 2020 Regional Convention! 

All members and other observers wishing to join must register using this Registration Form: https://forms.gle/6ciBMJFVoGKhXhkj8
The 2020 AP Regional Convention will commence sharply at 10:30 PM EDT on Friday, 15 May, which corresponds to Saturday, 16, 2020 across the region. Corresponding times on Saturday, 16 May are 7:00 am IST, 9:00 am ICT, 10:00 am CST/HKT/PHT/SGT, 11:00 am JST/KST, 12:00 pm AEST, 2:00 pm NZST
WHO: Asia Pacific Democrats Abroad Electors, Candidates, Members & Observers
WHAT: 2020 AP Regional Convention
WHERE: Online via WebEx 
CONVENTION BUSINESS: Election of AP 2020-2024 Democratic National Committee Member; Election of 2020 Democratic National Convention AP Delegates; Election of AP Global Convention Platform Committee Members; Resolutions Discussion & Adoption


All eligible electors and candidates have already registered for the 2020 AP Regional Convention and do not need to Register using the above posted Registration Form.
U.S. citizens and especially members of Democrats Abroad are very welcome to observe the proceedings of the 2020 AP Regional Convention. Non-U.S.-citizens are also welcome to attend. If you are not a U.S. Citizen, contact the Permanent Regional Convention Chair, Kat Allikian, to make arrangements:  [email protected]
We look forward to seeing you on Saturday, May 16th! 
Democratically Yours,
2020 AP Regional Convention Team
Special thanks to Elaine Chow for the 2020 AP Regional Convention Graphics!
WHEN
May 16, 2020 at 12:00pm - 5pm Eastern Time (US & Canada)
Do you like this post?