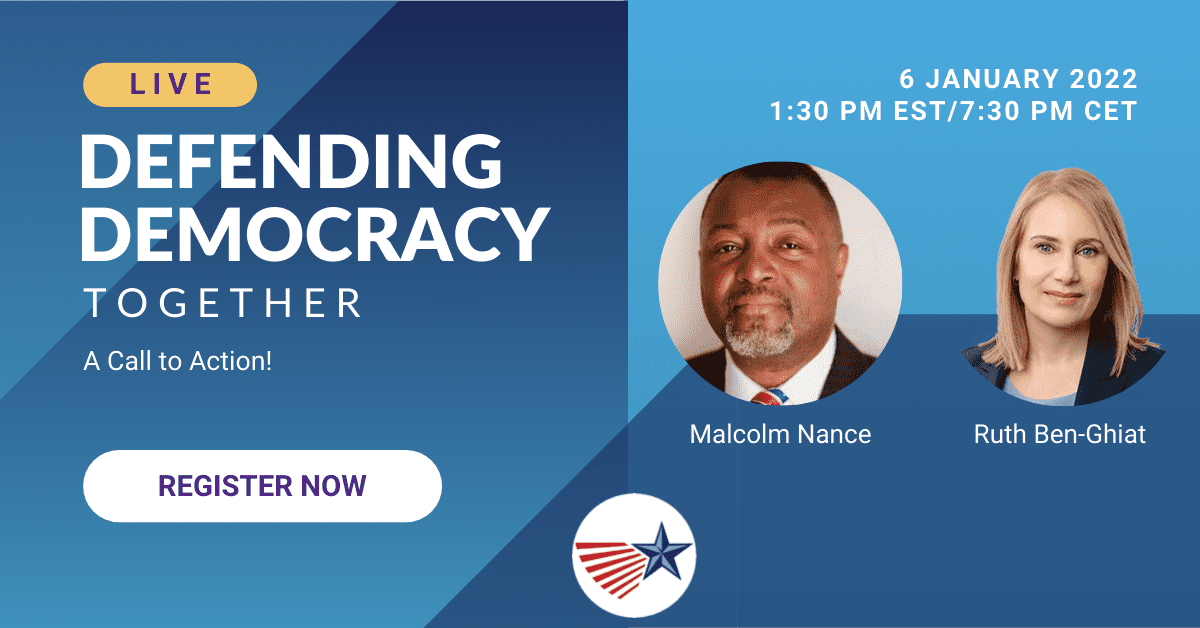 On January 6, 2021, people around the world watched in horror as the peaceful transfer of power was violently disrupted in the U.S. Capitol in Washington, D.C. Scores of people were injured and five lost their lives. 
One year later, we come together to remember and reflect on the historical moment in which we find ourselves, when 58% of self-identified Republicans continue to believe the Big Lie that former President Trump did not lose the election.
As Democrats Abroad, we will be defending democracy on January 6 the best way we know how: by registering to vote and helping others do the same.
When we come together at 7:30 p.m., everyone is invited to send in their FPCA (Federal Post Card Application) in real time. The FPCA is both a voter registration and ballot request form and must be submitted by overseas voters every calendar year. Let's get it done together!
Breakout rooms for anyone requiring assistance with their FPCA submission will be provided by our hosts, the Munich Chapter of Democrats Abroad Germany.
Personalized messages for Democrats Abroad have been recorded for this occasion by authoritarianism expert Professor Brian Klaas as well as Representative Jamie Raskin (MD-8). Representative Raskin served as Impeachment Manager during the second impeachment trial of former President Trump and now sits on the January 6 Select Committee investigating the events of that day.  
Finally, we will welcome two very special guests joining us live via Zoom. Malcolm Nance is a national security expert, bestselling author, and longtime friend of Democrats Abroad. Ruth Ben-Ghiat, Professor of History and Italian at New York University, specializes in propaganda and authoritarianism and is one of our nation's foremost experts on how movements to undermine democracy can be resisted.
Please join us as we kick off our GOTV and Voter Assistance efforts heading into the most consequential midterm elections of our lifetimes. RSVP today!
Don't wait! Register to vote/request your absentee ballot today at https://www.votefromabroad.org/.
Consider making a donation to help get out the vote in 2022. Donate today at https://www.democratsabroad.org/donate.
---
Malcolm Nance is a former Arabic-speaking naval intelligence counter-terrorism and intelligence officer specializing in the Middle East; a combat veteran; Survival, Evasion, Resistance, and Escape expert; historian; and author. He spent 35 years participating in field and combat intelligence activity, including both covert and clandestine anti- and counter-terrorism support to national intelligence agencies. He is a member of the Board of Advisors at the International Spy Museum in Washington D.C. He is honored as one of the noteworthy African-Americans in Espionage and featured in the Academy Award-nominated documentary Dirty Wars.
He is also a counter-terrorism analyst for NBC News and MSNBC.
Malcolm is the author of several books, including The Plot to Hack America: How Putin's Cyberspies and WikiLeaks Tried to Steal the 2016 Election, the NYT's Bestseller The Plot to Destroy Democracy: How Putin and His Spies Are Undermining America and Dismantling the West, and The Plot to Betray America: How Team Trump Embraced Our Enemies, Compromised Our Security, and How We Can Fix It.
His latest book, They Want to Kill Americans: The Militias, Terrorists, and Deranged Ideology of the Trump Insurgency, will be out in July 2022.
---
Ruth Ben-Ghiat is a historian and commentator on authoritarianism and propaganda. She is a professor of history and Italian studies at New York University; the recipient of Guggenheim, Fulbright, and other fellowships; and Advisor to Protect Democracy. She is also a regular contributor to MSNBC, CNN, and other media outlets, and the publisher of Lucid, a newsletter on threats to democracy. Her latest book, Strongmen: Mussolini to the Present (2020), looks at how illiberal leaders use propaganda, corruption, violence, and machismo, and how they can be defeated. You can read her recent article on the historical import of January 6 here.
WHEN
January 06, 2022 at 7:30pm - 9pm Berlin Time
CONTACT
Kaitlyn Kennedy ·
Do you like this post?