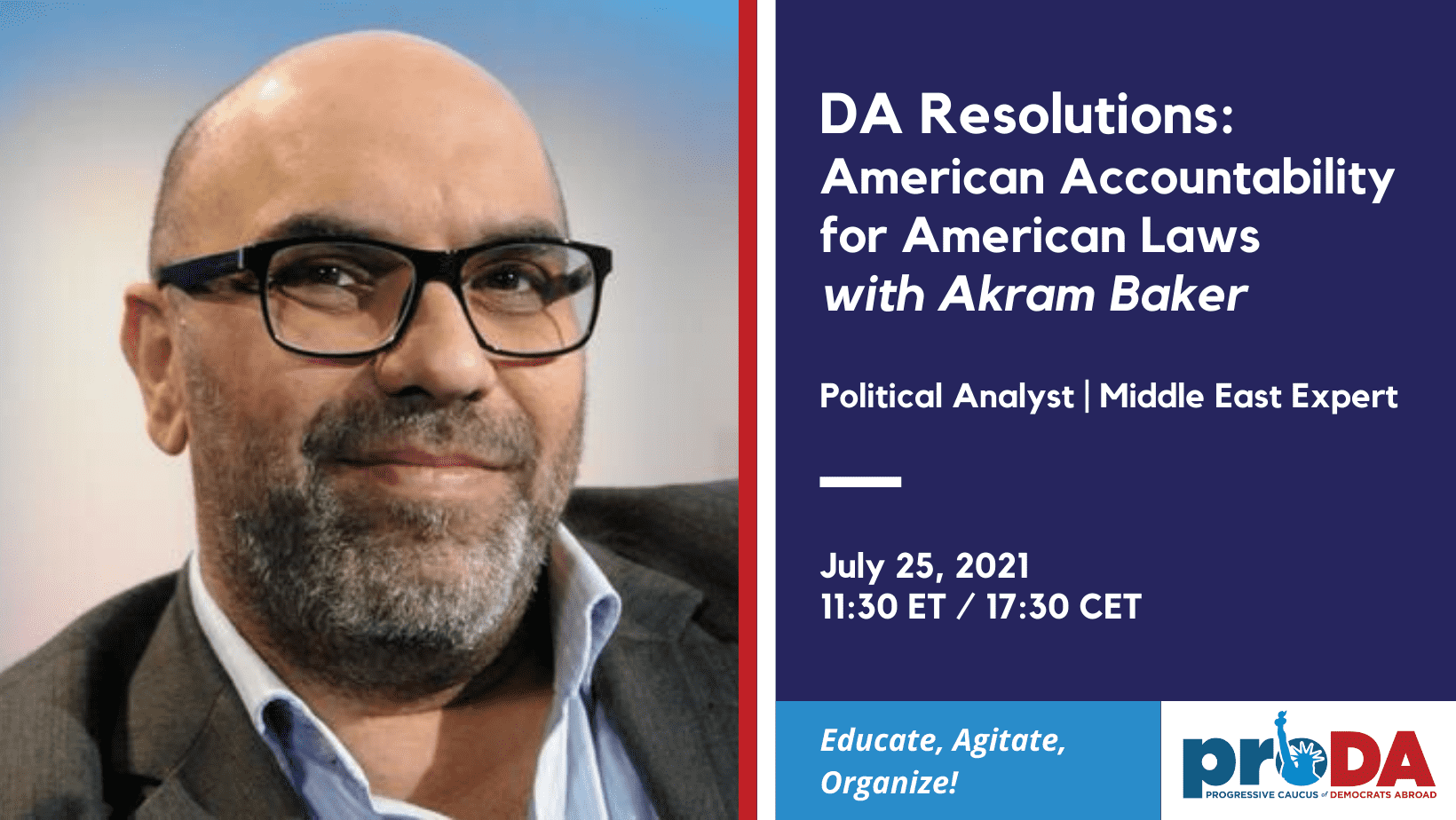 Join the Germany Progressive Caucus on July 25 at 11:30 a.m. ET/5:30 p.m. CET for the second edition of our DA resolutions update. We will be one month out from an important DPCA vote on Resolution 19 "Prohibiting the Use of U.S. Military Foreign Aid for the Detention of Children" and Resolution 20 "To Condition Military Aid to Israel" and are pleased to announce that several resolution authors will be joining us at our meeting.
We will also be joined by our keynote speaker for the event, Akram Baker. 
Akram

Baker is a long-time political analyst and management consultant. He has worked with numerous corporations, governments, and NGO's throughout the world, including Daimler AG, Bahn AG, The World Bank, and the GIZ in addition to his senior advisory roles to the Governors of the Central Bank of Egypt and the Palestine Monetary Authority. In the 1990's, 

Akram

was spokesman to Faisal Husseini, Head of the Palestinian Negotiating Team. A fourth-generation American of Palestinian descent, he was an active supporter of the Obama '08 and '12 campaigns and Joe Biden in 2020. His rants and opinions can by found on DW, BBC, etc, and in many newspapers and magazines.
Currently residing in Berlin,

Akram

has lived extensively in the Unites States, Palestine, Egypt, and Germany. 
Whether you are a DPCA voting representative looking to gain deeper insight into the issues before the vote, or you are a DA member wanting to join organizing efforts behind the proposals, you are most welcome to attend. Together, we can make a difference!
RSVP to receive the link.
Do you already support Resolutions #19 and #20? Then please consider signing and sharing our petition.
WHEN
July 25, 2021 at 5:30pm - 7pm Berlin Time
CONTACT
Kaitlyn Kennedy ·
Who's RSVPing
Do you like this post?