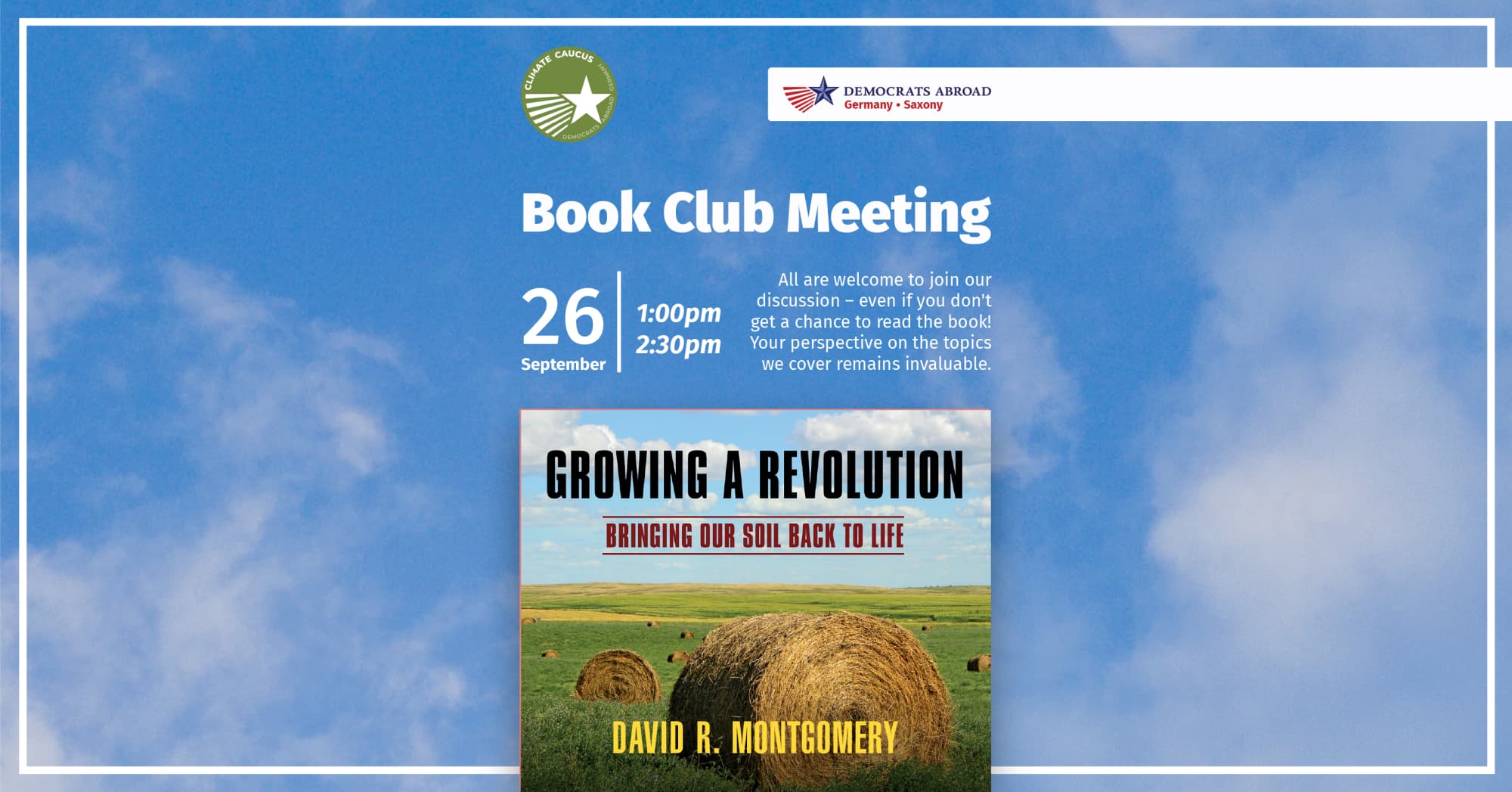 Join DA Saxony and the newly formed DAG Climate Caucus on September 26 to discuss Growing a Revolution: Bringing Our Soil Back to Life by David R. Montgomery. 
You might have seen Kiss the Ground recommended to you on Netflix recently. While we highly recommend watching it, this book is also an in-depth analysis of the material covered in the documentary. David R. Montgomery is a MacArthur Fellow and geomorphology professor, internationally recognized for his studies on "landscape evolution and the effects of geological processes on ecological systems and human societies."
It can be exhausting to read tragic climate crisis stories constantly in the news, so that's why we're offering you a chance to meet with like-minded individuals who care about the environment. We hope to rejuvenate your passion about this issue and brainstorm possible solutions within our reach as Americans overseas. 
"For centuries, agricultural practices have eroded the soil that farming depends on, stripping it of the organic matter vital to its productivity. Now conventional agriculture is threatening disaster for the world's growing population. In Growing a Revolution, geologist David R. Montgomery travels the world, meeting farmers at the forefront of an agricultural movement to restore soil health. From Kansas to Ghana, he sees why adopting the three tenets of conservation agriculture – ditching the plow, planting cover crops, and growing a diversity of crops – is the solution. When farmers restore fertility to the land, this helps feed the world, cool the planet, reduce pollution, and return profitability to family farms." – Goodreads.com 
Our meeting location will depend on the weather that day.
Plan A: Pop up Biergarten "An der Fontäne", 06108 Halle (Saale)
Plan B, in case of bad weather: nt-Café, Große Ulrichstraße 51, 06108 Halle (Saale)
For both Plan A and Plan B, a group will meet at Halle HBF between 12:15-12:30 to walk to the final location together.
RSVP to receive an email with the exact meeting location ahead of the event. 
WHEN
September 26, 2021 at 1:00pm - 2:30pm Berlin Time
CONTACT
Kaitlyn Kennedy ·
Who's RSVPing
Do you like this post?