Wednesday, June 07
Washington, DC , DC
Global Black Caucus visits NMAAHC
RSVP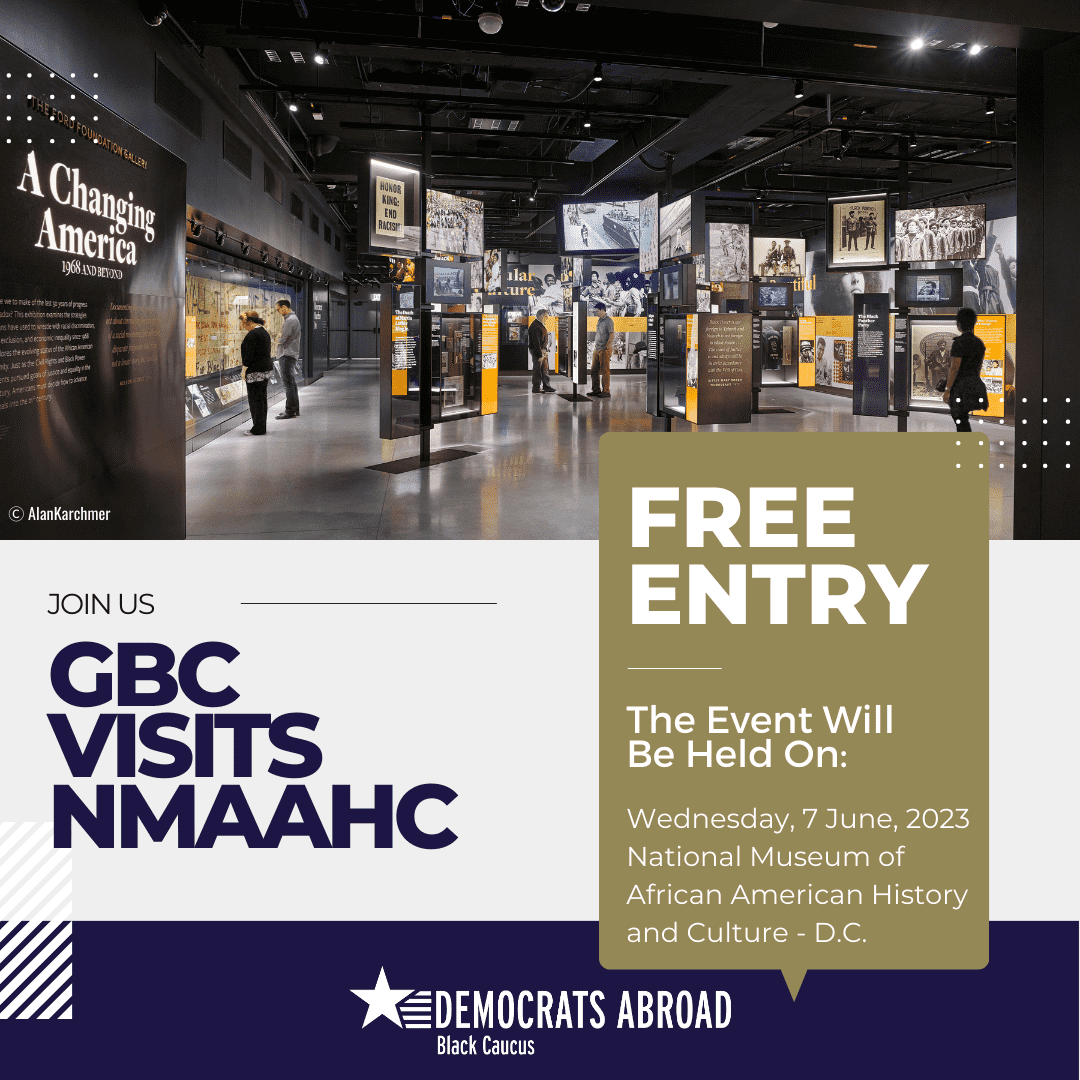 Global Black Caucus visits NMAAHC
Join us for an exciting opening lead event to the Democrats Abroad Annual Global Meeting in Washington, D.C. on Wednesday, June 7, 2023! 
The Global Black Caucus is proud to invite you to join us for a tour through the National Museum of African American History and Culture (NMAAHC), followed by a cocktail reception.
The NMAAHC is the only national museum devoted exclusively to documenting African American life, history, and culture. During the tour, you will explore the museum's impressive collection, which includes over 36,000 objects, such as photographs, artifacts, and multimedia presentations, that tell the story of African American life, history, and culture.
After the tour, we will host a cocktail reception, joined by a very special surprise guest of honor, where you can network with fellow Democrats Abroad members and Global Black Caucus members while enjoying drinks and hors d'oeuvres.
Don't miss this unique opportunity to learn about African American history and culture, meet new people, and kick off the Democrats Abroad Annual Global Meeting with meaning and in style. 
We are also pleased to announce that, the tour of the NMAAHC and, thanks to a generous donor, the cocktail reception afterward is free of charge. However, please note that tickets are limited and will be allocated on a first-come, first-served basis.
We encourage you to register early to secure your spot.
We also encourage you to consider making a donation to the Global Black Caucus, which supports our GOTV, political and social empowerment efforts of Black people both within the Democrats Abroad and in the wider global community. 
We look forward to seeing you there!
---
*Additional and helpful information will be disseminated to the attendees closer to the event. 
WHEN
Wednesday, June 07, 2023 at 01:00 PM Eastern Time (US & Canada) Time
WHERE
National Museum of African American History
1400 Constitution Ave NW
Washington, DC , DC 20560
United States
Google map and directions
CONTACT
leedonal moore
[email protected]
50 RSVPs