Thursday, November 23
Lisbon, Portugal
Thanksgiving 2023 THANKFUL TOGETHER
RSVP
Thank you so much for your interest in joining us for Thanksgiving, this event is now full! We hope you can join us next year.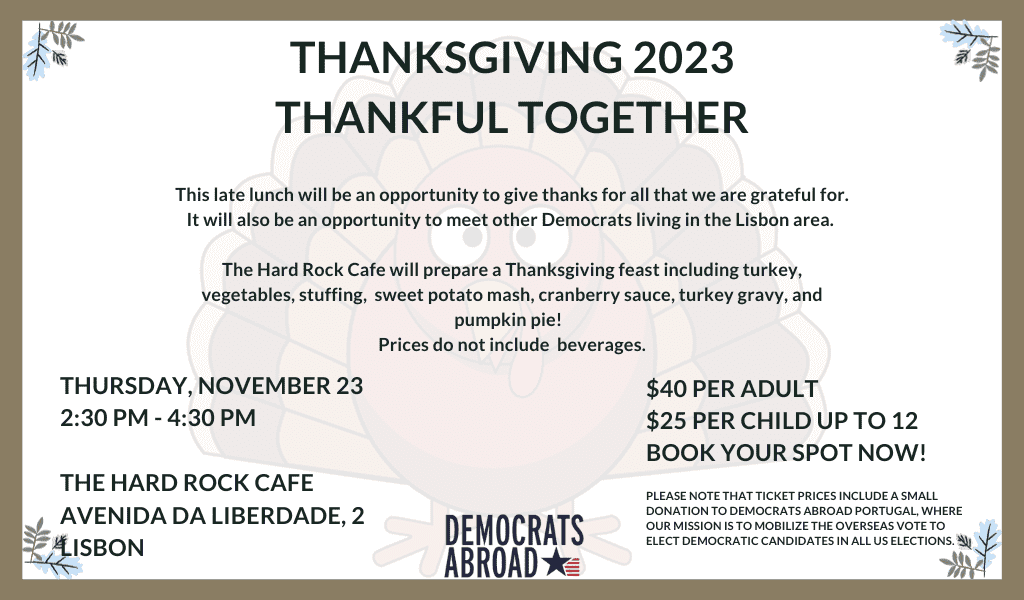 Thanksgiving 2023, THANKFUL TOGETHER
Let's share gratitude on Thanksgiving Day.
Come celebrate Thanksgiving with fellow DAPT members and friends at a traditional Thanksgiving dinner at the Hard Rock Cafe.
This late lunch/early dinner will be an opportunity to give thanks for all that we are grateful for in our lives and worlds together with other DAPT members. It will also be an opportunity to meet other Democrats living here in the Lisbon area.
The Hard Rock Cafe will prepare a Thanksgiving feast including slow-roasted turkey breast, roasted fresh vegetables, home-style classic stuffing, creamy sweet potato mash, cranberry sauce finished with a traditional turkey gravy. We'll finish it all off with pumpkin pie!
Prices: $40 for adults and $25 for children up to 12.
Please note this includes a small donation to Democrats Abroad Portugal, where our mission is to mobilize the overseas vote to elect Democratic candidates in all US elections.
Consider sponsoring a table for 10 for $500.
Or feel free to add an additional donation to help our efforts at DAPT.
Prices do not include drinks, water, coffee or any beverages.
Important information: Please book here, through Democrats Abroad Portugal. We have a group of tables reserved so we can all sit together.
Time: 2:30-4:30 pm
Location: The Hard Rock Cafe is located at AVENIDA DA LIBERDADE, 2, LISBON, PORTUGAL 1250-144 PT
We look forward to rockin' with you this Thanksgiving!
WHEN
Thursday, November 23, 2023 at 02:30 PM Lisbon Time
WHERE
The Hard Rock Cafe Lisboa
AVENIDA DA LIBERDADE 2
Lisbon 1250-144
Portugal
Google map and directions
CONTACT
Lisa Besso
[email protected]
34 RSVPs