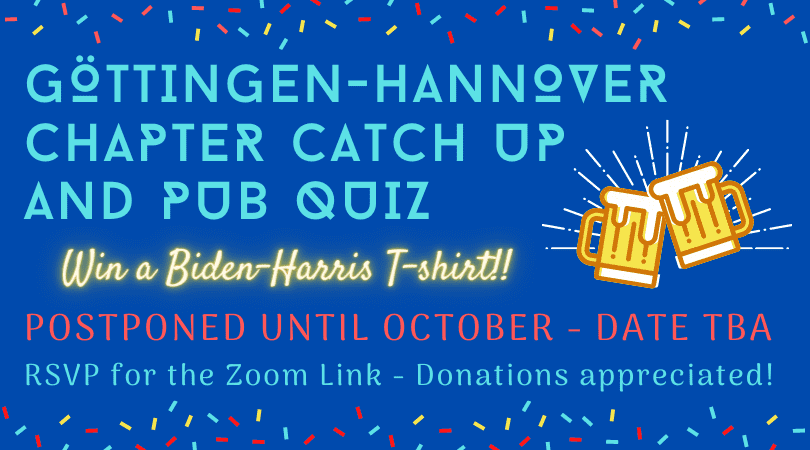 Event Postponed until October - we look forward to catching up in a few weeks! The new date will be announced soon!
Join us for a quick Chapter Catch Up to discuss what is going on in Dems Abroad during this critical time and to find out how you can get involved. Then we'll move on to the festivities!
You are welcome to join as a team or an individual - we'll make sure everyone has a team before we get started. There will be four rounds of questions with a mix of topics including politics, pop culture, general knowledge and a few surprises to keep you on your toes. There will be prizes for the top three teams!
1st Place Team - Everyone gets a Democrats Abroad Biden-Harris T-shirt!!
2nd Place Team - Everyone gets a Tote-Bag!
3rd Place Team - Everyone gets a Biden-Harris Button!
You can help out by sharing this event with your American friends and acquaintances in the area! As always, we welcome new faces, even if you've never attended a meeting or an event before.
RSVP
Once you RSVP, you'll receive a confirmation with the log-in information. We're asking for a minimum 5€ donation to participate. All donations support Democrats Abroad's initiatives to get out the vote in Germany. For example, they'll help pay for a postal mailing and ad campaigns on social media to remind Americans abroad to request and return absentee ballots.
* Please be aware that Democrats Abroad and Democrats Abroad Germany can only accept donations from U.S. citizens and green card holders. If you have a German bank account, the account must be in the name of a U.S. citizen.
WHEN
September 12, 2020 at 7pm - 9:30pm Berlin Time
CONTACT
Jennifer Von Estorff ·
Who's RSVPing
Do you like this post?