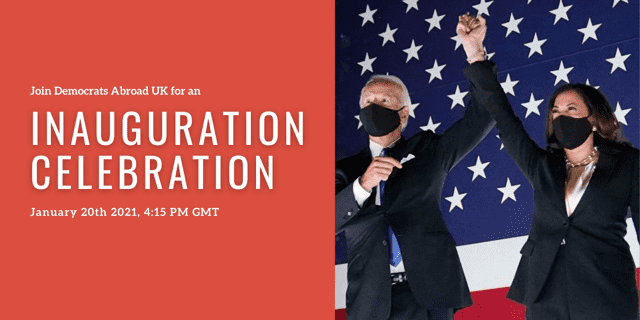 After four very long years, our day has arrived. Let's mark it together.

Join your fellow Democrats to celebrate the inaugurations of Joseph Biden, Jr. and Kamala Harris as the next president and vice president of the United States on Wednesday, January 20, 2021.

We will watch the inauguration and, after, the virtual parade across America. During breaks in the proceedings, our panel will moderate discussion on the day's events. 
We will also have a candlelit vigil to mark the passing of such Democratic giants as Ruth Bader Ginsburg and Rep. John Lewis, and the many who have died of Covid-19.

Later in the evening we will host a party with music and a challenging democratically themed quiz. We encourage you to represent your voting state either in your Zoom background, in costume, or both! Prizes will be awarded for the best costumes, best state cocktail, and strongest quiz knowledge. [See schedule below]

Please join us for all or part of the day to share in our excitement over our nation's new leadership. Get your free ticket to this popular event today.
You can also support get out Democrat Abroad's voter activities in 2021-22 by making a donation here.
DAUK Celebrates Inauguration Day!
Wednesday, January 20, 2021
(all times GMT)
4:15 p.m.   -   Introduction
4:45 p.m.   -   Inaugural ceremony begins with panel moderated discussion
8:00 p.m.   -   Inaugural ceremony ends – virtual Parade Across American begins
10:00 p.m.  -  DAUK Party begins
11:00 p.m.  -  Party ends, but do stay for informal chat until midnight
Important note: This is event is not open to the press. For all press inquiries, please email [email protected]
WHEN
January 20, 2021 at 4:15pm - 11pm UK Time