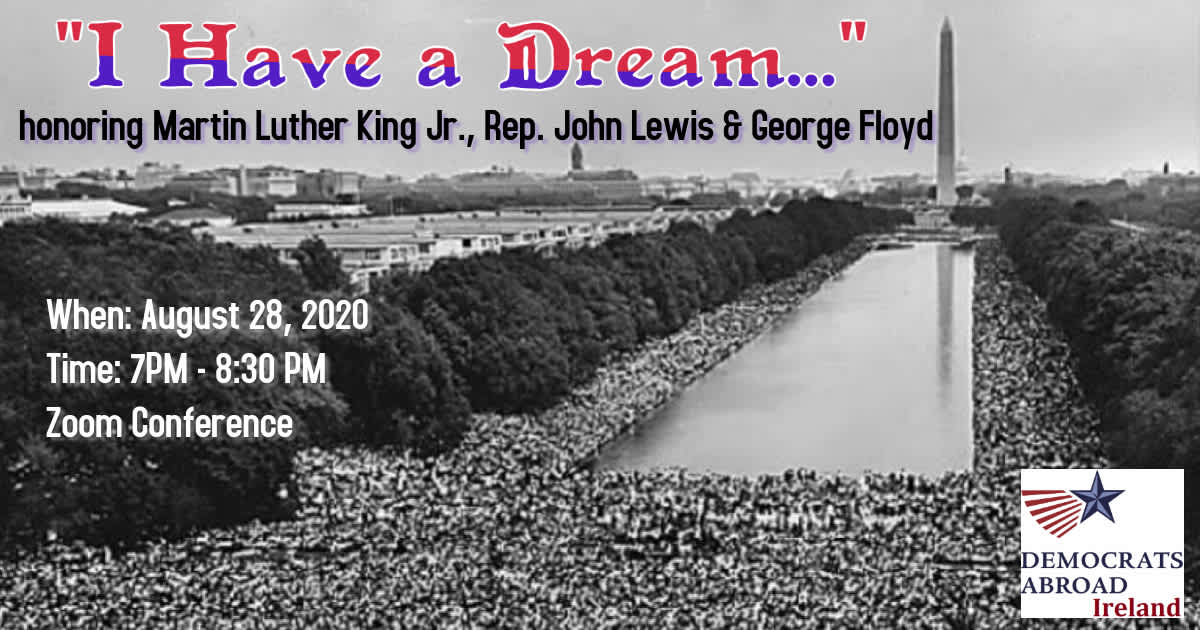 I Have a Dream, DA Ireland Honors Martin Luther King, Jr., Rep. John Lewis, & George Floyd
About this Event
On the Anniversary of the Civil Rights march on Washington DC, we come together in an online socially-distanced ZOOM circle to read aloud the words of Martin Luther King Jr.'s I HAVE A DREAM speech--to refresh our commitment to those words. We will also honor the late Congressman and civil rights leader, Rep. John Lewis, and the late George Floyd, taking a moment in silent meditation. Please join us.
Bring a bell--so when we come to the refrain, "Let Freedom Ring..." we RING it out loud and clear. Dr. King famously said, "In the end, we will remember not the words of our enemies, but the silence of our friends."
In Washington D.C. this same day--the anniversary of the 1963 March on Washington--Martin Luther King III and Rev Al Sharpton are leading a march to the Lincoln Memorial--an echo of the original historic event. John Lewis was the youngest person to speak that day from the podium in 1963.
What: DA Ireland Honors MLK, Jr, Rep. John Lewis, & George Floyd
When: August 28, 2020
Time: 19:00 - 20:30
Location: Zoom
Please RSVP on Eventbrite. Link to Zoom event will be provided a few days prior to the event.
WHEN
August 28, 2020 at 7pm - 9pm Dublin Time
CONTACT
Democrats Abroad Ireland ·
Who's RSVPing
Do you like this post?