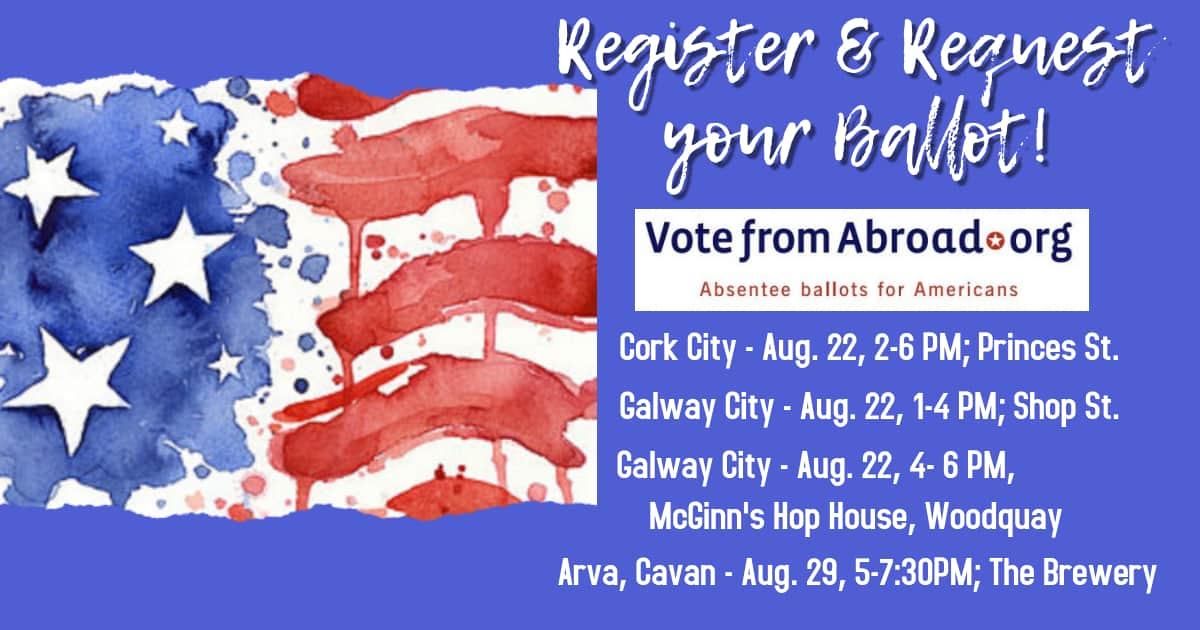 Here at Democrats Abroad Ireland, we're busy volunteering to get American Citizens living abroad to exercise their US Federally protected right to Vote in the 2020 US elections. All Americans can register and request their ballot from:
https://www.VoteFromAbroad.org
We're also holding several events across Ireland to help register American Citizens! If you know someone who needs to register – they can go to the site above, or come visit us (we'll be in masks) at one of the events below, where volunteers with VFA will help get Americans registered to vote, regardless of their political party!
Bring your smart phone, your last US address, and yourself, - we're here to walk you through the process!
Look for the American flag and volunteers in the Vote From Abroad Tshirts and masks at the following date and location:
Event: Arva, County Cavan - Get Registered & Request Your Ballot!
Date: Saturday, August 29, 2020; 5-7:30 PM
Location: The Brewery, Main St., Arva, County Cavan
Note that no tickets are needed, just come speak to our volunteers on the day!
WHEN
August 29, 2020 at 5pm - 7:30pm Dublin Time
CONTACT
Democrats Abroad Ireland ·
Who's RSVPing
Do you like this post?