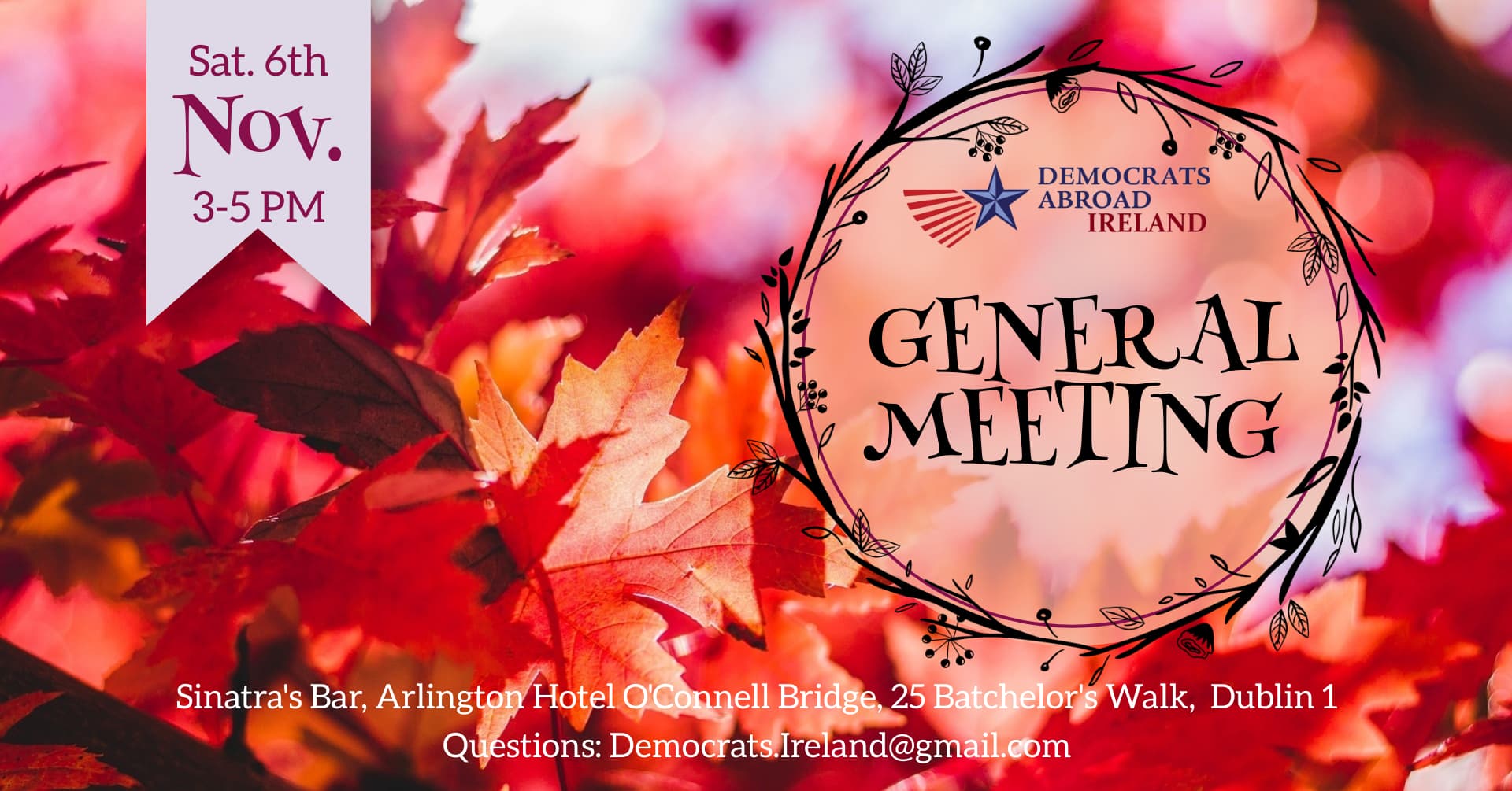 UPDATED!
When: Saturday, Nov 6, 3pm - 5pm
Where: Sinatra's Bar, Arlington Hotel O'Connell Bridge, 25 Bachelor's Walk, Dublin 1
What: General Meeting
Dear fellow Democrats,

A brief update to this Saturday's upcoming meeting.

We will hold a meeting on Saturday, November 6th at the Arlington (3-5PM) to discuss moving forward with Democrats Abroad Ireland and reactivating our volunteer pool as there is much to be done as we head toward the US mid-term elections. We were eager to hold our AGM and executive committee (Excomm) elections this Saturday, however, due to circumstances beyond our control we have had to postpone our AGM. We know that as residents of Ireland you will understand the unique position we have been in for over 600 days (and which continues with the 4th wave of the pandemic).

We hope to hold the elections early in 2022 as now agreed with DA International ExCom, and will be setting out a timetable on Saturday. We hope you will join us for these discussions, a bit of craic, and a lively discussion of this week's off year elections and how we as Democrats keep pushing for the policies and elected officials which will benefit all Americans.

If you are unable to make it in person, please feel to join Zoom Meeting:

https://us04web.zoom.us/j/7148936774?pwd=K0sxYWpIMXdQeUVGa2NEVENwM2Yzdz09

Meeting ID: 714 893 6774
Passcode: dems

Once again, we wish to thank everyone in advance for your patience during these trying times.  

On a personal note, many of you may know that I have started a new position which has taken up much of my time these past few months.  Sadly, November 6, 2021 will be my last day as Chair of Democrats Abroad Ireland due to the requirements around my new workplace and commitments there.  I sincerely want to tell you how much I have appreciated the opportunity to serve in the capacity as chair of Ireland, and to lead a fine group of volunteers and our executive committee who have given their time, effort, and put their hearts toward getting Democrats elected even through the covid pandemic.  I remain firmly committed to the cause, and while I won't be running for re-election, I hope to still be here in some small capacity as a volunteer.  

I and the rest of our executive committee look forward to seeing you all on Saturday!

All the best,

Carija Ihus
Chair
Democrats Abroad Ireland
WHEN
November 06, 2021 at 3:00pm - 6pm Dublin Time
WHERE
Sinatra's Bar, Arlington Hotel, O'Connell Bridge
25 Batchelors Walk
Dublin, Co. Dublin Dublin 1
Ireland
Google map and directions
CONTACT
Carija Ihus, Chair
Do you like this post?