Wednesday, May 24
Merida, Mexico
Democrats Abroad Yucatán Happy Hour & Brewery Tour May 24
RSVP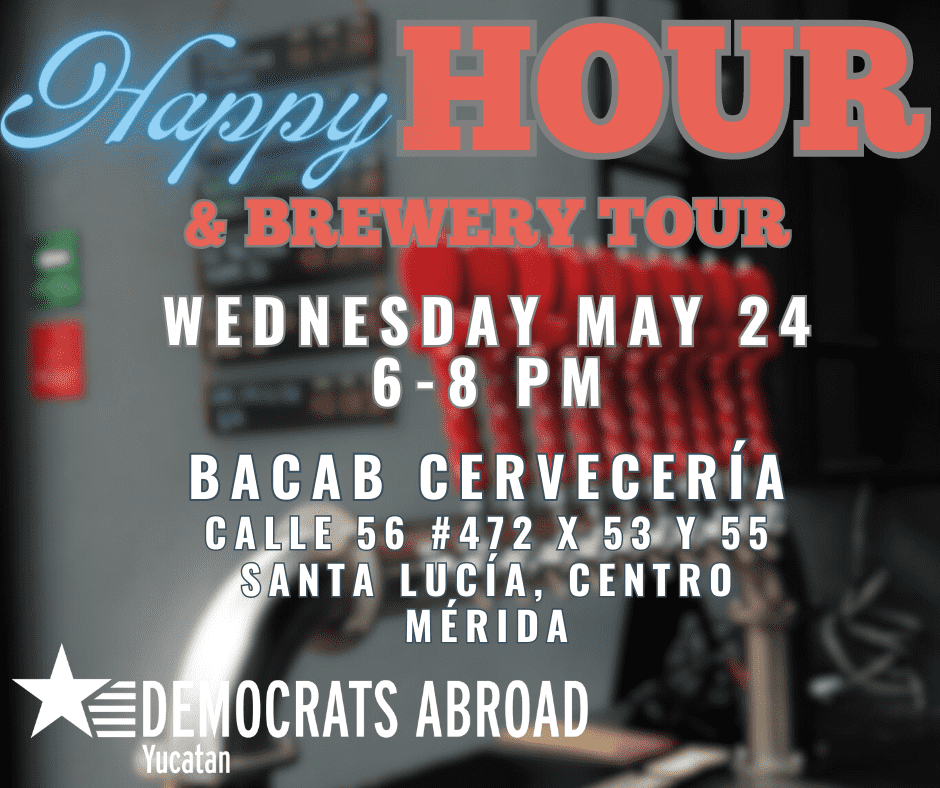 Happy Hour and Behind the Scenes Tour at Bacab Cervecería with proprietor and brewmaster Fred Kilpatrick. Meet up with your fellow Democrats Abroad Yucatán chapter members at our Happy Hour on May 24th. Fred will give us a behind the scenes tour of his new brew pub and we'll have specials on craft beer and food, door prizes and lively conversations! If you are not yet a member, join here or you can sign up at the event.
May 24th @ 6- 8 pm
Bacab Cervecería is located on Calle 56 #472 x 53 y 55 in Santa Lucía, Centro Mérida
Come and bring your friends to enjoy a cold beer, great snacks and a tour of this amazing, state-of-the-art brewery in Centro, Merida!
RSVP below
***Use this link to Google maps rather than the one below https://goo.gl/maps/VkfywLAAKDyi5hN77
WHEN
Wednesday, May 24, 2023 at 05:00 PM Mexico City Time
WHERE
Bacab Cervecería
Calle 56 472
Parque Santa Lucia
Merida, Yucatan 97000
Mexico
Google map and directions
CONTACT
Daniel Mickle
54 RSVPs