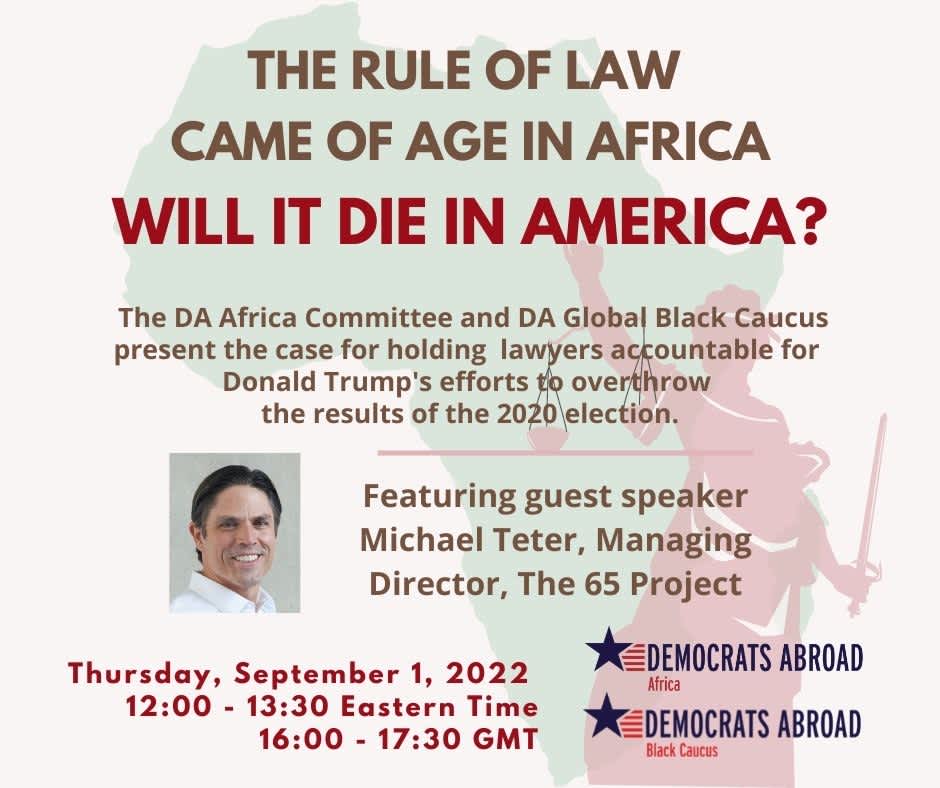 Whether you believe there was an attempted coup on the US government or not, there is no question that lawyers were pivotal in the strategies that Donald Trump and his Republican supporters devised for him to try and stay in power after he lost the 2020 election.
Democrats Abroad Africa Committee and the DA Global Black Caucus present the case for holding the lawyers accountable.  Find out what happened, who was responsible, and what you can do to prevent it from happening again.  Join us for a serious session about preserving America's democracy and the rule of law and how to vote from abroad.
With guest speaker Michael Teter, Managing Director, The 65 Project.
The 65 Project is a bipartisan effort to protect democracy by holding accountable "Big Lie Lawyers" who brought fraudulent and malicious lawsuits to overturn legitimate election results and deterring them from doing so in the future.
Thursday, September 1, 2022
12:00-13:30 Eastern Time / 16:00-17:30 GMT
WHEN
September 01, 2022 at 12:00pm - 1:30pm Eastern Time (US & Canada)
Who's RSVPing
Do you like this post?