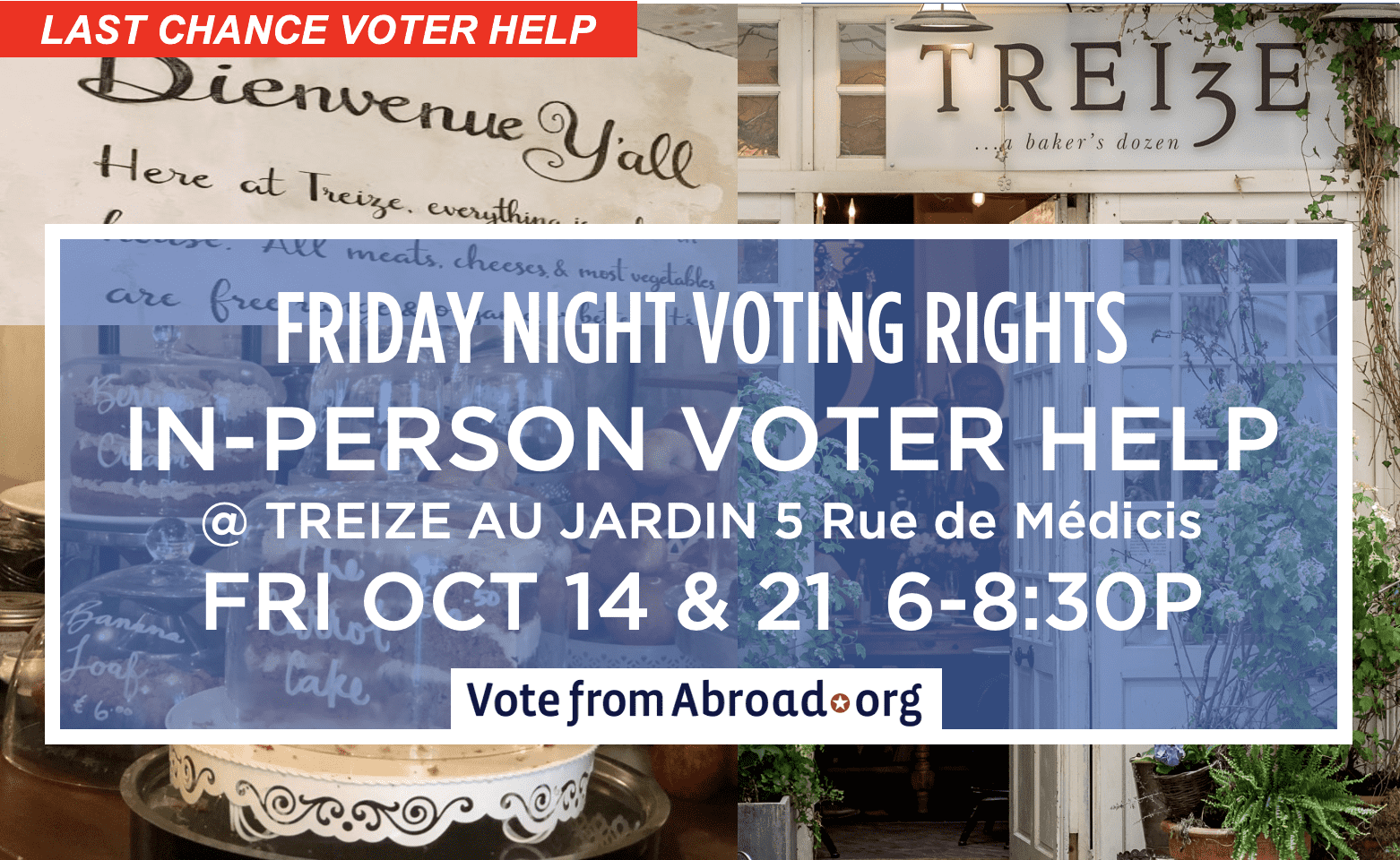 FRIDAY NIGHT VOTING RIGHTS at Treize au Jardin Bakery is back! Everyone who has requested an overseas absentee ballot should have their ballots now — follow directions to vote and return it as soon as possible. Need help? Come on by to Treize au Jardin on Fri. Oct 14 or Fri. Oct 21 between 6-8:30PM and volunteers from VoteFromAbroad.org will be on hand to help you with your ballot questions and provide envelopes and postage at cost. Deadlines are looming -- to look up yours for your state, go to www.VotefromAbroad.org/states.
You can also go to www.VoteFromAbroad.org and use the chat box, email VoteFromAbroad France at [email protected], or call OH GOD VOTE (+33 6 44 63 86 83) with your question!
Personalized help via Zoom is also available the following hours - for Zoom links, see here https://qrco.de/bbh0zg
Tuesdays: 18h-22h FRANCE/CEST (Noon-4PM CDT)

Wednesdays: 18h-22h FRANCE/CEST (Noon-4PM CDT)

Saturdays: 10h-12h FRANCE/CEST (4A-6A CDT)

Sundays: 17h-21h FRANCE/CEST (11A-3PM CDT)
Still need to register/request a ballot? HURRY. Go to www.VotefromAbroad.org — just answer the questions to fill out your overseas voter ballot request/voter registration form (the FPCA) and follow directions return it to your local election official. Ask to receive your ballot by email / online -- there is still time but you must act now!
All voter assistance is offered to US citizens abroad on a non-partisan basis — tell a friend! 
WHEN
October 14, 2022 at 6:00pm - 8:30pm Paris Time
Do you like this post?