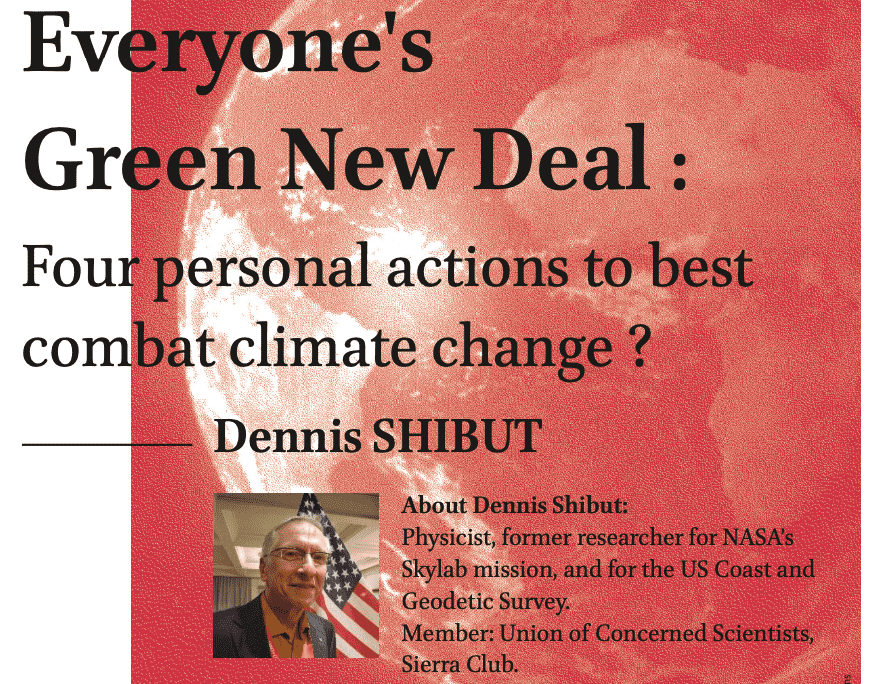 Join us on Tuesday February 1, 2022 for a speaker event on climate change. Democrats Abroad's very own Dennis Shibut will present his work, "Everyone's Green New Deal: Four personal actions to best combat climate change".
Dennis Shibut is a physicist and former researcher for NASA's Skylab mission, as well as for the US Coast and Geodetic Survey in the first studies in ocean-atmospheric energy exchange. He has taught physics at the university and community college levels. Since the late 1990s he has written numerous articles about green living through his website Kyoto Action Report. Dennis is a member of several prominent environmental advocacy organizations such as the Sierra Club and the Union of Concerned Scientists.
In France, Dennis is an "Ambassador" for the 100% green electricity utility company Enercoop, recently rated the best electricity provider in France by Que Choisir and Greenpeace. He currently resides in Avignon.
When: Tuesday February 1, 2022 @ 6:30pm
Where: zoom. You will receive the zoom link upon rsvp'ing
WHEN
February 01, 2022 at 6:30pm - 7:30pm Paris Time
CONTACT
Alejandra Roman ·
Who's RSVPing
Do you like this post?