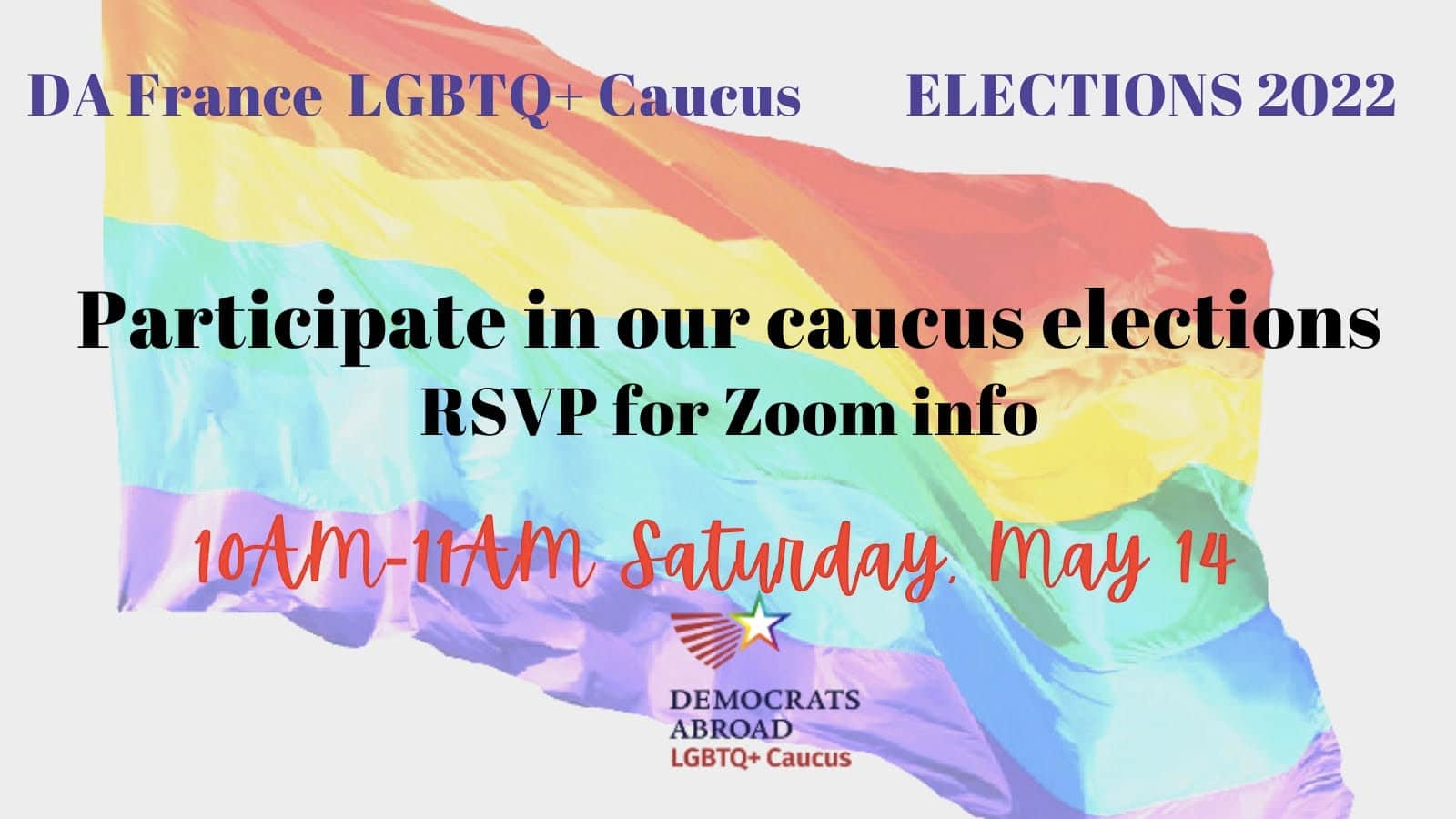 Come vote in the elections for the leaders of DAF's LGBTQ+ Caucus! The elections will take place on Saturday, May 14 at 10:00. 
All members of the Democrats Abroad France LGBTQ+ Caucus may vote, and you can sign up to become a member of the caucus by emailing: [email protected].
We will be electing two Co-Chairs. Three steering committee positions are open as well but currently have no candidates. We will take nominations from the floor, so if you're interested in getting involved, please come join us!
Here below are the statements of our two candidates for the positions of Co-Chairs.
If you are interested in getting involved in the LGBTQ+ Caucus but can't come to the elections, please email us at [email protected].
Statements of candidates:
Co-Chair:
Fred Hoffman:  
         I have been serving as the Interim Co-Chair of the Democrats Abroad France LGBTQ+ Caucus since 2019 when I was asked to replace the Chair who resigned when he moved to another country. I am now running for the position of Co-Chair and would be honored to receive your vote so that I can continue to serve and work for LGBTQ+ rights and issues that concern us all. I, along with my future fellow Co-Chair, will strive to mobilize the Caucus during the coming months and year of our term. With many important elections coming up, we will work to get our members registered and to get out the vote so that we keep a majority in the Congress and protect not only LGBTQ+ rights, but the rights and laws that protect all Americans.
         Living in France since 1989, I have been a member of Democrats Abroad France for many of those years. I became more actively involved during Hillary Clinton's first campaign in 2008 and have remained active since then.
         In recent years, I helped to organize several events for the LGBTQ+ Caucus and I was honored to be one of the French-speaking DAF spokespersons during then-candidate Joe Biden's campaign and through his election and inauguration. And I will proudly continue to be a spokesperson for DAF for the upcoming mid-term elections and beyond.
Lastly, a bit about myself:
         I am the founder of Fitness Resources, an education and consultancy company, I hold a Bachelor's Degree in Respiratory Therapy and a Master's Degree in Health Education. I am an author, a keynote speaker at conferences, and currently I sit on the Board of Directors of the American Council on Exercise (ACE) based in San Diego, CA. I am fortunate to have worked in more than 50 countries on 6 continents which has allowed me to have a global perspective on politics, cultures, and life in general.
Thank you in advance for considering casting your vote for me.
Joseph Voelker:
I would be proud to serve as co-chair of the LGBTQ+ Caucus of DAF. The caucus offers a good space to bring together LGBTQ+ members from across France for education and support. When we engage members in caucuses, we can work to increase voter turnout. Everyone's familiarity with the increasingly sophisticated online platforms like Zoom suggests one way that the LGBTQ+ caucus could be more accessible to members outside of Paris, while retaining the dynamic opportunities offered by the capital.
Having previously been a member of DAUK, I joined DA France shortly after moving to Nice with my husband at the end of 2014. I have served on the DAF Riviera Chapter executive committee since 2015 as variously: member-at-large, treasurer, secretary (currently), and chairperson.
As a life-long Democrat, I volunteered for the 1993 presidential campaign and for various state and local campaigns in Virginia. I trained as a lawyer and have been a managing editor for what is now Bloomberg BNA. In recent years, I was Director of Marketing, Communications and Development for a prominent UK educational institution.
I enjoy a good political discussion and debate, but believe that we, Democrats, must work together constructively to take back control of government in the United States at local, state, and federal levels.
WHEN
May 14, 2022 at 10:00am - 11am Paris Time
Who's RSVPing
Do you like this post?