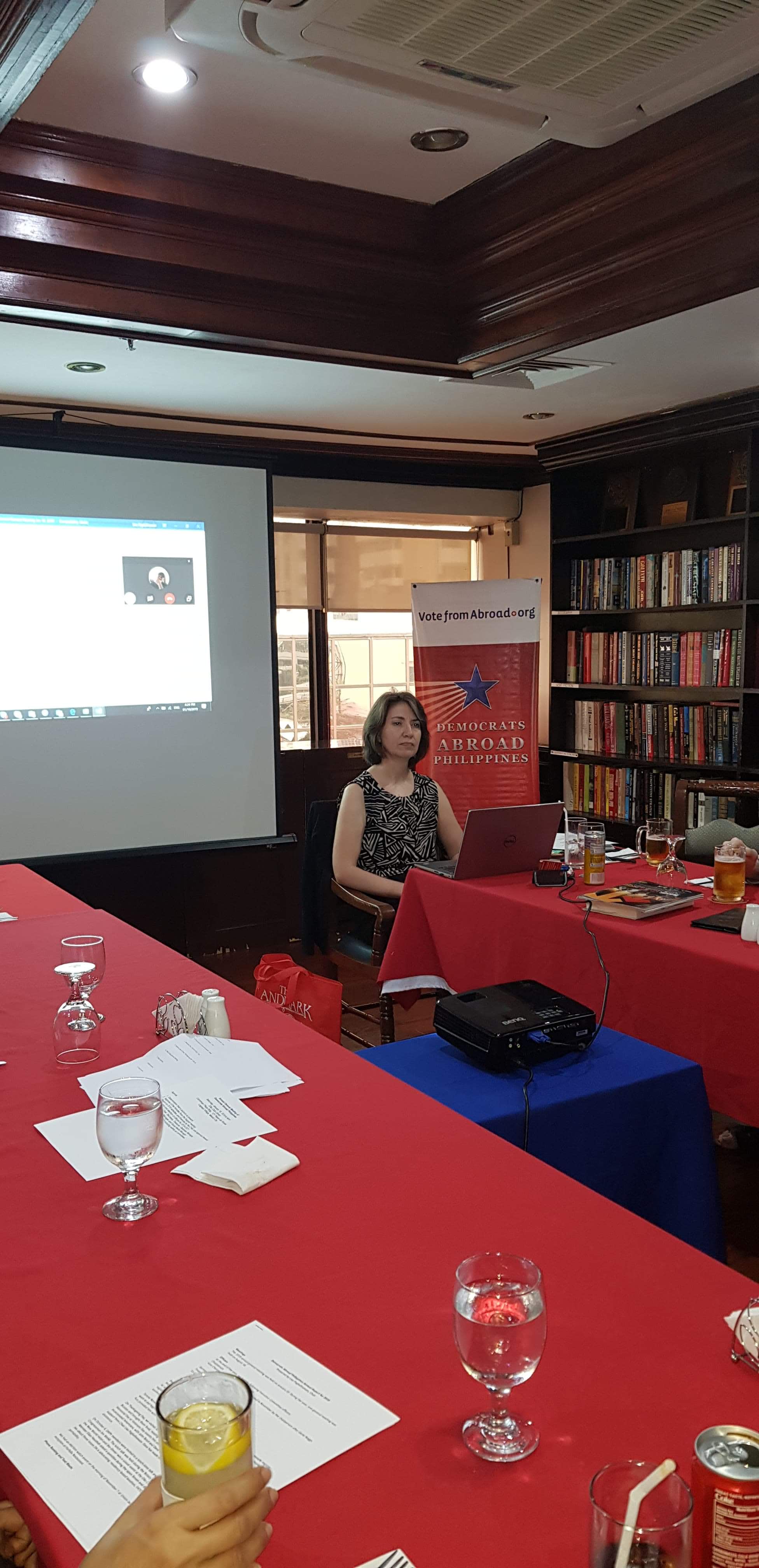 Democrats Abroad (DA) Philippines (DAPh) Chair Lisa Pagkalinawan reports on activities held in 2018. Photo by DAPh member Joan Corpuz.
2018 Events
On September 8, 2018, we held a voter registration open house in which we helped four people register to vote.
On October 4, 2018, DAPh members were invited to a lunch-time talk and dinner featuring former Democratic senator from Virginia Jim Webb. A Vietnam War veteran, Webb was Navy secretary in the Reagan administration, and he ran and won his Senate seat in 2008 as a moderate Democrat. He was Assistant Secretary of Defense for Reserve Affairs, Counsel for the US House Committee on Veterans' Affairs, and a Marine Corps officer. In the private sector, he has been an Emmy Award winning journalist, a filmmaker and the author of ten books. In addition, he taught literature at the US Naval Academy and was a Fellow at the Harvard Institute of Politics. The lunch talk was held during the Rotary Club of Manila's monthly meeting at the New World Hotel and the dinner was a casual event at the Elks Club. During the lunch event, DAPh member Elian Habayeb asked a question during the open forum. And during the dinner, DAPh Chair Lisa talked with Jim about three issues DA is advocating:
Residency-based taxation
Foreign Account Tax Compliance Act (FATCA) reform
Medicare portability.
On October 6, 2018, we held a voters' open house in Ortigas where we helped two people with registering and answering questions about voting. By phone and email, we received inquiries and assisted some five people.
On November 7, 2018, we had an election watch event at Union Jack Tavern in the morning and an evening reception at Farfalla Ristorante Italiano.
On Thanksgiving Day, November 22, 2018, we visited American detainees at the Bicutan Immigration Detention Facility in Bicutan and brought them food, reading materials and other necessities. We did not participate in Memorial Day or Veterans Day events in 2018. But we have continued to provide support for a few incarcerated Americans, with DAPh former Chair John Boyd and DAPh member Dave Kuchenbecker making regular visits with logistical support from DAPh Chair Lisa. DAPh member Dave has made efforts to compile a list of detainees and offer assistance.
DAPh member and entertainment event planning company owner Tyrone Norwood and DAPh Chair Lisa want to put together a fundraiser mixer to give expats a chance to have some hometown fun.
2018 Phone Banking and Text Blasts
DAPh member Dean Shuey continued his exceptional efforts in Getting Out the Vote (GOTV) by calling Americans worldwide to encourage them to vote in important elections. Well done DAPh member Dean for being DA's number two GOTV caller!
DA sent out two text blasts to DAPh members before the election to offer support with registering and submitting their ballots. DAPh Chair Lisa received only two replies to the first text and some 20 replies to the second. She assisted several of the some 20 people by phone and email to request and return their ballots.
2018 Membership
At the end of 2018, we had 930 members. However, only 596 or 62% are considered valid. To be considered "valid," members must meet the following conditions:
Be approved as a member
Have a local street address and/or local phone number
Be verified as still living in the Philippines within the past four years.
2018 Social Media
On October 7, 2018, DAPh Vice-Chair Angelo Goode posted a short article with instructions on how to vote from abroad in the Philippines on DAPh's Facebook  and Twitter accounts and his LinkedIn. The posts directed readers to DemocratsAbroad.org and VoteFromAbroad.org as DAPh member Dean recommended in order to increase traffic to the DA websites and give Americans the option of becoming DA members.
Like DA France, DA Canada and others, DAPh participated in the social media campaign to encourage overseas Americans to vote by re-posting announcements with overseas voting information per state such as registration, vote and return ballot deadlines, as well as reminders to follow up and confirm overseas votes were received and counted.
DAPh Vice-Chair Angelo also re-posted:
News articles highlighting reasons why Americans should vote Democrat from CNN, The New York Times, Washington Post, Wall Street Journal, Newsweek, Time, USA Today, BBC, Guardian, Reuters and Associated Press for instance
Graphics on: ratify the Equal Rights Amendment; racism, xenophobia, anti-Semitism and Islamophobia; health care; immigration; LGBT* rights; voter turnout; climate change; women's rights; Republican policies that caused the 2018 deficit such as Trump and Bush tax cuts, wars and base defense increases; the importance of Secretaries of State elections; and voter suppression; among others
Videos explaining how easy it is to vote and why Americans should vote, and on the issue of guns
The DA I Voted from Abroad meme in support of the meme going viral, and a couple of DA surveys on voting experience and GOTV Phone Banking.
DAPh former Treasurer Irene Sobrevinas posted on Facebook news articles, graphics, videos and other information on diversity, why I am a Democrat, anti-Trump sentiments, cooperative economics and US-Philippine relations and affairs for example.
DAPh member Joan updated the DAPh address on our Facebook page.
On Facebook, at the end of 2018, 255 people liked our page, of which 51% are women and 48% are men. And our Facebook  followers come from 27 countries.
DAPh also gained a new member through Facebook, DAPh member Nancy Longatan. And on Facebook, DAPh former Treasurer Irene and DAPh Vice-Chair Angelo clarified DAPh's role toward the voting process for someone who had questions.
On Twitter, DAPh Twitter Account #1 @DemsAbroadPhils (unofficial DAPh Twitter account) has 143 Twitter followers and DAPh Twitter Account #2 @DemsAbroadPH (official DAPh Twitter account) has 20 Twitter followers. And on DAPh's official Twitter account (Account #2), DAPh Vice-Chair Angelo recommended to an Oregon voter that Oregonians in the Philippines get a Virtual Private Network (VPN) to fully access their state website voting functions.
Become a member at DemocratsAbroad.org, visit Democrats Abroad Philippines website, like us on Facebook, and follow us on Twitter.

Do you like this post?