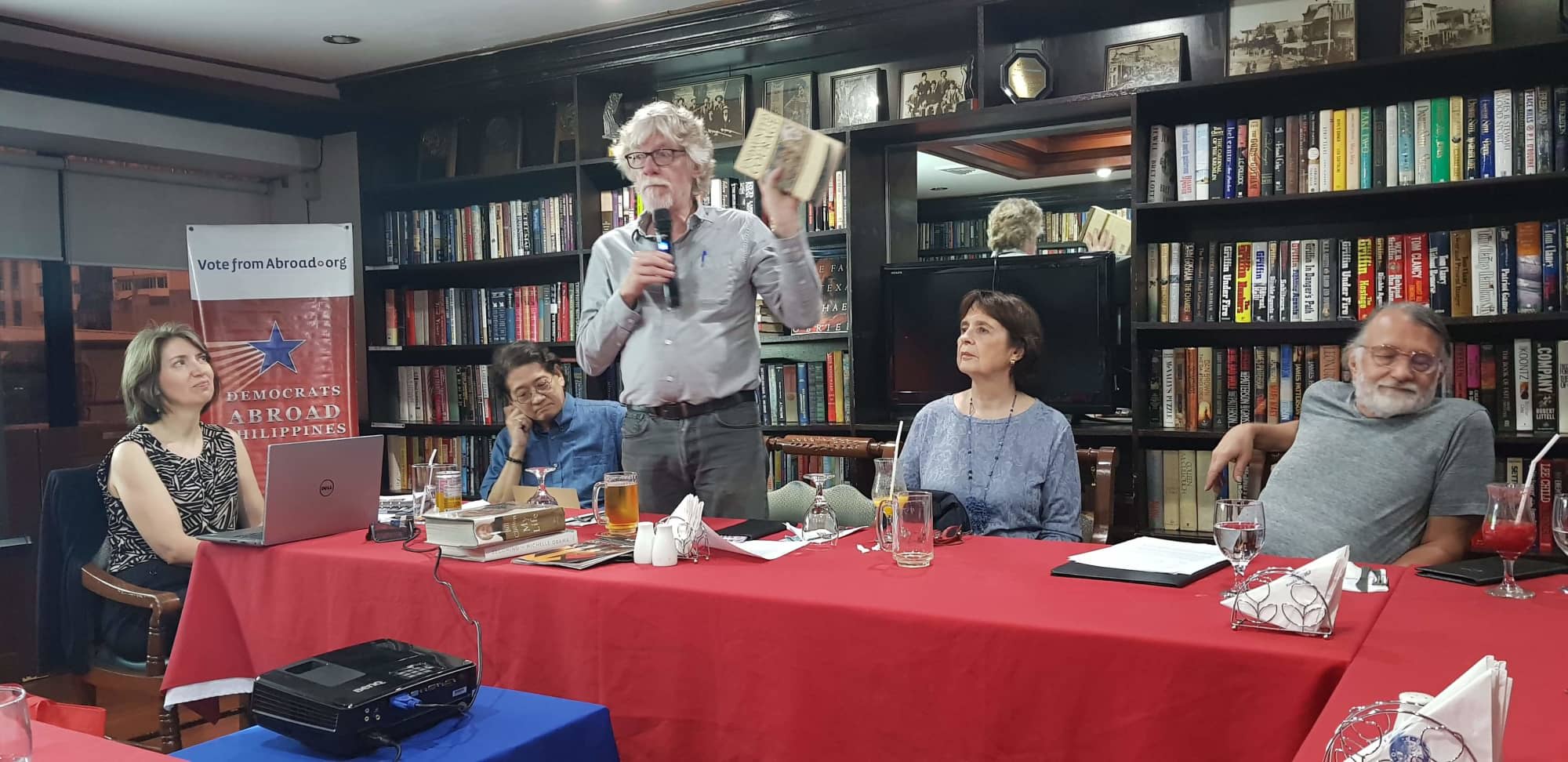 Photo by Democrats Abroad (DA) Philippines (DAPh) member Joan Corpuz shows (left to right) DAPh Chair Lisa Pagkalinawan, DAPh member Edmund Garcia, DAPh Events Committee Don Goertzen, DAPh Treasurer Kathy Bergeron, and DAPh member Dean Shuey at the Elks Club in Makati City.

Happy New Year DA Philippines!

DA Philippines held its Annual General Meeting (AGM) in the first quarter (Q1) of 2019 on Saturday January 19, 2019 from 4-6pm at the Elks Club, 7th Floor Corinthian Plaza, Paseo de Roxas corner Legaspi Street, Makati City.
Some 20 DAPh members attended and DA Australia (DAA)-Victoria Chapter member Michael Ramos joined by Skype to listen in. Although DAA-Victoria member Michael holds no elected positions within Democrats Abroad, he founded and is appointed Chair of the DA Hispanic Caucus. He also serves on the DA Tax Task Force, the DA Progressive Caucus, the DA Black Caucus, and the unofficial DA Veterans and Military Families Caucus.
We reported on activities held in 2018, elected officers for 2019-2021, and discussed activities for 2019.
Welcome DAPh Leadership 2019-2021!
Officers
Lisa Pagkalinawan was re-elected Chair, Angelo Goode was elected Vice-Chair, Jeremy Slagle was elected Secretary, and Kathy Bergeron was re-elected Treasurer.
Management 
Morrie Kayanan was elected Communications Manager, and DAPh Vice-Chair Angelo later confirmed his acceptance of multiple positions including Database Manager and Social Media Manager.
Next General Meeting Q2 2019
Because we decided to hold four general meetings for 2019 quarterly (Q), the next general meeting Q2 2019 is on Saturday April 6, 2019 at 3:30pm at the Elks Club, 7th Floor Corinthian Plaza, Paseo de Roxas corner Legaspi Street, Makati City.
Announcements and further details of our next meetings and activities will follow, so members please check your email. If you are not yet a member of Democrats Abroad, you can become one by signing up at DemocratsAbroad.org. Visit Democrats Abroad Philippines website, like us on Facebook, and follow us on Twitter.
Do you like this post?