With election day drawing nearer, we all want to check in one last time to make sure everyone has requested their ballot and has relevant, accessible information to successfully return their ballot in their state.
First, request your ballot if you haven't already: www.votefromabroad.org - they're being mailed out on September 19th and there have been USPS delays, so it's critical to request today if you haven't already. If you're comfortable with it, be sure to request your ballot be delivered by email so you can get it as soon as possible! 
Under the MOVE Act, passed back in 2010 when we last had supermajority in Congress, all states must send out their ballots to overseas voters by September 19th. They will provide ballots electronically if requested. Nineteen states require ballots to be returned by postal mail or courier. 
Please see the table below for specific details on ballot return rules per state: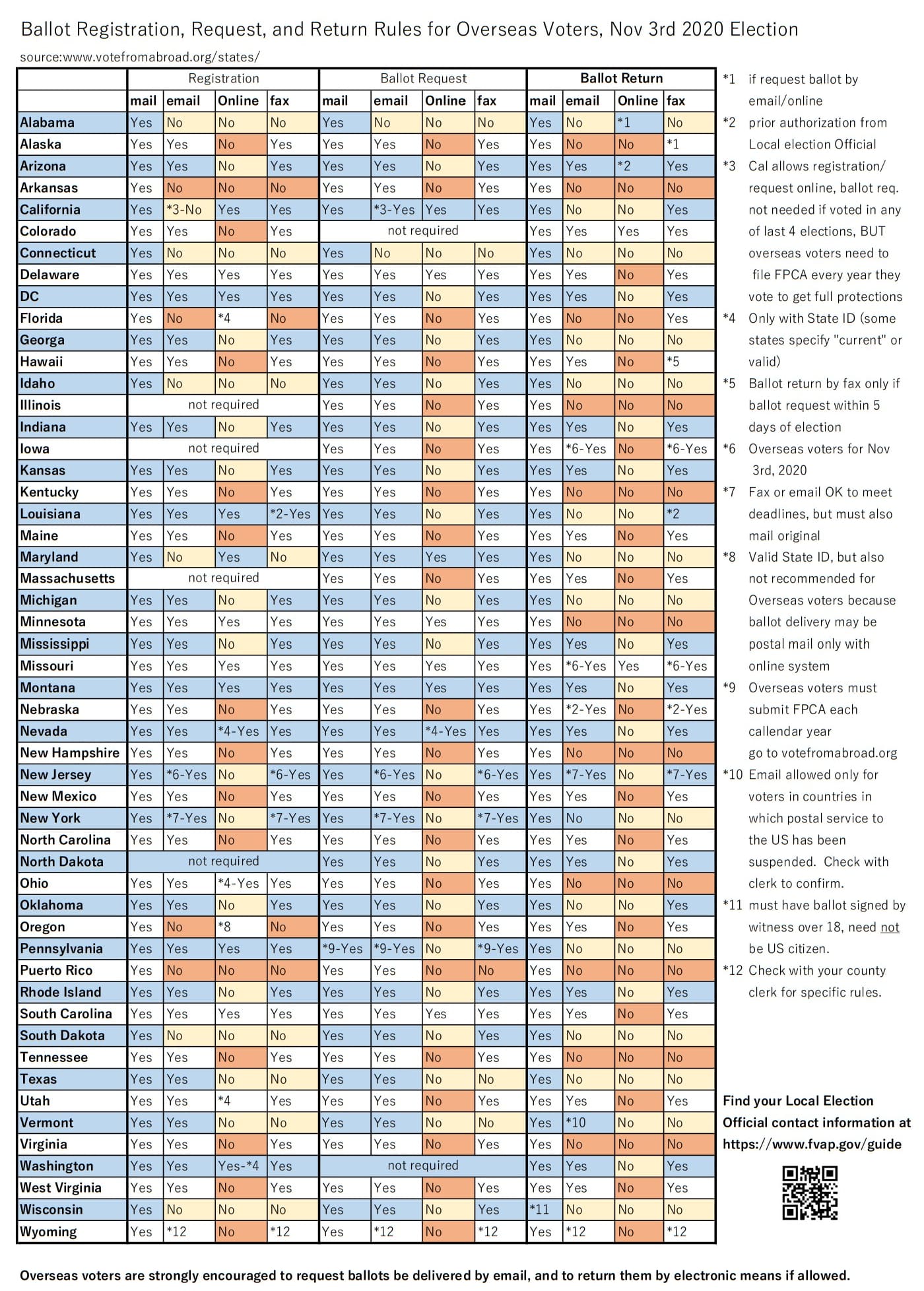 If you vote in a ballot-return-by-mail-only state:
You can print your ballot materials and/or fax it at some convenience stores, such as Family Mart or 7-11.

You can have your ballot delivered by the

US Embassy in Tokyo

. Secure your ballot in its security envelope and put the envelope in a

US postage-paid election envelope

(for after when it gets to the United States and is sent through official election mail), and then put that into another envelope with Japanese stamps and send it to the

US Embassy in Tokyo.

As described by the embassy, it will be sent to the United States through diplomatic courier.

You can also use a courier service, such as FEDEX or UPS, to deliver your ballot.

EMS is down, but you can still send it in via Airmail with

kakitome

- and the tracking number will be forwarded to the USPS once it hits the United States so you can track your ballot.
You should follow your LEO's instructions for submitting your ballot in all cases - but if you have requested your ballot and it doesn't arrive in time, or you are worried it won't be counted, you can submit an emergency back-up ballot. It's called the Federal Write-in Absentee Ballot (FWAB). There is no penalty for submitting one - just go to www.votefromabroad.org/fwab, follow the steps to create your ballot, and send it. Afterwards, if you receive your official ballot and you return it in time, the official ballot will be counted instead of the FWAB. The FWAB will only be counted if the official ballot is not received.
Do you like this post?