WHEN: November 03, 2020 at 8:30 PM - 2:00 AM (CET)
WHERE: Zoom links sent to those who RSVP here.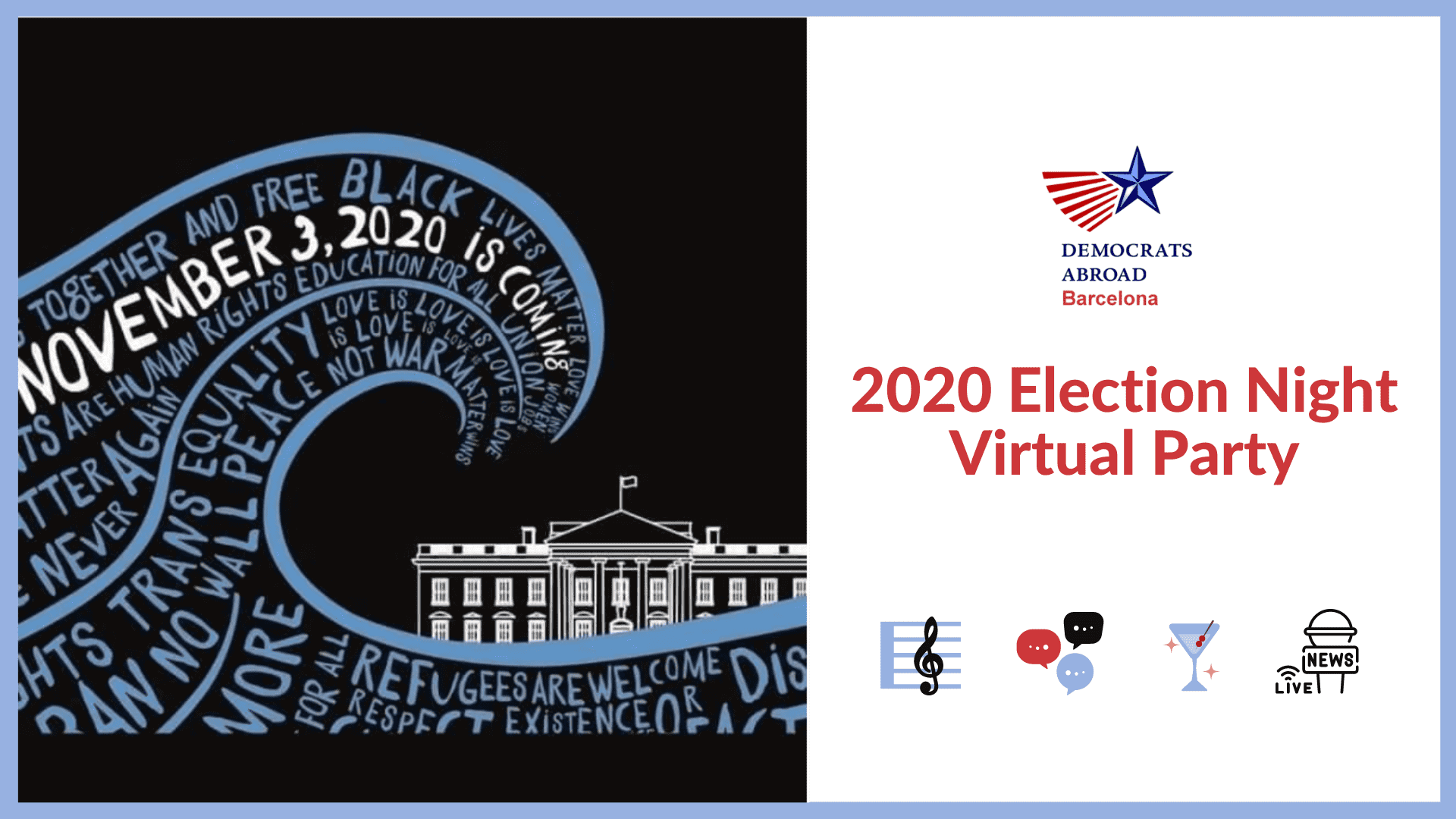 There are many ways to follow what transpires at the polls on the evening of November 3rd, but we think our virtual Election Night Party is one of the best. Over 20 whipsmart people - some local, some not - signed up to speak, sing, and lead sparkling conversations. Democrats Abroad Barcelona is incredibly grateful for their contributions and thrilled to share who they are, what they do, and what you can expect from them during the party.
Starting with, our HOSTS:
MC, Dr. Matthew Murtha is a scientist and comedian. He performs comedy across the world and has opened for Jim Gaffigan and Judah Friedlander. Find him on Instagram at @DrMatthewMurtha!

Commentator, Rich Kurtzman is founder and CEO of BarcelonaSAE. Originally from Chicago, Rich is also a past President of DA Barcelona, 2007-2008.
SPEAKERS, MUSICIANS, and MORE:
(Speaker) Dr. Connie Capdevila Brophy is a Clinical Psychologist, Psychotherapist and Mediator based in Barcelona, www.conniecapdevila.com . TOPIC: Tools for Tending to Your Mental Health During a Pandemic and Political Stress. The psychological tools she shares won't change your reality but they will help your wellbeing. Talk followed by Q&A and a breakout room.

(Speaker) Lucas Cavazo is an educator/broadcaster/writer and a lead presenter at English Radio BCN on Radio Kanal Barcelona 106.9 FM and Facebook LIVE. Locals might also recognize Lucas as a longtime film critic for the Barcelona Metropolitan Magazine. He has also done pieces for LA Times, ABC and ElPunt Avui TV's English division. TOPIC: Embracing the Changing Face of the (Now/Future) Democratic Party.

(Speaker) Julia Schweitert Collazo (NY) is the co-founder and director of Immigrant Families Together and co-author of The Book of Rosy/El Libro de Rosy, the first memoir of a separated mother to be published in English and Spanish. She will speak about the work of the foundation and the story behind the book. Talk followed by Q&A and a breakout room.

(Speaker) Billy Collins (FL) was the US Poet Laureate from 2001-2003. Dubbed "the most popular poet in America" by Bruce Weber in the New York Times, Billy is famous for conversational, witty poems that welcome readers with humor but often slip into quirky, tender, or profound observation on the everyday, reading and writing, and poetry itself. Billy will read from his latest book of poetry: Whale Day and Other Poems. Q&A follows the reading.

(Speaker) Akilah Ensley is the founder of the Invictus Strategy Group, a coalition of black women political consultants and general consulting group that manages political and non-profit fundraising, political engagement, and field strategy. Akilah worked as Deputy Field Director for Project Vote and Program Manager for Everybody Votes. Over the past 12 years she has worked on numerous campaigns. TOPIC: more info to come.

(Speaker) Victor Horcasitas is the Director of Barcelona Metropolitan Magazine and President of the American Society of Barcelona. TOPIC: How to Talk to Disappointed Republicans. Talk followed by Q&A and a breakout room. More about Victor here.

(Speakers) Let's Hear the Young Voices, is a roundtable discussion with moderator Julie Perigo with four 20+ women of different nationalities that explores their hot button issues and how this election will affect their lives. Participants: Brienne Reisch, Helena Martinez Martel, Kavya Jose and Laura Hommema.

(Musician) Carrie Lewis is a natural born soul cheerleader who has been delighting Barcelona with her two vocations since 2001. Raised in Oregon, she can now be found in Portal de l'Angel (and elsewhere!) www.facebook.com/carrielewisbarcelona/ or www.facebook.com/heavenbarcelona/

(Musician) Bobby Mitchell will rock your world on election night with piano classics by Fats Waller and Scott Joplin. Learn more about Bobby's music and concerts at www.bobbymitchellpiano.com/.

(Musician) Gwen Perry will reach our democratic hearts with her rendition of "An American Trilogy" and "Imagine". See dates for upcoming concerts at www.gwenperry.com. Videos from past concerts can be found on YouTube.

(Musician) Tori Sparks is an American singer, composer and activist who will share an acoustic performance. She recently released a live album. Learn more: www.torisparks.com/

(Bartender) Sarah Truckey is the favorite cousin of Annie Graul, DA BCN Secretary, and a part-time bartender who lives in Saint Louis, MO. She is delighted to share her latest mixes -- the Blue Wave cocktail and her signature El Americano -- with dems following election results on both sides of the Atlantic.

(Video) Diane Zilliox is the founder of Splash Studio, a documentary filmmaker, and a storyteller of Innovation and Better Futures. More info: www.linkedin.com/in/diane-kay-zilliox/

(Speakers) from Democrats Abroad include Julia Bryan, Chair for Democrats Abroad International; Chris Reilly, Chair for Democrats Abroad Barcelona Chapter; Jim Mercereau, Chair, Democrats Abroad Spain
Don't forget to RSVP before November 3rd. We look forward to spending Election Night with you!
Do you like this post?