Welcome and thank you for visiting the Democrats Abroad
Global Black Caucus page.


The Democrats Abroad Global Black Caucus (GBC) is made up of DA members of all ethnicities from around the world who are willing and able to advocate on issues important to Black Americans within the United States of America and those living abroad. All DA members are eligible to join the GBC. We advocate for laws, policies, and programs that improve the lives of Black Americans and educate all people on the humanity of Black people.
People of visible African descent have been in what we now know as the United States of America since 1619, long before many ethnic groups who are now considered to be White. Black Americans were essential to building America. Without Black people, the greatness of America would not be possible. Today, Black Americans are in all walks of life and are 13.3% of the American population[1]. By 2060, the projected black population in the United States will be 74.5 million, with a predicted median black wealth as of 2053 of zero and a current median White wealth of $116,000.
According to the Voter Participation Center, from 2012 to 2016, Black voter turnout dropped by 4.7% overall[2]. Black voter turnout is essential for Democratic election victories. Therefore, it is necessary for Democrats to identify and focus on those issues close to the hearts of African Americans and other minority voters.  In general, voters do not turn out unless they feel included, listened to, and excited. It is important that Democrats Abroad have a caucus that directly addresses the issues of Black Americans. Thus, the Global Black Caucus will produce and disseminate political content which bears witness to the ever-unfolding international history of the Black American reality. Black Lives Matter!
| | |
| --- | --- |
| Pictured above: GBC Members at DA EMEA Conference in Madrid. From Left to Right Cuthbert Telesford-Denmark, Elizabeth Bond-Spain, Nicole Pearson-Spain, Angela Fobbs-GBC Chair-Germany, Ronda Zelezny-Green-UK, Christina Skovsgaard-Norway, Patricia Hamzahee-UK, Second Row. Adrienne Johnson-UK, Erica Smith-France, Shari Temple-Germany. | Follow us on |
DA Global Black Caucus Leadership:
Leedonal Moore
| Global Black Caucus Chair; DPCA Voting Rep, Switzerland
See all Leaders
---
News
How We Remember And Honor Dr. King's Legacy
The past year has further exposed the inequalities in American society. From the pandemic to affordable housing, access to education and the effects of climate change. Nowhere has the inequality gap grown more than exercising the right to vote. 
While January 6th culminated with a violent act to deny our legal and constitutional right to vote, the assault has persisted. To date, 19 state legislatures have passed laws that make it harder for students, people of color, low income and physically challenged Americans to vote. And there are no less than 163 congressional candidates who believe and campaign on the big lie that the election was stolen.
As we remember Rev. Dr. Martin Luther King, Jr. on what should have been his 93rd birthday, let us not only honor his legacy but uphold it … not fail it! As Americans of all races and creeds living abroad and stateside, our right to vote is not a forgone conclusion. 
The pace of voting rights for all citizens has been long and arduous. It has taken over a century for America to give all U.S. citizens the right to vote. Yes, 100 years. When Black men were given the right through the 15th amendment, restrictive state laws, poll taxes, literacy tests and grandfather made it nearly impossible to vote. When women got the right to vote in 1920, it did not include minority women. From 1924 to 1962, Indigenous, Asian and Washington D.C. residents were enfranchised.
It was not until the passage of the Voting Rights Act of 1965 that enforced the 15th amendment at the federal level to become one of the most far-reaching and important civil rights legislation in U.S. history. 
This was the life's work of Dr. King … his legacy. Dr. King gave his life for this. We stand on his and the shoulders of Hosea Williams and John Lewis. We must uphold the dream.
Since the signing of the Voting Rights Act of 1965, 18 year olds, non-English speaking citizens  and Americans abroad, had been given the right to vote in 1971, 1975 and 1976, respectively. And in 1982, the Reagan administration … the Reagan administration … extended it for 25 years.
Today, our voting rights lie in peril as states have, 100 years later, enacted laws that restrict all of our access to the ballot. How will we meet this moment? How will we honor Dr. King's legacy? 
Why is this taking so long? If segregationists and trickle down theorists can protect voting rights, Senators Manchin and Sinema can support the Freedom to Vote: John R. Lewis Act.
Rest in power, Dr. King. We honor you. We will not fail you.
Leedonal (Jazz) Moore, Chair 
Democrats Abroad Global Black Caucus

Video Excerpt of Dr. Martin Luther King's speech - I HAVE A DREAM
read more
I am wishing you Happy Holidays and a Happy New Year. May good health, the peace and joy of the holidays be with you today and throughout the new year. Let's take a moment and commemorate all victims, Family Members, Brothers & Sisters, Loved Ones, Friends, Co-Workers or even the Unknown Stranger from all walks of life, affected by the ongoing pandemic, which also still might prevent many of us from visiting our homes.
Please know that you are not alone. Our GBC-Community is made up of strong, diverse and supportive members from all around the world who are always there for each other and hear one out, and if you do feel alone and would like to exchange some thoughts, you may always drop me an email: [email protected]
I also would like to use the momentum of my highest gratitude to all our Volunteers and Supporters, our domestic and international Collaborators and all Democrats Abroad Volunteers who all share the same mission of Getting Out The Vote and fighting for upholding our Fundamental Human Right To VOTE!
Recognize And Celebrate Small Victories 4 The Big Win…
 Whilst 2021 is nearly at an end, our GBC mission continues to advocate on issues on behalf of our African-American Brothers, Sisters and Allies…..
The GBC will not be roped into the negative media frenzy on losing the Midterm Elections, quite the contrary! We will be focusing and utilizing our energy in recognizing and celebrating small victories 4 the big win.
And this is where…We Need You.
Our Brothers and Sisters Need You. Our Country NEEDS You.
BE THE FUTURE!
There are many ways for you to get involved. You can become an active VOLUNTEER, DONATE or join our EVENTS and last but not least having a strong digital presence will be more important than ever for finding and mobilizing voters abroad for critical races in 2022. That's why Democrats Abroad has prioritized redesigning its website in the first quarter of 2022.
At the top of the to-do list is making our website more engaging, accessible, and user-friendly – something we know needs to be done, but which comes with a price tag of $30,000.
Help us in this longer-term investment so that we can better attract and support our online visitors – and in turn convert site visits into activism and votes! Please chip in today at www.democratsabroad.org/website.
 Again, Thank you from the bottom of my heart for every helping hand!
Love and Light
Leedonal (Jazz) Moore
Democrats Abroad Global Black Caucus Chair
---
Immediate Call To Action: 
 We won't let our country be dragged back into the era of Jim Crow voter suppression laws.
 In 2021 alone, more than 425 bills to restrict voter access have been introduced in 49 states. So far, at least 19 of those states have enacted 33 laws that make it harder for people to vote.
We have breaking intel that the Freedom to Vote Act could move forward in the Senate before the end of the year.
We need you to act right away to urge your Senators to do just that!
We encourage you to use 5.CALLS.ORG to find your Senator's number and contact details. it's easy and accessible for all.
Hi, my name is ___and I live in ________.
I'm calling today to urge you to forgo the winter recess until you've pass the Freedom to Vote Act. I need you to protect the right to vote for EVERY eligible voter, and the filibuster's just getting in the way. We can't wait any longer for this bill. Please do anything necessary to pass the Freedom to Vote Act!
Thank you.
Request your ballots
ALERT for TEXAS voters! Please send in your Federal Postcard Application (FPCA) on January 2nd or 3rd to request your ballots for 2022!! Mark your calendars!! Texas has the earliest primaries in the country: March 1st, 2022. Which means your ballot will be sent to you by January 15th.
Other states: send in your FPCA on January 15th, so you can receive your ballots for the entire election year.
read more
See all posts
---
Upcoming Events
Sunday, January 30, 2022 at 03:00 AM Eastern Time (US & Canada) · 5 rsvps
Zoom - Online
During these meetings we
CONNECT, LISTEN, SUPPORT & EMPOWER
each other, exchange thoughts and ideas, plan possible co-sponsored events and ultimately strengthen our community. The Global Black Caucus is hosting an open roundtable discussion once every three months for DA leaders and volunteers, and you are invited to be a vital part of the collective advocating on issues of African-Americans not just in the U.S. but all around the world.
The meetings will be of duration of 90 mins and be held on Zoom.

Please RSVP here to get the Zoom link and to let us know you are interested! 


The second Global Black Caucus Quarterly Global Meeting will take place on January 30th, 3AM EST / 9 AM CET  Zoom (next meeting dates: Mar. 31st, May 31st…)
Check the Global Black Caucus
Wiki-Page
or the Global Universal
Calendar
to find further dates for these meetings.
We are looking forward to having great conversations with you all.

Love and Light
Leedonal (Jazz) Moore
Sunday, February 06, 2022 at 03:00 PM Berlin Time · 5 rsvps
Zoom link for RSVP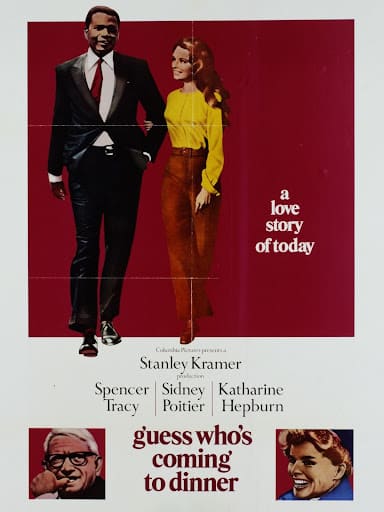 Topic: Film Screening: GUESS WHO'S COMING TO DINNER (1967)
Time: Feb 6, 2022 03:00 PM Amsterdam, Berlin, Rome, Stockholm, Vienna
On January 6, 2022, the groundbreaking actor Sidney Poitier died at the age of 94. The first black actor to win an Academy Award for best lead performance, he transformed the way black people were portrayed on screen. 
In addition to his acting career, he had cultivated a deep friendship with the Rev. Dr. Martin Luther King Jr. and developed relationships with student activists connected to the Student Non-Violent Coordinating Committee (SNCC).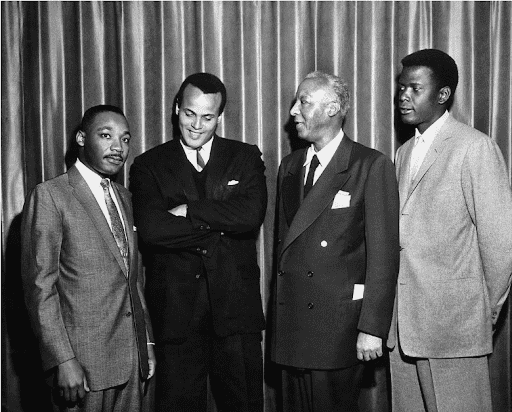 Pictured above: Martin Luther King, Jr., Harry Belafonte, Asa Philip Randolph, Sidney Poitier, Portrait, circa 1960. | Source: Universal History Archive / Getty
The death of Sidney Poitier marks the passing of an icon whose art touched millions of lives across generations and whose work helped break down the structures of exclusion in Hollywood. But Poitier's legacy is pivotal for other reasons. Though rightfully celebrated in his life and at his death for having achieved many racial firsts — America's first Black movie star, matinee idol, and Oscar winner for Best Actor — Poitier contributed much to social transformations taking place far beyond the movie screen.
To honor his memory and celebrate his life, we will screen the film "Guess Who's Coming to Dinner". Afterward, we will have a discussion.
We hope you can join us for this classic film. RSVP Today!
Watch the Trailer: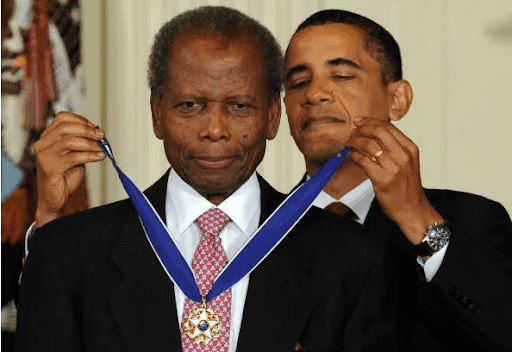 President Barack Obama presents the Presidential Medal of Freedom to ambassador and actor Sidney Poitier during a ceremony in the East Room at the White House on August 12, 2009. | Source: JEWEL SAMAD / Getty