The past few months have been a flurry of events for Democrats Abroad Sweden, and Democrats Abroad as a global organization. Hang on to your seats, there's a lot of important content here to share!
On May 4th, DA Sweden held our 2019 Annual General Meeting in Stockholm. At the meeting, we held our biennial Executive Committee elections and the Stockholm Chapter elected new leadership.
For DA Sweden's updated Bylaws, click HERE.
Here's the new team that is dedicated to leading us through the decisive 2020 elections and beyond!
Chair: Alex Lange*
Vice Chair: Beth Landry*
Secretary: Jeffrey Cheng
Treasurer: Sheri Eklund
Counsel: Bayo Callender
Member-at-Large: Liz Clark Wessel*
Member-at-Large: Max Otterman*
Communications Officer: Suzanne Samuels
Stockholm-Uppsala Chair: Christina Davis
Western Sweden Chair: Rose Shaber-Twedt
Skåne Chair: Alexander Arcelay
*These representatives are both Democrats Abroad Sweden Executive Committee members and DPCA Voting Representatives
Most recently, from May 17-20th, the Democratic Party Committee Abroad (DPCA), our governing body, held our 2019 Global Meeting in Washington, DC, where we gathered in person (and remotely!) from all over the world to deliberate many important items of business. These included Resolutions, Charter Bylaws Amendments, and holding our International Democratic Party Committee Abroad (DPCA) office elections. We also heard from a number of the presidential candidate hopefuls.
Sweden's own Jeffrey Cheng was re-elected to the office of International Secretary, and we are proud to acknowledge all of the hard work he has contributed in several capacities!
Important Global Elections: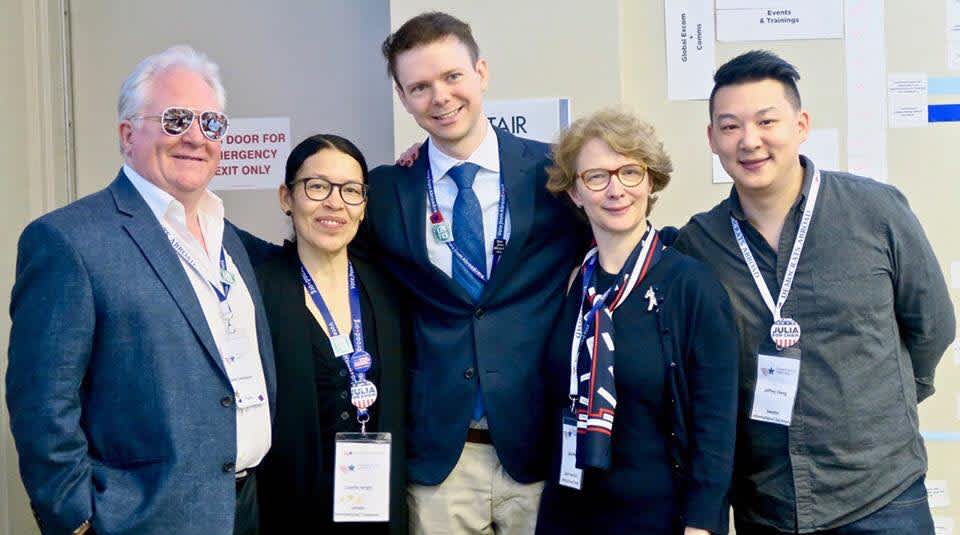 Our Democrats Abroad International Executive Committee team that will lead us until 2021 is:
International Chair: Julia Bryan -- Czech Republic
International Vice Chair: Alex Montgomery -- Hong Kong
International Treasurer: Lissette Wright -- Canada
International Secretary: Jeffrey Cheng -- Sweden
International Legal Counsel: Joe Smallhoover -- France
Americas Regional Vice Chair: Kathy Rothschild -- Costa Rica
Asia Pacific Regional Vice Chair: Kat Allikian -- New Zealand
Europe Middle East and Africa Regional Vice Chair: Will Bakker -- Luxembourg
Lastly, we voted on the location for the 2020 DPCA Global Convention. Congratulations to Democrats Abroad Canada, who will be hosting next year in Toronto! Stay tuned for more information on how to participate.
Resolutions & Bylaws of the DPCA:
Together as a body, we deliberated and voted on several Resolutions and Democrats Abroad Amendments. An important win for these was the Resolution to Endorse Medicare for All.
Invited Speakers to DPCA:
Throughout the Global Meeting, several Presidential candidates as well as notable speakers presented themselves to us, both in person and through submitted videos. Presidential candidates who spoke to us included: Sen. Kirsten Gillibrand, Sen. Amy Klobuchar, Mayor Pete Buttigieg, author Marianne Williamson, Andrew Yang, Sen. Bernie Sanders, Sen. Cory Booker, and former Rep. John Delaney. Other presenters included Sen. Doug Jones, DNC CEO Seema Nanda, DNC VC Jason Rae, DLCC Josh Handelman, ASDC Chair Ken Martin, and Liz Jaff. Some of these videos can be found here.
Global Reports:
During our meeting, presentations regarding the crucial and diligent work were presented from Global Committees and Caucuses, including the Chair/Vice Chair/Treasurer/Secretary Reports, Global Caucuses, the Global IT Team, and more.
DC Door Knocking: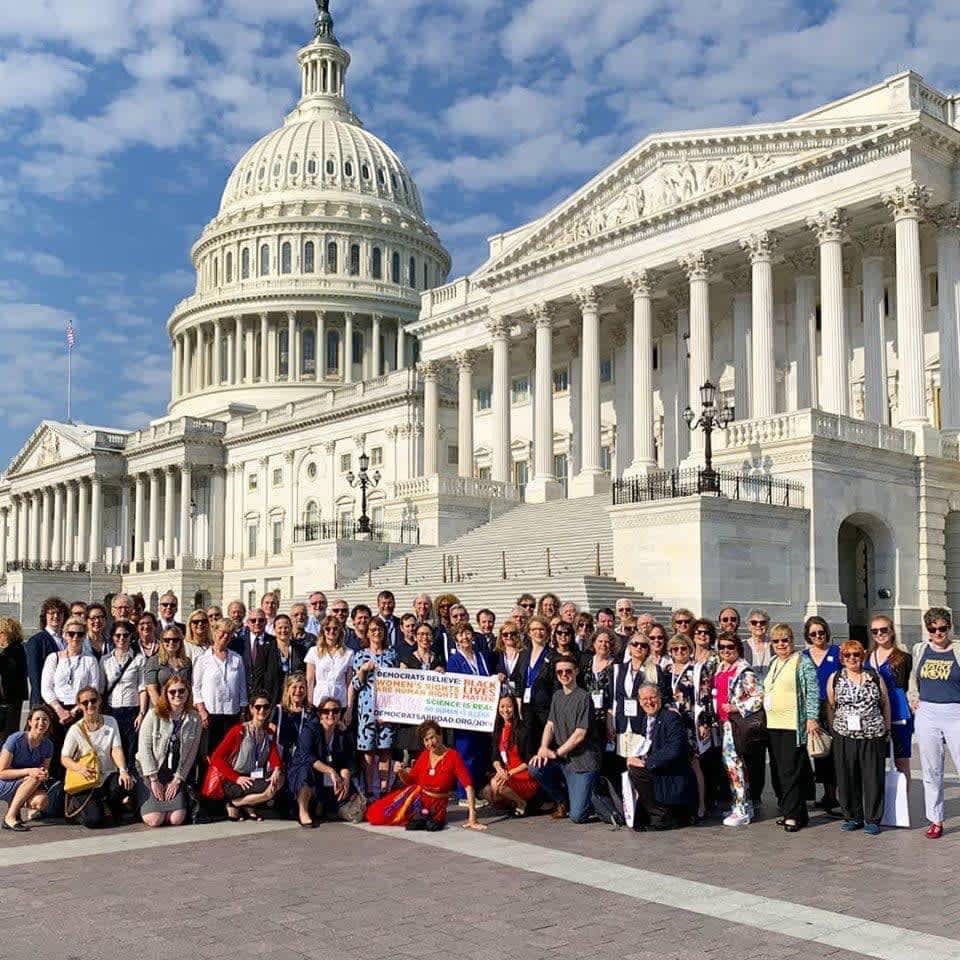 For those present in Washington, DC for our Global meeting, many stayed on afterwards to advocate for Democrats Abroad in Congress door-knocking on Capitol Hill. It is important to us that we bring issues that impact millions of overseas voters to the front, and our door knocking teams visited several offices to make that possible in-person.
For more information about matters relating to our Global meeting, check out the Washington, DC DPCA Global Meeting 2019 Wiki Page. 
Although I, as a former resident of Maryland and intrepid Washington, DC advocate, wished I could have attended this meeting in person, it was self-evident watching remotely how hard many worked to make this event a success and how much time and dedication was committed to all of the different segments presented for attendees both locally and abroad. So many of both our newly-appointed and seasoned champions made the time to attend and see to fruition our ambitious goals.


And now, what can we as Democrats Abroad in Sweden do?
The 2020 election is going to be the most important election of our lifetime. All across Sweden, we must now rise to the challenge ensuring Democratic wins all across the United States.
In 2018, Democrats Abroad had the numbers globally to make or break elections in several elections. Despite not residing within the contiguous United States, our collective voices pushed several elections to victory.
We matter, and the input of 9 million Democrats Abroad makes a difference.
If you will rise to the challenge with us, here's what actions you can take:
Host a debate watch party, a film screening, a book club, a fika group, or many other ideas;

Make calls or sending emails to your Congressional legislators back home about our taxation concerns as expats;

Organize locally as a chapter liaison for the Women's, LGBT, Black, Hispanic, Youth, or Progressive DA Caucuses;

Help with voter registration; or

Check out the Delegate Selection Plan if you are interested in representing Democrats Abroad at the 2020 Democratic National Convention from July 13-16th, 2020!
Are you interested in one or more of these?
Go to our Volunteer sign-up page and tell us how you'd like to take action.
Can't commit your time? Consider making a donation to help us register voters, host phone banks, advocate for you in Congress, and the many ways we are working to ensure our Democratic Candidates win in 2020 and beyond.
Check out our Facebook pages and groups to keep in touch via social media!
For those of you who have been involved with us already, we are tremendously grateful and we value every moment and resource you share. If you have not yet had the opportunity to do so, our all-volunteer team is waiting to welcome you to our Democrats Abroad Sweden family. Any idea that you have, any hour that you can give, or any dollar that you can donate literally propels us forward towards a more fair and representative democracy. The call to action is now, and we hope you'll join us in the fight.
Yours in solidarity,
Beth Landry, RN
[She/They]
Vice Chair, Democrats Abroad Sweden
Do you like this post?