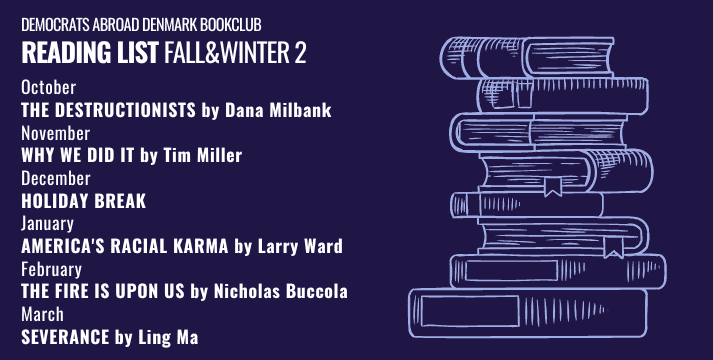 Democrats Abroad Denmark's Book Club is excited to announce our reading list for this fall and winter. The DADK Book Club reads literature that explores the politics, history, current events, and culture of the United States and its impact on the world. We invite you to join us whether you've read some, all, or none of the book. Our meetings take place on the third Tuesday of the month and offer lively and thoughtful discussions of the material and subjects surrounding them. To join our next discussion, check out our events page. 

Here's what we're reading:
October
THE DESTRUCTIONISTS by Dana Milbank
November
WHY WE DID IT by Tim Miller
December
HOLIDAY BREAK
January
AMERICA'S RACIAL KARMA by Larry Ward
February
THE FIRE IS UPON US by Nicholas Buccola
March
SEVERANCE by Ling Ma
Do you like this post?