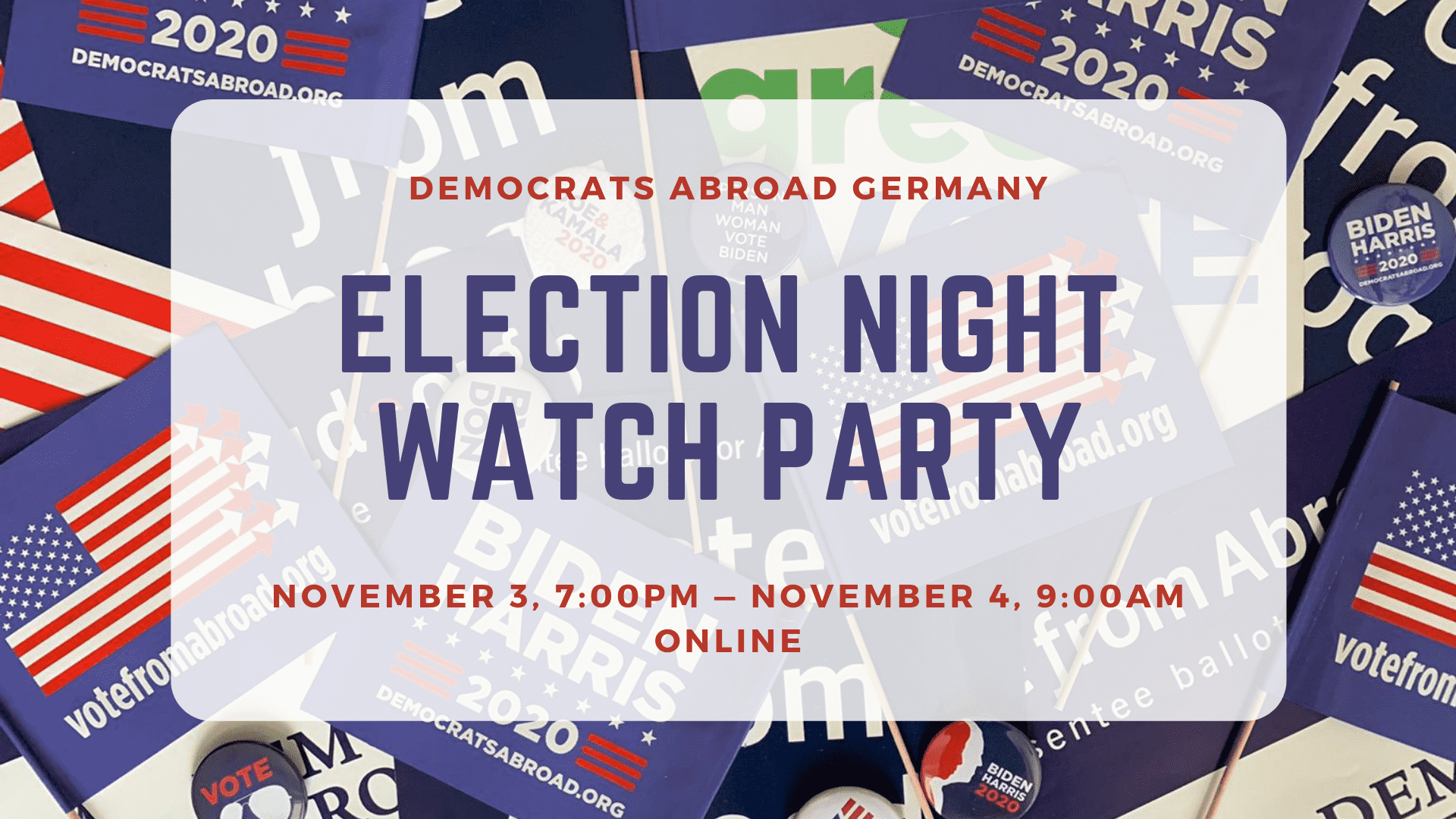 Join us on Election Night to discuss the current situation on the ground in the US, share how you're experiencing the election, and connect with other Democrats across Germany. The event will begin at 7:00pm on November 3 and run through 9:00am on November 4. We will not be broadcasting any news program, but you are welcome to have this on elsewhere and participate in our discussion in parallel.
Login information will be sent to RSVPs on November 2. Please note that prioritized entry will be given to Democrats Abroad Germany members (join here).
Program
7:00pm-9:00pm – Open discussion with members of the DA Germany Executive Committee
9:00pm-11:00pm – Election Night 2020, an online theater performance by Julia Hart, director of Neuland
11:00pm-5:00am – Pajama Party, sponsored by DA Germany's Saxony Chapter
5:00am-9:00am – Open discussion with members of the DA Germany Executive Committee, including a look at the current legal situation with legal scholar Dr. Matt LeMieux (Münster)
Election Night Party Packs
Why not get in the election night spirit by decorating your place with some Biden-Harris gear?! We have election night party packs available starting at €10. They include Biden-Harris signage, reusable cups, flags, balloons, and buttons. Other Biden-Harris gear, like shirts and tote bags, are also available for a donation. Please note that we can only accept donations from U.S. citizens!
Presse
Wir laden Sie herzlich ein, an diesem Ereignis zu den folgenden Zeiten teilzunehmen:
3. November 2020
19.30-20.00 (Diskussion) / 21.00-23.00 (Aufführung von Julia Harts Election Night 2020)
4. November 2020
5.00-5:30 (Diskussion) / 7:30-8:00 (Diskussion)

Wir bitten vorab um Anmeldung, die über den folgenden Link erfolgt: https://fs11.formsite.com/DAGermany/presseanmeldung/index.html


WHEN
November 03, 2020 at 7:00pm - November 04, 2020 at 9:00am Berlin Time
CONTACT
Candice Kerestan ·
Who's RSVPing
Do you like this post?