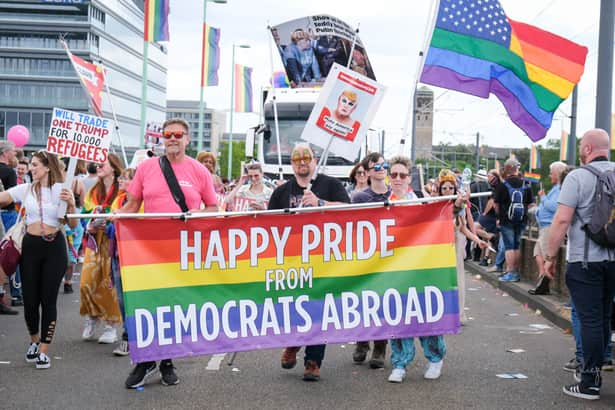 One of the DA NRW region's biggest yearly events is just around the corner....Christopher Street Day/Cologne Pride! This year's festival will run from Friday, 1 July to Sunday, 3 July at Heumarkt/Alter Markt in old town Cologne. 
As we do every year, we will be holding an infostand to: make connections to Americans or people who know Americans, pass out DA freebies, assist interested Americans in signing up for DA, and selling DA merchandise to Americans. On Sunday, there is also the opportunity to join in on the parade!
We'll not only be showing our solidarity with the LGBT+ community, but also supporting Get Out The Vote efforts for the midterms 2022. This year, women's rights, gun reform, and voting rights are on the ballot. 
All of this would not be possible without volunteers, which is why we are looking for people to help run the stand on all three days and/or take part in the parade. Regardless of sexuality, gender, or age, help from members of all backgrounds would be greatly appreciated!
Please sign up for a shift (or two!) at this sign-up sheet. 
If you prefer that your name/email does not appear on this public sign-up sheet, you can email your information and desired time slot at [email protected]. A detailed email will be sent to all volunteers with more information in the days ahead of the event including expected location of the stand and instructions for this who would like to take part in the parade. 
We look forward to seeing you at PRIDE!
WHEN
July 01, 2022 at 1:00pm - July 03, 2022 at 1:00pm Berlin Time
Do you like this post?