Get Out The Vote Summer training part 2.
Democrats Abroad Japan will be hosting an online training session for the basics of voter registration (Get Out the Vote) volunteers.
Learn out how you can make a difference wherever you are!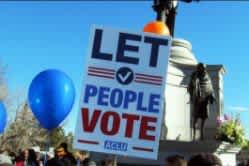 This is a great opportunity to start volunteering!
GOTV: We'll cover the basics of voter registration and sending absentee ballots from abroad, so you can reach out to your own community and help get out the vote!
Format: Interactive online workshop using Zoom 
WHEN
August 17, 2021 at 7:00pm - 8:30pm Tokyo Time
Who's RSVPing
Do you like this post?