ACTION MEETINGS
September and October will feature guest speakers from outside Democrats Abroad Japan and we hope you can join us on Sept 30 and Oct 28 
Note: The September action meeting will be on September 30 because September 23 is a national holiday.
September Action Meeting Sept 30, 8 to 10 PM
Theme: Why Vote in Local Elections? 
8 to 845 GOTV voter clinic and general GOTV election questions
Fall 2021 elections are upon us! Rebecca, DA Japan GOTV Team leader, will review some of the basics for upcoming elections as well as important deadlines. Especially important for NJ, VA and Ohio voters!
845-9:00 Open discussion time
9:00-10:00 Panel discussion: Why Vote in Local Elections? 
Panel Discussion with John Choe, Queens-based Community Activist and City Council Candidate from New York, and John Baumlin, past-chair DAJ, and current DPCA Representative.  
After a brief self introduction, we will discuss the importance of DA members' participation in State and Local Elections, and how critical our voices are, before moving on to direct actions you can take right away.  
The DAJ Action Meeting is held every 4th Thursday, but because Sept. 23rd is a holiday, this month's meeting will be on Sept. 30th. Doors open at 7:45pm.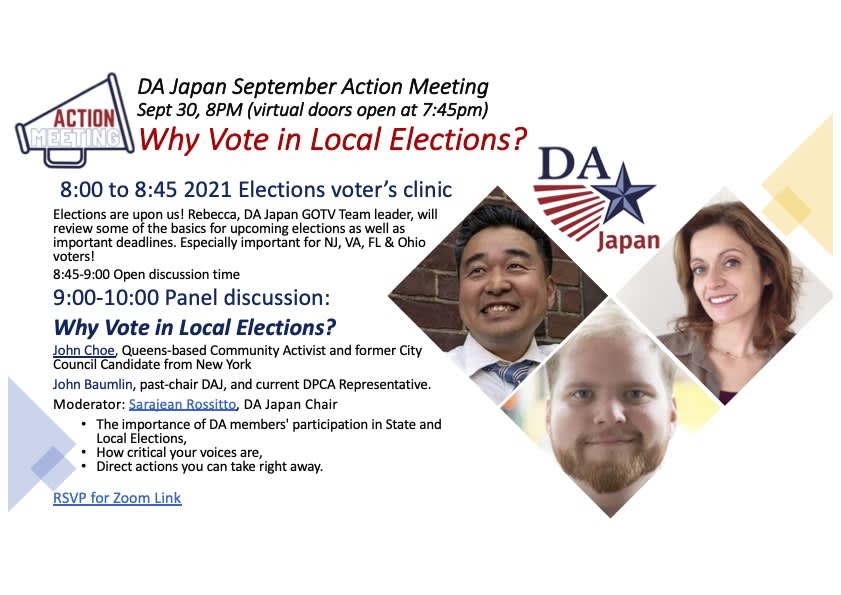 WHEN
September 30, 2021 at 7:45pm - 10:45pm Tokyo Time
CONTACT
Sarajean Rossitto ·
Who's RSVPing
Do you like this post?