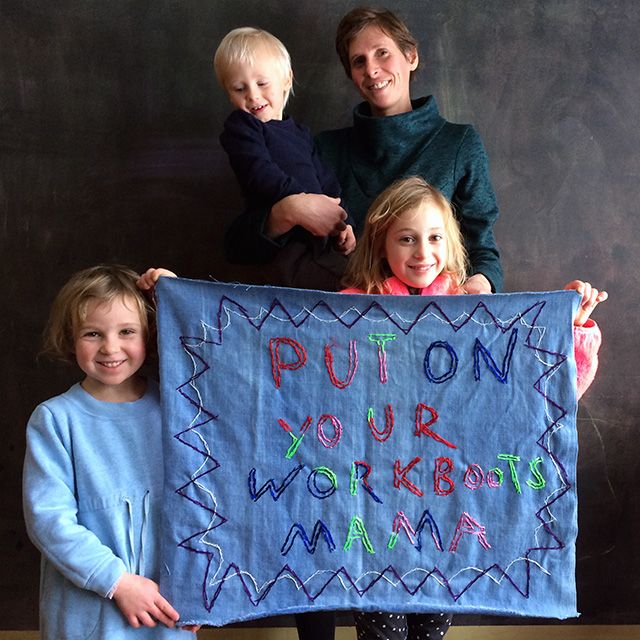 Democrats Abroad invites you to stand together - in solidarity with our partners and children - for the protection of our human rights, our safety, our health, and our families. Over 150,000 people have said they plan to attend the Women's March on Washington and over 1,000 buses are headed to DC.*  Sister marches are being held in cities around the US and the world - including many here in Canada!
We need to march in great numbers because we are Stronger Together! Let's rally in solidarity with hundreds of thousands around the world, one day after the Presidential inauguration, to say loud and clear that discrimination will not be tolerated and demand protection for everyone's rights and civil liberties.
Be part of this historic event on January 21, 2017! Join one of the many solidarity marches taking place in cities throughout Canada.  Find the city nearest you on the list below (along with applicable meet-up and contact information for your local DA Chapter).
*Democrats Abroad Canada's chartered bus to Washington DC for the WMW is full, but there's still time to sign up for tickets on one of the buses to DC from either Toronto, Windsor, Kingston, London, Ottawa or Montreal with the Canadian Women's March.
If you're going to DC, email [email protected] for details about our meet-up place and DA Dinner reservations.
CALGARY
https://www.facebook.com/events/383399512023752/
Women's March - Calgary, Alberta CA
January 21, 2017 1:00 PM - 2:00 PM
Olympic Plaza, Calgary, Alberta T2N 1J9
***
EDMONTON
https://actionnetwork.org/even ts/womens-march-edmonton-alberta-ca-2
Women's March - Edmonton, Alberta CA
January 21, 2017 at 1:00 PM
Alberta Legislature Building,
10800 97 Ave NW,
Edmonton, Canada T5K 2B6
***
HALIFAX
https://actionnetwork.org/even ts/womens-march-halifax-ns-canada
Women's March - Halifax, NS, Canada
January 21, 2017 at 1:00 PM
Parade Square in front of Halifax City Hall,
841 Argyle St., Halifax, Canada B3J 3A5
***
KAMLOOPS
https://www.facebook.com/events/1326272374062846/ 
Women's March on Washington - Kamloops, British Columbia CA
January 21, 2017 10:00 AM - 1:00 PM
City Hall, 7 West Victoria St
Kamloops, Canada V2C 1A2
***
KELOWNA
https://actionnetwork.org/even ts/okanagan-valley-kelowna- womens-march
Okanagan Valley - Kelowna Women's Rally
January 21, 2017 at 10:00 PM
The Sails, 210 Bernard Avenue,
Kelowna, Canada V1Y 6N2
***
KINGSTON
https://actionnetwork.org/even ts/canadian-womens-solidarity-march-on-washington
Canadian Women's Solidarity March on Washington
Start: January 21, 2017 at 10:00 AM - 12:00 PM
Kingston, Springer Market Square,
Kingston, Canada K7L 2Z3
***
LETHBRIDGE
https://www.facebook.com/events/179494729196388/
Women's March on Washington - Lethbridge, Alberta CA
January 21, 2017 12:30 PM - 2:00 PM
Location and details to be announced
***
LONDON
https://www.facebook.com/events/1154598814609248
Women's March - Solidarity Rally in London
January 21, 2017 at 12:00 PM - 3:00 PM
Williams Fresh Cafe Victoria Park,
578 Richmond St, London, Ontario N6A 3G1
***
MONCTON
https://actionnetwork.org/even ts/womens-march-moncton-nb- canada
Women's March - Moncton, NB, Canada
January 21, 2017 at 10:00 AM
Location and details to be announced
***
MONTREAL
https://actionnetwork.org/even ts/womens-march-montreal-qc-canada
Women's March - Montreal, QC, Canada
January 21, 2017, 11:00 AM
Esplanade of the Place Des Arts Downtown Montreal,
175 Rue Sainte-Catherine, Montreal, Canada H3R 1K2
***
NANAIMO
https://actionnetwork.org/even ts/womens-march-on-washington-nanaimo
Women's March on Washington – Nanaimo
January 21, 2017 at 10:00 AM
Diana Krall Plaza, 51 Gordon St.
Nanaimo, Canada V9R 3W2
***
OTTAWA
http://bit.ly/2hJhtu9
Women's March on Washington - Solidarity March in Ottawa
January 21, 2017, from 11:00 AM to 2:00 PM EST
Human Rights Monument
Corner of Lisgar & Elgin Streets
Ottawa, ON, Canada K2P2L7
DA Meet-up: Human Rights Monument (corner of Lisgar and Elgin Streets) at 11 AM
Contact: : Catherine Butler
Phone: 613-447-7425
Email: [email protected]
***
SAINT CATHARINES
https://actionnetwork.org/even ts/womens-march-st-catherines- ot-canada-2
Women's March - St Catharines, OT, Canada
January 21, 2017 at 10:00 AM
St. Catharines City Hall, 50 Church Street,
Saint Catharines, Canada L2R7C2
***
ST. JOHN'S
https://www.facebook.com/events/1430829900277852/
Women's March on Washington: St John's NL
January 21, 2017 at 11:30 AM
City Hall,10 New Gower St,
St. John's, NL A1C 1J3
***
TORONTO
https://actionnetwork.org/even ts/womens-march-toronto-ontario-ca-2
Women's March - Toronto, Ontario CA
January 21, 2017 at 12:00 PM
Queen's Park, Queen's Park
Toronto, Canada M7A 1A5
DA Meet-up: Sir John MacDonald Statute, South Lawn, inside oval at Queen's Park Circle at 11:30am
***
VANCOUVER
https://actionnetwork.org/ events/womens-march-vancouver
Women's March - Vancouver, BC, CA
January 21, 2017 at 10:00 AM
Jack Poole Plaza, 1085 Canada Place
Vancouver, Canada V6C 3C1
DA Meet-up: Cactus Club, 1085 Canada Pl
***
VICTORIA
https://www.facebook.com/events/343882175997206/
Women's March - Victoria, BC, CA
January 21, 2017 at 1:00 PM
Centennial Square, 645 Fisguard St
Victoria, Canada V8W 1P6
DA Meet-up:  Starbucks, 1689 Government St (@ Fisgard St) at 12:30 pm 
Contact:  Heidi Burch at [email protected]
***
WINNIPEG
https://actionnetwork.org/even ts/womens-march-winnipeg-mb- canada
Women's March - Winnipeg, MB, Canada
January 21, 2017 at 11:00 AM
Portage Place at Centre Court, 393 Portage Ave
Winnipeg, Canada R3B 3H6