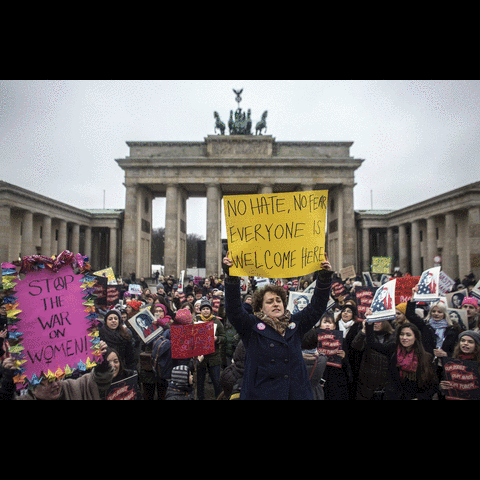 In the current political climate, it's easy to forget that Democratic candidates made gains in the House, the Senate, and won the popular vote for President by nearly 3 million votes. There is no electoral mandate for the attack now underway on our civil liberties, our public institutions and lands, our federal agencies and regulations, or our fellow citizens and residents based upon their country of origin, their faith, their sexual orientation, or any other personal identifier. We are standing together against these threats and preparing for the midterm elections -- won't you join us?
Democrats Abroad Germany (DAG) is the official arm of the Democratic Party for U.S. citizens living in Germany. DAG has 10 chapters across the country (to find the chapter nearest you, please click on "Chapters" above), as well as precinct groups in medium-sized cities which cooperate with our larger chapters. We are united in our support of environmental protections, policy grounded in scientific inquiry, women's rights, LGBTQ equality, fundamental reform of our criminal justice, immigration, and education systems, universal access to health care, child care, and maternity leave, among other issues. Given that many of us have benefited from exactly such fundamental policies in our country of residence, Democrats Abroad leads progressive policy proposals within our party, backed up by our lived experiences.
If you feel that the time for complacency has passed, you are in good company! Our country committee is one of DA's largest, and our leaders work hard to represent and connect DAG's diverse and active members. At our monthly meetings, you can connect with other like-minded Americans in your area to discuss political developments at home as well as plan our response here, be it calling or mailing campaigns to our representatives or protests and demonstrations in our communities abroad. DAG also plans numerous annual events of interest to Americans abroad -- from an Oktoberfest extravaganza in Munich, to a Young Dems Thanksgiving pumpkin pie mingler and fundraiser in Berlin, from the Labor Day picnic in Kaiserslautern, to Fourth of July picnics in every chapter, from CSD and Pride representation at June events across Germany, to the monthly First Friday political discussion in Heidelberg – and much, much more. Our members receive regular invitations to our events by email. If you're not yet a member, join in just two minutes under the Join tab above.
Democrats Abroad supports every American abroad in registering to vote and casting their ballots from overseas. These get out the vote (GOTV) efforts are the heart of our political activity, and we rely on volunteers to ensure our members and friends are enfranchised every election, every year. Our absentee votes have been decisive in numerous elections across the US! Together with other DA country committees from around the globe, we're making the specific issues faced by overseas Americans known on Capitol Hill. There are many ways for us to make our voices heard, even an ocean away -- please share your questions and your enthusiasm for politics with us! Register with your local chapter today to receive notification of the next DAG activities in your area.
We look forward to meeting you!
Do you like this post?