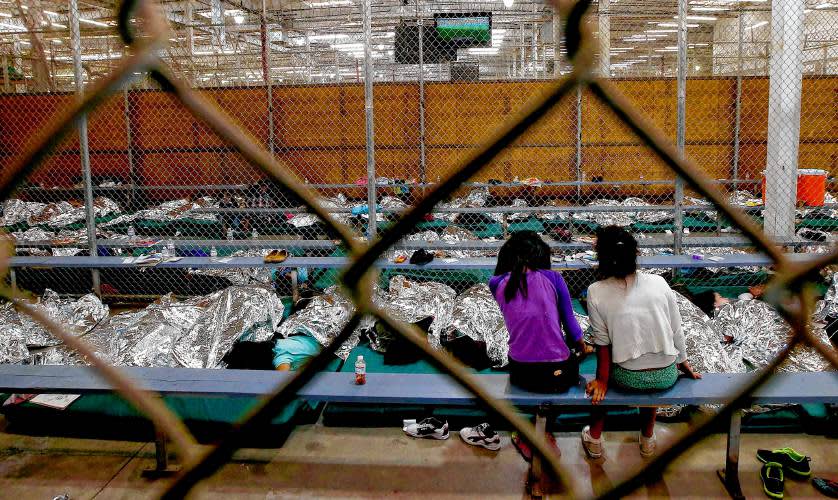 Families belong together!
In April, the Trump White House issued a policy to separate children from their parents, relatives, or other adults who accompanied them in crossing the border, whether apprehended during an illegal crossing or, in numerous reported cases, legally presenting themselves for asylum. The policy involved prosecuting all adults who were detained at the U.S.–Mexico border, sending the parents to federal jails, and placing children and infants under the supervision of the U.S. Department of Health and Human Services. According to government officials, the policy led to the separation of more than 3,000 children from their parents.

We are all outraged at the separation of families at the border. To understand the situation at hand and what actions we can take, we have invited two experts on immigration policy and human rights, Roeland de Wilde and Veena Siddharth. Each one will give a presentation, followed by a Q&A session and discussion.

RSVP at http://whoozin.com/HRF-VQX-NJDV

August 4th, 2018

9:00 – 9:30 am: Voter Registration

9:30 am - 12:00 pm DACR Meeting – Business and Discussion

≈≈≈≈≈≈≈≈≈≈≈≈≈≈≈≈≈≈
SUGGESTED DONATION: ₡3,000
(Contribution goes towards coffee, iced tea, meeting space & the Get Out the Vote campaign)
≈≈≈≈≈≈≈≈≈≈≈≈≈≈≈≈≈≈
RAFFLE: Bring extra money to win a very special prize.
TICKETS: 1 for ₡1,000
(money raised goes towards our Get Out the Vote efforts)
≈≈≈≈≈≈≈≈≈≈≈≈≈≈≈≈≈≈
FREE TRANSFER FROM SAN JOSE:
SAN JOSE - Those desiring a free ride to Escazu can meet at Teatro Nacional by-8:30 am promptly or earlier if all who RSVP'd are present. We will provide a free ride back to SJ at 12:15 pm.

RIDE (must RSVP): Call Nelleke: 8614-2622 or e-mail Maxine: mtorresdacr@protonmail.ch
≈≈≈≈≈≈≈≈≈≈≈≈≈≈≈≈≈≈≈≈≈≈≈≈≈≈≈≈≈≈≈≈≈≈≈≈
CONTACT:
If you have any questions, please call Kathy at 2244-2247 or email DemocratsAbroadCostaRica@gmail.com

≈≈≈≈≈≈≈≈≈≈≈≈≈≈≈≈≈≈≈≈≈≈≈≈≈≈≈≈≈≈≈≈≈≈≈≈
RSVP INFORMATION:

We expect a high turnout for this heartbreaking subject and we urge you to RSVP early using this link: http://whoozin.com/HRF-VQX-NJDV
Do you like this post?