Tonight at 7pm China time, Democrats Abroad China is proud to begin our Black History Month commemoration with "Let the Caged Bird Ring," a celebration of poetry by Black American writers.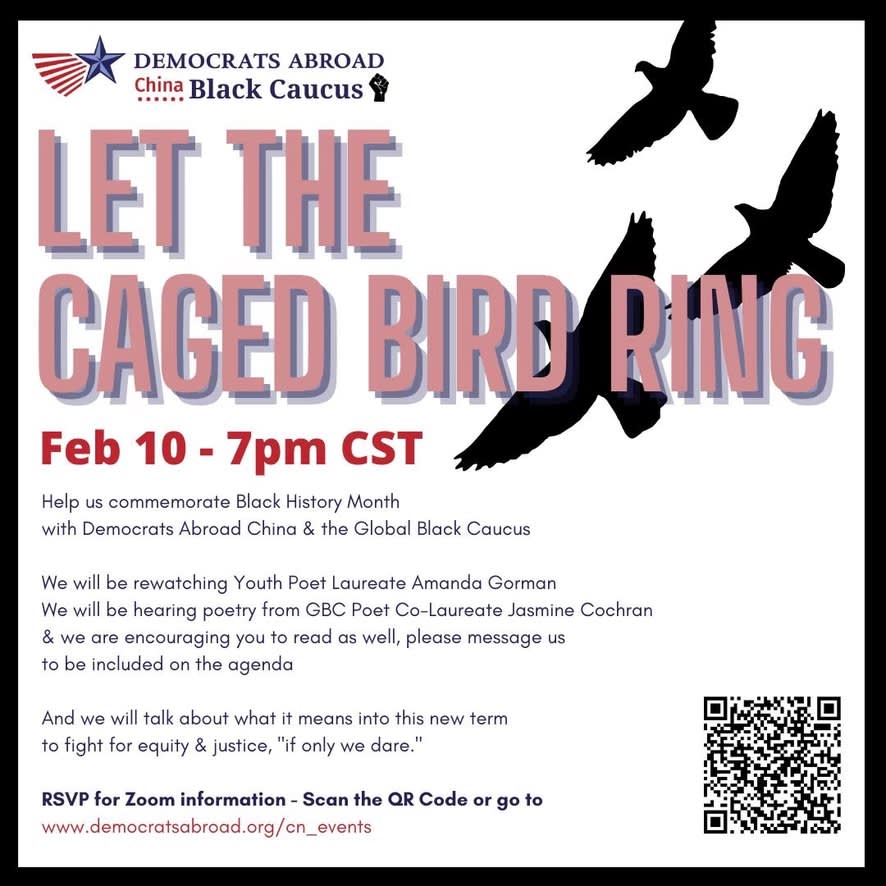 The program is as follows:
Alexander Lee, Guangzhou (VT-01), reads the poem "Still I Rise" by Maya Angelou
Amanda Gorman, Youth Poet Laureate, recording from the Inauguration
Jasmine Cochran, Guangzhou (MS-04), DA Global Black Caucus Poet Co-Laureate reading her own work
Alex Smith, Beijing (IL-13), reads the speech "Ain't I A Woman?" by Sojourner Truth
Terry Watkins, Beijing (MO-1) reads the poem "Dream Variations" by Langston Hughes
Please join us from wherever in the world you are! Zoom login information can be found here.
BUT WAIT! THERE'S MORE!
UPCOMING EVENTS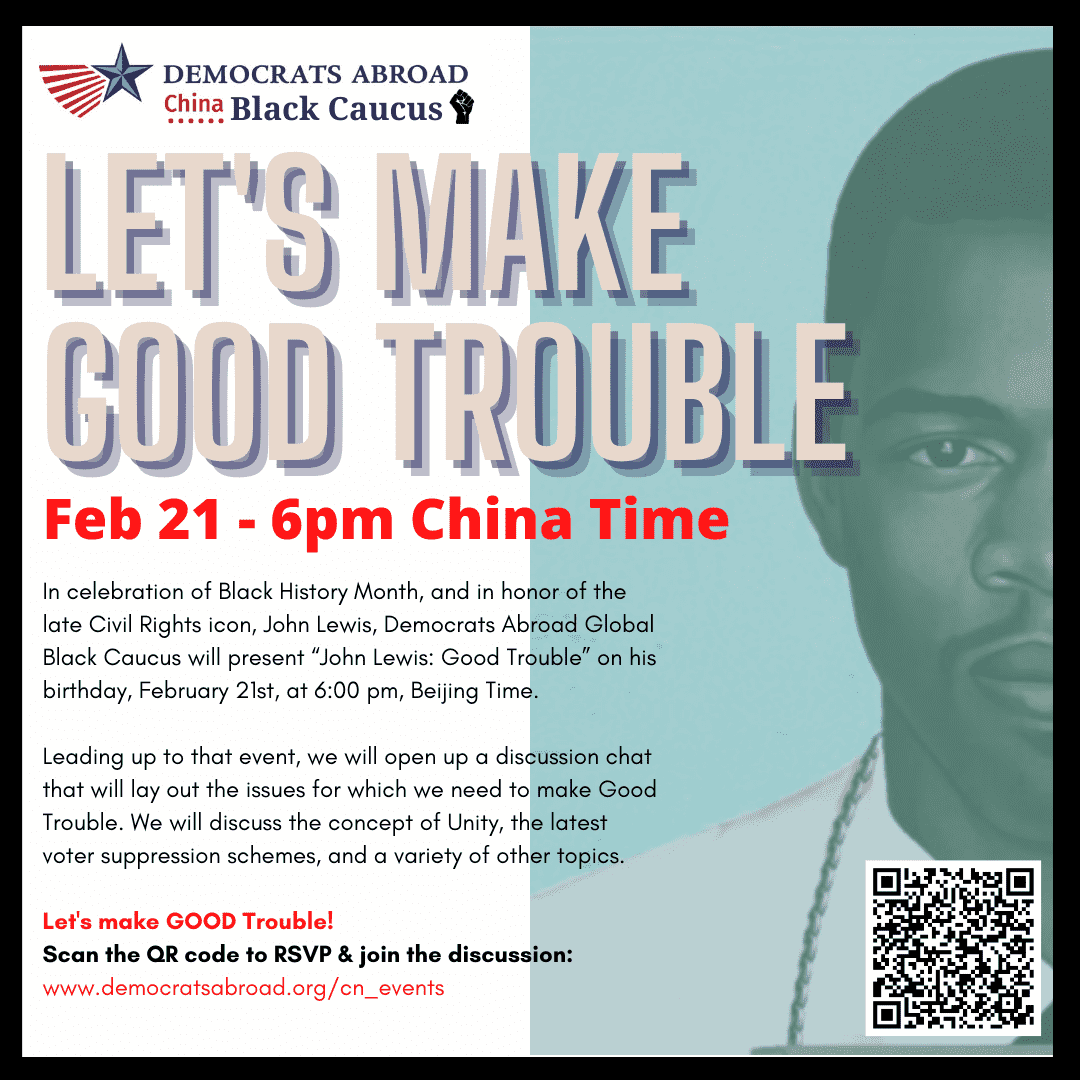 FEB 21 – LET'S MAKE GOOD TROUBLE: JOHN LEWIS BIRTHDAY TRIBUTE

In celebration of Black History Month, and in honor of the late Civil Rights icon, John Lewis, Democrats Abroad Global Black Caucus will present "John Lewis: Good Trouble" on his birthday. Leading up to that event, we will open up a discussion chat that will lay out the issues for which we need to make Good Trouble. We will discuss the concept of Unity, the latest voter suppression schemes, and a variety of other topics.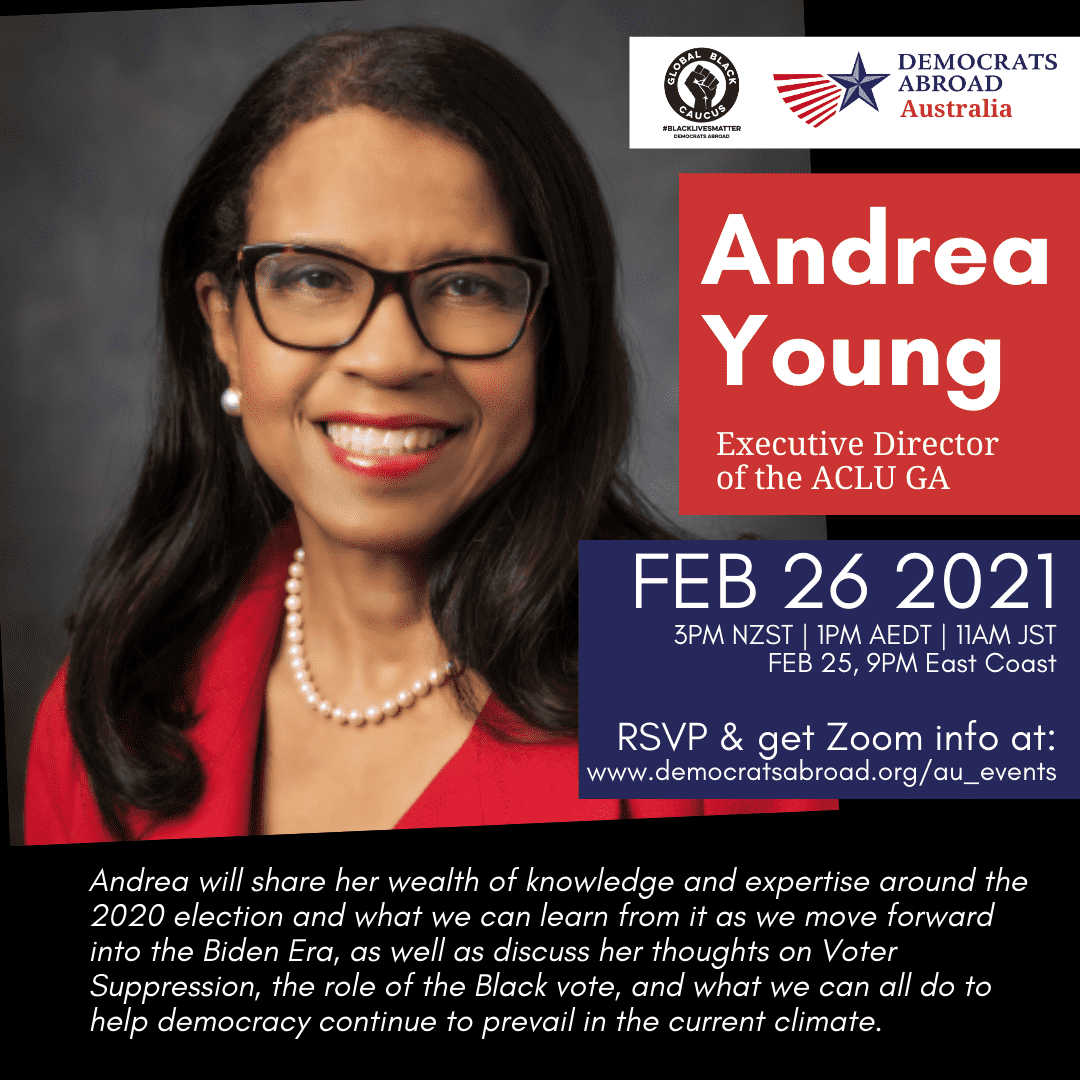 FEB 28 – GBC WEBINAR w ANDREA YOUNG, EXECUTIVE DIRECTOR OF THE ACLU
Join Democrats Abroad Global Black Caucus for a Conversation with Andrea Young, Executive Director of the ACLU of GA. Andrea will share her wealth of knowledge and expertise around the 2020 election and what we can learn from it as we move forward into the Biden Era.  We will discuss with Andrea her thoughts on Voter Suppression, the role of the Black vote, and what we can all do to help democracy continue to prevail in the current climate. 
Do you like this post?