Democrats Abroad is excited to announce that the Call for Nominations to DACN Leadership Board is now open!

Democrats Abroad China will be holding elections for the Leadership Board at the Annual General Meeting (AGM) on Sunday, May 23, 2021 at 1:00 PM China Standard Time (mark your calendars!).
The Leadership Board consists of 11 members, of which six are officers on the Executive Committee (Chair, Vice Chair, Secretary, Treasurer, Legal Counsel, Communications Director), whose term of office will be from 2021-2023. All positions will be open, and we are ACCEPTING NOMINATIONS. A nominee must be a Democrats Abroad China member, a US citizen, a resident within the People's Republic of China, and willing and able to handle duties while adhering to the principles of the Democratic Party of the United States.
Submit your nomination through the nomination form here. 
Please submit your nominations by 11:59 PM China Standard time on Monday May 3, 2021, so we can check candidate eligibility (DA China member), compile all the candidate information, and share their platforms to everyone prior to the election. Nominations can be for yourself or another person, though please confirm the other person is willing to be a candidate. Floor nominations will additionally be accepted during the AGM. 
Further description of responsibilities, especially for those in the Executive Committee, can be found in DA China's Bylaws under Articles IV-XI, bylaws can be viewed here.
All Democrat Abroad China members are eligible to vote, either in person or through an online platform during the AGM. If you have any questions, please email [email protected], [email protected] and [email protected]
DACN Leadership Board Details and Expectations
The DACN leadership board provides strategic leadership, governance, establishes policy, oversees the operations and financial performance of Democrats Abroad China and assesses the Board's own effectiveness. Board Members may serve on committees and local caucuses. 
New members will be supported by the Global team and the global team will provide new leader training and orientations. Participation on the Board is voluntary and there is no remuneration for service.
Desired Skills
Candidates with the following knowledge and expertise, who either live and or work in China are strongly encouraged to apply:
Voter Registration & Phone banking

Love for Democrats 

Enjoy working together as a team 

 

Fundraising & Development 

Community Arts & Leadership

Small Business and/or Social Enterprise

Communications 

Commitment to DACNs' Vision and Values and has an appreciation for Democracy 
Personal commitment to devote the time necessary to perform the responsibilities of a Board member

Strong communication and collaborative skills

Previous non-profit board experience is an asset
We thank all applicants in advance!
In solidarity, 
Nominations and Elections Committee (NEC)
Jordania Rowden, Dr Kymmberli Stowe, and Samantha Wong.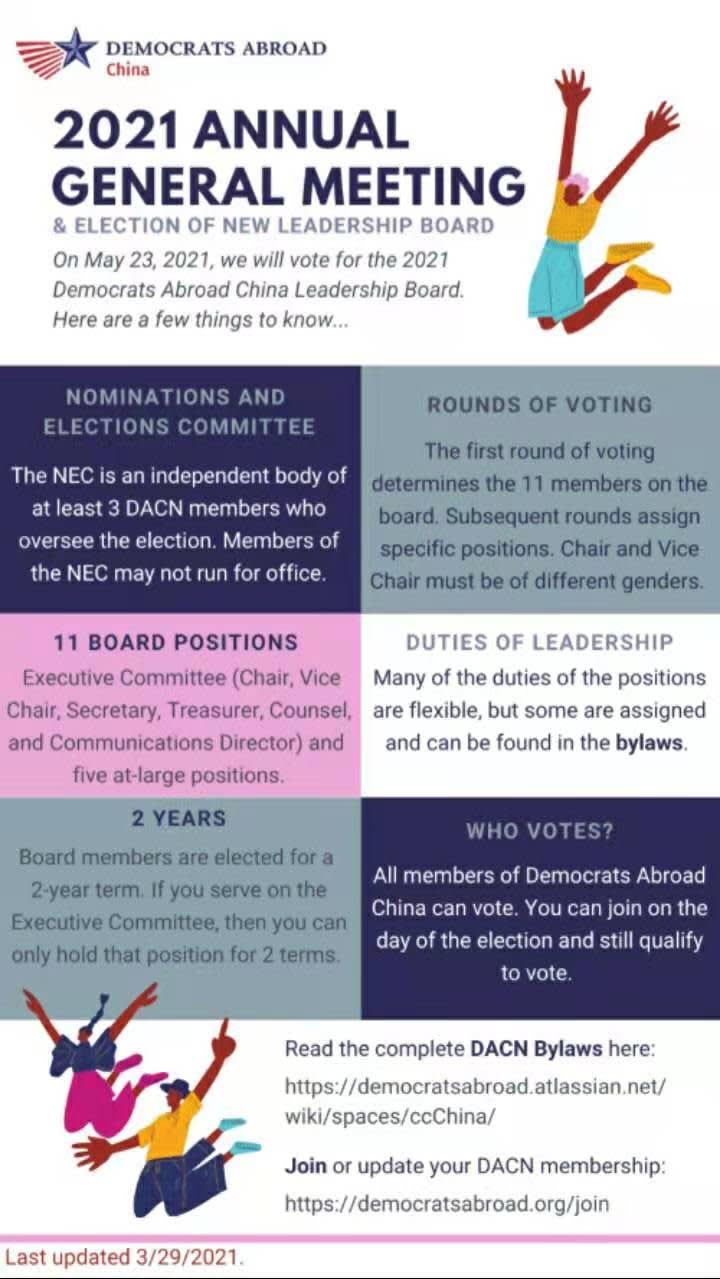 Do you like this post?