Dear all,
As we are all aware, there has been an uptake in incidents of hate crimes against Asian Americans.
It has been a very fraught and grief-stricken time for us here, as a large percentage of our board members, volunteers, and members are of that group. We have seen in the news people who look like our aunts, our uncles, our grandparents, our siblings harassed, attacked, and even killed. We have been absorbing stories of hate incidents from relatives back home in America, and trying to offer what comfort and support we can from across the ocean.
We stand by the recent message the AAPI Caucus put out after the tragic shooting in Atlanta:
"On Tuesday, March 16th, 2021, a gunman killed at least eight individuals and injured others in Atlanta in yet another unspeakable tragedy. Most of the individuals lost are from the Asian American community.
 It is clear the derogatory anti-Asian language used throughout the past year continues to have a real-world impact. Racist comments should not be brushed aside or ignored, they must be confronted and condemned. If it was not clear before, it is clear now that AAPI communities around the United States are targets of hate. We extend our deepest sympathies to those who have lost loved ones to [the] shootings.
 We condemn these acts of violence. We stand in solidarity with the AAPI community and our AAPI Democrats Abroad members. We must work together to speak out and stand up against this type of hate."
The victims in the Atlanta shooting's names are:
Daoyou Feng
Hyun Jung Grant
Suncha Kim
Paul Andre Michels
Soon Chung Park
Xiaojie Tan
Delaina Ashley Yaun
Yong Ae Yue
Learn their names, learn their stories, and learn what to do to help their loved ones.
If you haven't had the time to do so yet, please watch Daniel Dae Kim's powerful Testimony on March 18 in front of the House Judiciary Committee. In his testimony, Daniel Dae Kim referenced the last time he gave testimony to the House Judiciary Committee, in September of 2020. He spoke about HR-908 last time, a bill that called on public officials to condemn acts of hate against people of Asian descent. You can find the bill here.
[optional] This resolution calls on all public officials to condemn and denounce anti-Asian sentiment, racism, discrimination, and religious intolerance related to COVID-19 (i.e., coronavirus disease 2019) and calls on federal law enforcement officials, working with state and local officials, to take specified steps.
It calls on federal officials to expeditiously investigate and document all credible reports of hate crimes and incidents and threats against the Asian-American community and prosecute perpetrators.
The resolution recommits U.S. leadership to (1) prioritize language access and inclusivity in communication practices, and (2) combat misinformation and discrimination that put Asian Americans at risk.
"I was disheartened to find that for a bill that required no money or resources, just a simple condemnation of acts of hate against people of Asian descent, 164 members of Congress–all Republican–voted against it."
You can see all the Republican Congress members who voted against the bill here.
Remember that you can use your voice, write to these officials or call them and let them know how you feel.
In the meantime, we understand that people are grieving and in pain. Please take time for yourself, and be kind to yourself and those around you. It has been a difficult and emotional time, especially when compounded with the effects of the pandemic.
To allies, these are some ways you can check in:
Start with your friends: Ask how they are. Ask if they need space. Ask how you can help and support. Hear to understand. Hear what they share before you label what you think it should be. Don't assume everyone feels the same way or is "okay" the same way. Don't minimize their experience.
Start with empathizing.
Lastly, we will be joining the AAPI Caucus' Vigil on March 31.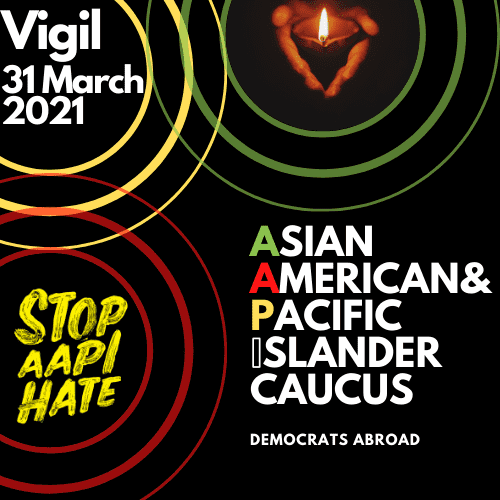 You can stand in solidarity with us by RSVPing for the vigil here. During our vigil, our members and allies will come together to speak out against these anti-AAPI attacks and show their support for the AAPI community.
Please also consider joining our virtual vigil. To participate, you can share the graphics we created and/or you can print out this sign, fill in your information, and take a picture of yourself holding the sign. All graphics and posters are available here.
Do you like this post?