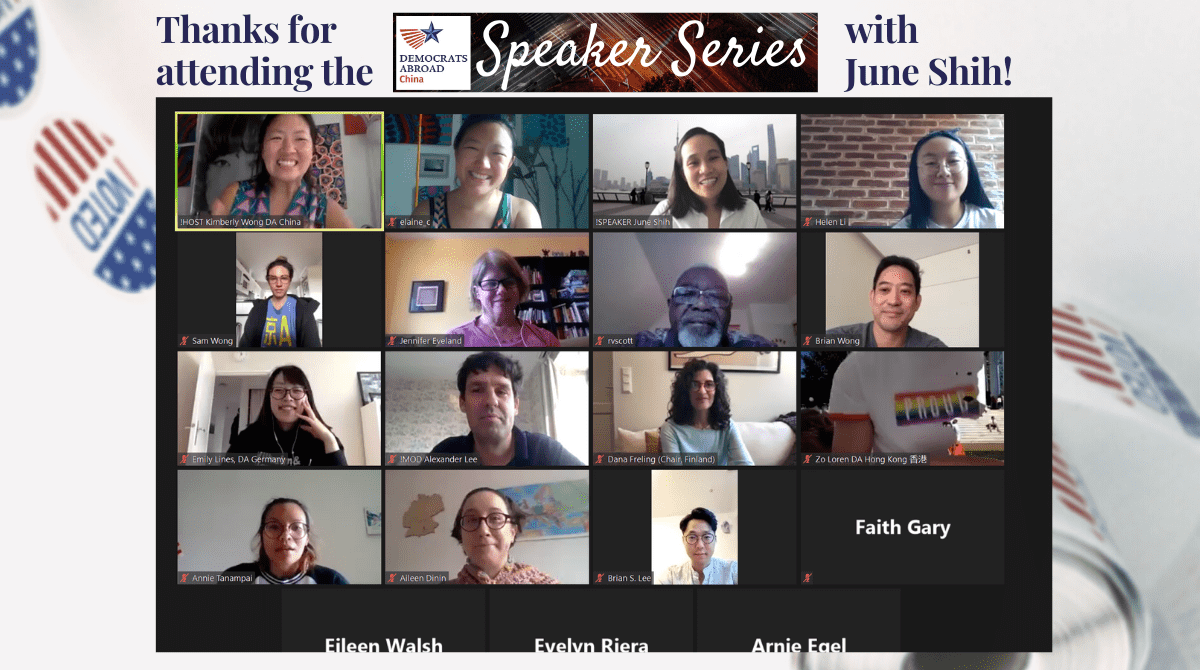 Thank you everyone for attending the Speaker Series!
Democrats Abroad China kicked off its speaker series this summer with locally-based political communications expert June Shih, who has worked as a speechwriter for both Clintons, was Senior Advisor to Global Women's Issues under Obama, and now heads University Communications for NYU Shanghai. With her unique background in politics and living as an expat abroad, she helped give perspective on political organizing, immigration and being a minority voice that's usually underrepresented in American government.
June came from a background similar to many of the AAPI audience members on the call. Growing up in Northern Virginia, her parents were immigrants from East Asia that emphasized education as a track to stable, upper-middle-class jobs. But she went a different and unexpected route, writing to Hillary Clinton for an internship position and then from there, becoming her speechwriter. It was a cover letter that flowed out in five minutes, as opposed to the long struggles she had with every one of her other applications, she said.
Being young, Asian-American and a woman was an advantage in this case - political offices rarely got applications from these demographics and they were eager to have someone who could possibly reach out to the AAPI community. But, while June was energetic, she recalls her first attempts to reach out to AAPI communities also emphasized how scattered the demographic was in priorities.
She remembered her first time campaigning for Hillary in the Taiwanese-American community in Queens, New York, excited to talk about progressive policies and immigration, only to be met with concerns on property and business taxes. She had to re-craft her message to be relevant, and realized that her background didn't guarantee that she would be listened to, but it could help her build an initial bridge. For instance, starting the conversation off with her experience getting into Harvard helped spur interest in that community. 
Considering the AAPI community is still incredibly scattered demographically - they span more economic strata, speak more different native languages and often don't identify as a bloc normally - June said that this lesson was especially important to remember now for Democratic activists.
She pointed out that one issue that could affect everyone was that the current Republican administration has been the most hostile to immigrants in a hundred years. Even ideals that have been a part of the founding the country, such as birthright citizenship, are now suddenly up for debate.
"We need to remind America that this is OUR COUNTRY too. We all have a place here. We belong here and we need to speak out about it," she said.
Her advice could also apply to the current need to unite both Centrists and Progressives within the Democratic Party. While their cultures might clash sometimes, the overall end goal should be the same: a government that respects science, respects diversity, and wants its people to vote.
She also highlighted how important it was to keep on showing up - to stay consistent, active and involved. 
Including with Democrats Abroad! DA is the official Democratic Party arm for the millions of Americans living outside the United States. We strive to provide Americans abroad a Democratic voice in our government and elect Democratic candidates by mobilizing the overseas vote, which includes activities such as phone banking, sharing voting and election news, and helping Americans navigate the various voting regulations of their home states to make sure their vote counts.
The China Chapter is continuing its speaker series with two other excellent activists focusing on ensuring our voter rights are protected:
June 14: Quentin Palfrey (RSVP here) is the co-Director of the Voter Protection Corps, which seeks to ensure that all eligible voters can register, vote and have their votes counted.

Restrictive voting laws. Unfair or inadequately resourced voting procedures and infrastructure. Circulation of misinformation and intimidation.

Whether transparent, insidious, or unintentional, these widespread and multifaceted problems materially interfere with the right to vote. Solving them requires expert legal, political, or other strategic interventions, and a well-coordinated plan of action.  

The Voter Protection Corps leverages the experience of the nation's leading voter protection experts to identify specific opportunities to intervene and protect the right to vote, strategically targeting and overcoming bad tactics and/or errors that will impact voters, especially vulnerable populations.

June 28: Greg Palast (RSVP here) has been called the "most important investigative reporter of our time," having broken front-page stories for BBC Television Newsnight, The Guardian, Nation Magazine, and Rolling Stone Magazine. He has led investigations of multi-billion-dollar frauds in the energy and finance industries for governments on three continents, and has written four New York Times bestsellers.
 
His new book, How Trump Stole 2020, will be released on July 14 and will cover the ways the Trump administration and the GOP are disenfranchising Americans in order to win the 2020 election, and what we can do now to ensure our voting rights are upheld.
As always, these events are free, but we hope they get you interested in participating - whether it's through volunteering or donations. Add us on WeChat to find out how to plug into the DA China community!
Do you like this post?