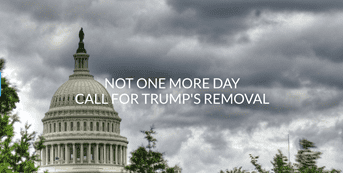 Today should be a day of congratulations and joy - we've won two remarkable senate races, helped turn Georgia blue, and ensured a Democratic Congress that will help our President pass crucial reforms. We are tremendously grateful to the many DA volunteers who helped win these elections, and proud of our Georgia voters who went the extra mile to make sure their ballots arrived and were counted. 
But today we are also shocked and angry. And we're ready to take action.
Yesterday, armed terrorists stormed the Capitol in an attempted coup incited by Donald Trump and his Republican cronies. In the midst of the rioting, Trump encouraged the mob further, endangering our Senators and Representatives, the Capitol, and the very process that promotes a peaceful transition of power.
Few rioters were arrested, and the person who fomented this terror attack remains in highest office, endangering not only those around him but democracy in the US and across the world. 
Despite this attack on our institutions, democracy prevailed - our Congressional members stood up to the terrorists and certified the election of Joe Biden and Kamala Harris early this morning.  
Democrats Abroad is proud to support our leaders in Congress calling for Trump's removal, and demands that all Senators and Representatives work to remove Trump from office immediately. We ask that you also take action by calling your Congressional representatives. We have prepared a brief call script here plus contact information for your Congressional representatives.
Stay safe and thank you for standing up for democracy
Do you like this post?