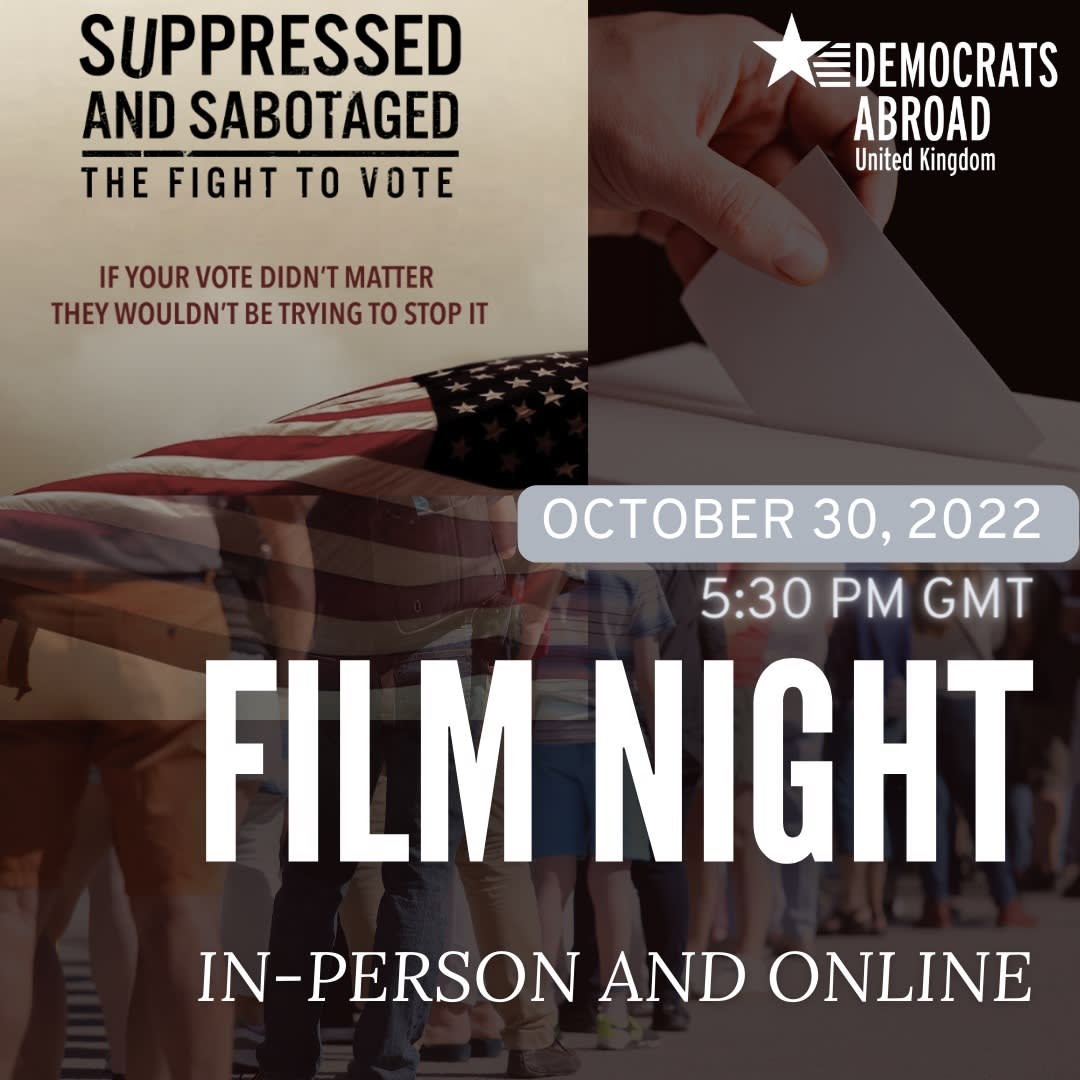 ---
The countdown clock for the midterm elections is ticking .  Book now to join us on an early Sunday evening  - October 30th - for the screening and discussion of  Suppressed and Sabotaged. This humane, tender and urgent  documentary lays bare the personal and political costs of the death by 1,000 cuts of our basic democratic rights.
The filmmakers take a scalpel to the cynical ploys the GOP uses to undermine voting rights. Examples include eliminating a polling place that costs taxpayers $4,000 in total, or the infamous criminalization of handing out water to voters lining up to vote.. From the veteran who found it easier to vote from Fallujah than from his home to the elderly lady whose friend says "My girl wants to vote" the film's stories are sad, frustrating and so very real.
You will be moved, informed, enraged but most of all fired up to do what it takes for these stories to be confined to the history books.
In tribute to the film's subjects, will you join us in acting to remove the politicians who champion these pernicious, anit-democratic  policies from the House, the Senate and local offices?
Maximizing voter turnout - overseas and at home - is vital so that we can repeat and exceed 2020's successes.  Republicans have devoted their energy and resources to erecting more and more barriers to voting  - surgically targeting likely Democratic voters. Our overseas votes can and do make the difference in many critical races.
Our after -screening  discussion and Q and A will outline the current state of play in key races, what Democrats Abroad has been doing and what you can do in these final days. 
Getting out the Overseas vote: your checklist  
Make sure you have registered, requested and sent back your overseas ballot and then check that it has been received and accepted.  
Go to  Vote From Abroad to find  all the information and resources you need,
Become  a Voter Champion and amplify your own vote. Find the Voter Champion Toolkit here. 
Online and 
In-person  Marshall Building, Room 2.05, London School of Economics44 Lincoln's Inn Fields, London, England, WC2A 2ES
We are glad to announce that this film has closed  captioning.  
Schedule: 
5:30:    Introduction and welcome
5:34:    Screening of Suppressed amd Sabotaged (45 minutes)
6:25:    After screening discussion and Q and As 
7:15:    Evening ends 
The Panel:  DAUK members  Linda Adeson and Laura Mosedale from the DAUK GOTV team and Susan Schoenfeld Harrington, Deputy Finance Director for the Democratic National Committee
This Film Night is a collaboration among the Film Committee, the DAUK GOTV and Voter Registration Committee 
Please RSVP early for in-person tickets since space is  limited.  
After you RSVP to attend online, you will be sent the Zoom link. 
The event is free, but we appreciate donations to support DAUK in its mission of reaching out to Democrats in the UK and getting out their votes. 
Any questions, please contact [email protected]
Thanks to Brave New Films who produced the film and licensed this screening. 
If The Boss (Bruce Springsteen)  was prepared to lend a song to the film's soundtrack, the least we can do is show the filmmakers than we can, and will,  overcome!
WHEN
October 30, 2022 at 5:30pm - 8:30pm London Time
WHERE
Online and In Person (Marshall Building, London School of Economics, Room 2.05
44 Lincoln's Inn Flds
London, England WC2A 2ES
United Kingdom
Google map and directions
CONTACT
DAUK Film Committee ·
Who's RSVPing

Matthew Horgan
Do you like this post?