Tuesday, February 01
Potenza, Italy
Recipe for Democracy - Laurel Evans
RSVP
Join us for the inaugural event of our series! Register to vote & request your ballot with us!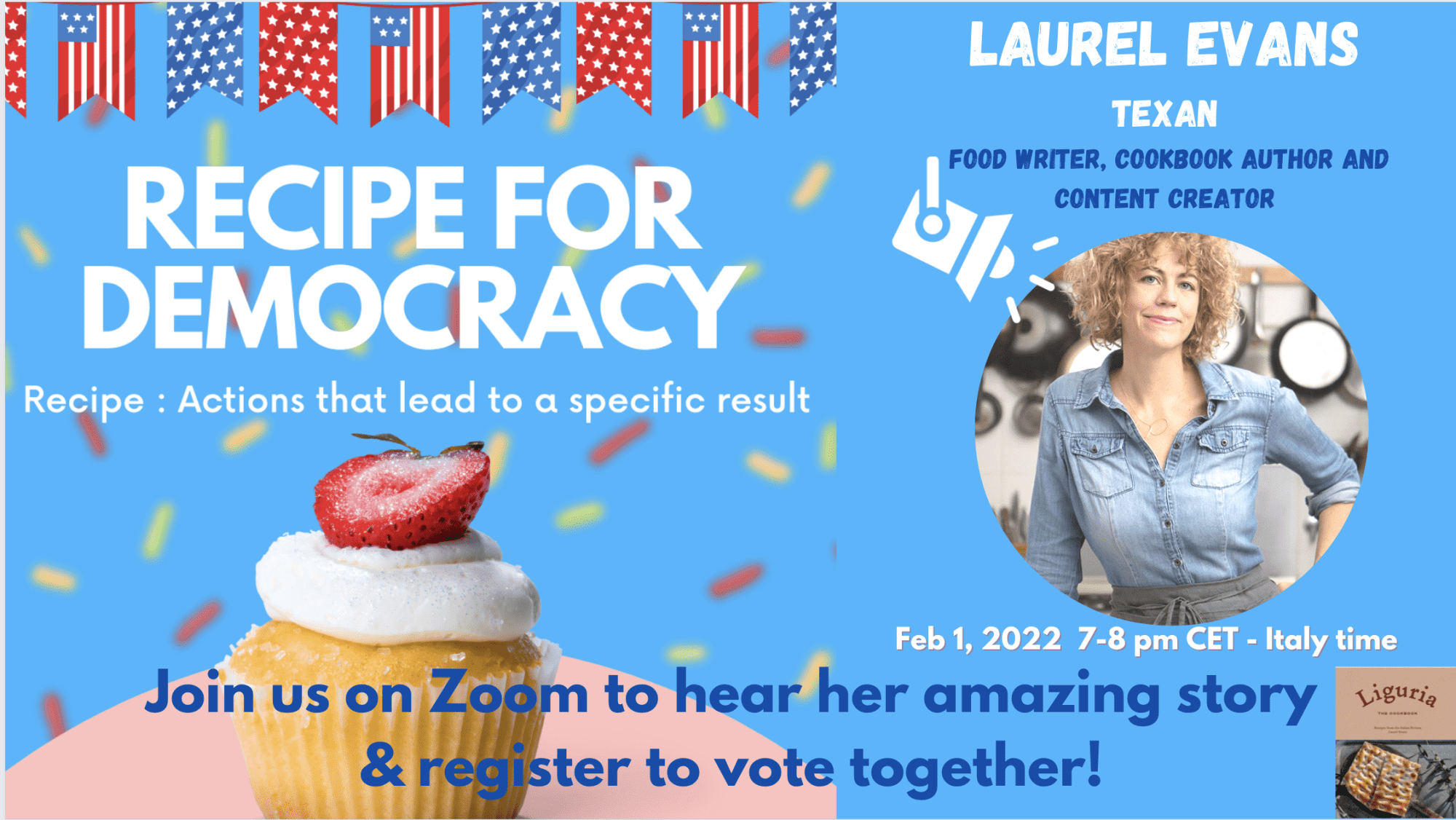 We are thrilled to announce Recipe for Democracy, a monthly series aimed at spotlighting the amazing stories of our DAI members. We will be tackling the important issues that impact us as overseas voters, all while keeping everyone connected and informed.
Join us for the inaugural event of our series:
Award-winning cookbook author, TV personality, and food writer Laurel Evans will reveal how she got from Texas to Milan and carved out an amazing career for herself. She'll talk to us about her new cook book Liguria, share some recipes, and will answer your questions.
As a bonus you'll be able to register to vote & request your ballot in real time:
Laurel will be here to give a big Texas shout-out to all our members and show us how easy it is to use the Vote from Abroad platform. All you'll need is your smartphone or tablet, a blank white sheet of paper, and a pen. The timing of our first event couldn't be better because the Texas primary is just weeks away! 
Voting is our super-power! Let's prove again that Democrats Abroad can be the margin of victory.
You've likely seen Laurel on TV as part of the jury panels of international cooking shows or caught up with her in her popular blog Un'Americana in Cucina.   
A recipe is a set of actions that will lead to a specific result
Our Recipe for Democracy series is aimed at setting in motion the set of actions that will result in a sweep of the mid-term Congressional and down-ballot elections.  We hope you will join us for a fun and informative evening!
Do you or someone you know have an interesting story? Let us know! We'd love to feature you in an upcoming event! 
Write us at [email protected]
WHEN
Tuesday, February 01, 2022 at 07:00 PM Rome Time
CONTACT
Nancy Fina
[email protected]
27 RSVPs