Friday, October 07
New Westminster, BC, Canada
PANEL: A World-Historical Event? US Midterm Election 2022
RSVP
As the U.S. Midterms approach, the need for Democracy has never been greater! To discuss the importance of voting in the 2022 midterms and its historical significance, Democrats Abroad Vancouver and the Douglas College Institute for Ethics and Global Justice are holding a discussion panel.
The panel will be held on Friday, October 7th, from 7:00 pm – 9:30 pm at Douglas College in New Westminster (theatre classroom, N2201).
Esteemed panelists include Hugh Gusterson, Professor at UBC's School of Public Policy and Global Affairs, who will analyze the mid-term election in terms of the struggle within the Republican Party between Trumpists and more conventional Republicans. Jovian Radheshwar, a Douglas College political scientist, plans to use psychoanalytic and political theory to examine the increasingly polarized American people. Drawing from his work on Nazi Germany, Douglas College historian Jeff Schutts will provide a broader context for assessing whether the United States is in danger of becoming "fascist".
All three are American citizens now living/teaching in Canada. (If you also are a dual-citizen: be sure to take 5 minutes to register now so that you can vote in November: www.votefromabroad.org.) Come, listen to what they have to share from their professional expertise – each representing a different academic discipline, and join the discussion afterward. 
*This is a non-partisan event and we look forward to discussing the upcoming election with everyone!*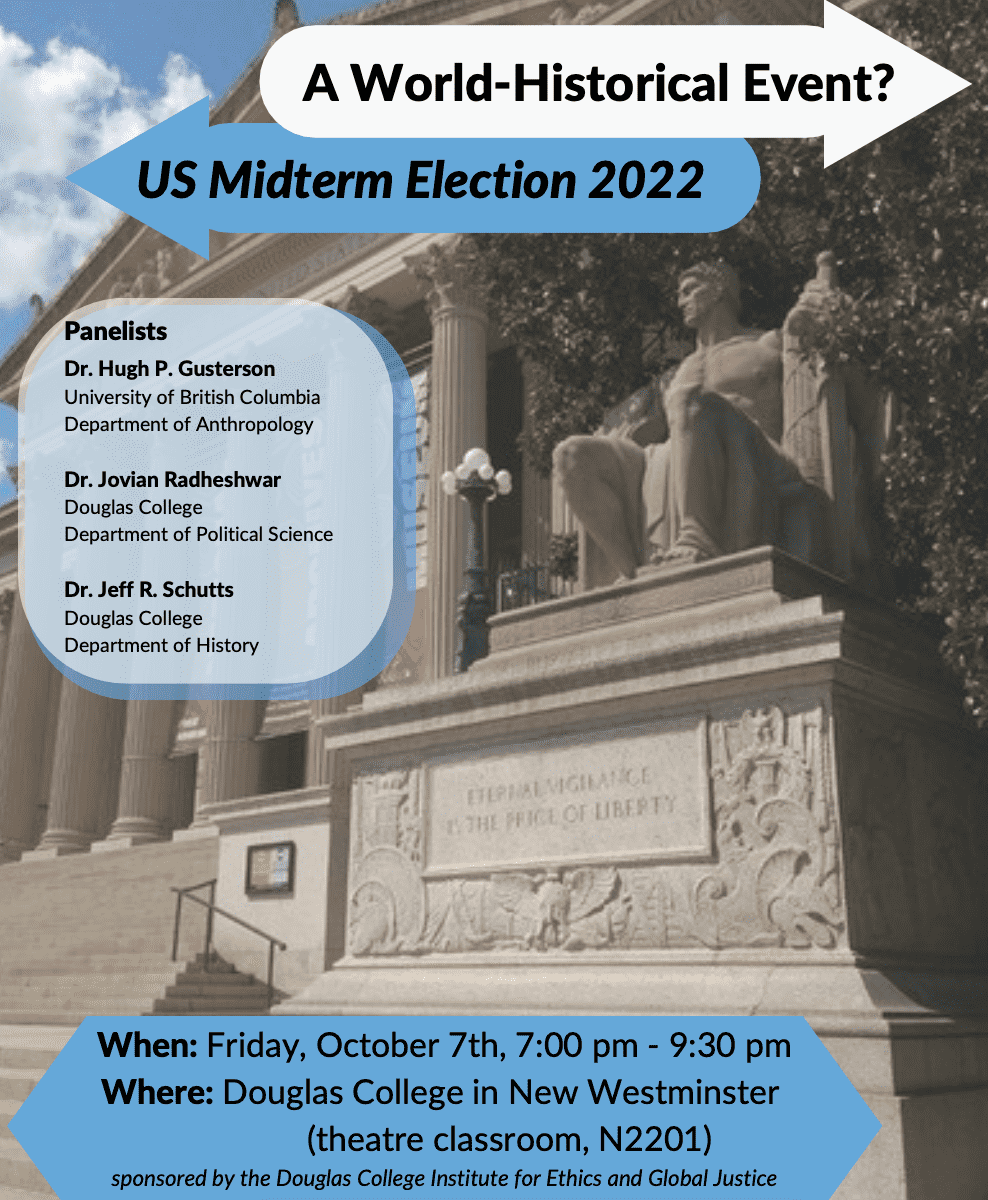 WHEN
Friday, October 07, 2022 at 07:00 PM Pacific Time (US & Canada) Time
WHERE
Douglas College, Theatre Classroom, N2201
700 Royal Ave
New Westminster, BC V3M 5Z5
Canada
Google map and directions
CONTACT
Jennifer Phillips
[email protected]
18 RSVPs