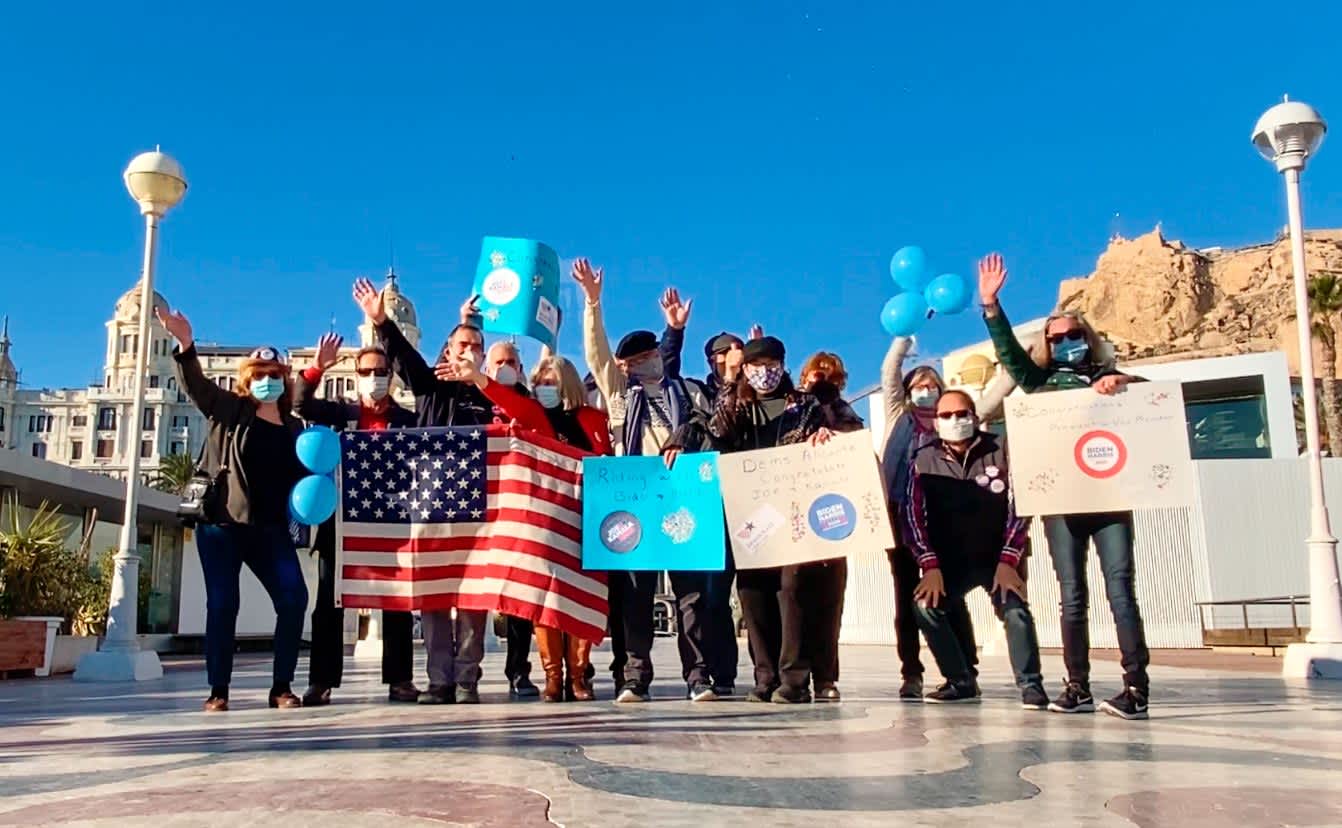 Founded in January 2020, Democrats Abroad Alicante represents an all-inclusive organization that supports the rights of all US citizens who live abroad. DA Global, DA Spain and the Alicante chapter strive to provide our members with up-to-date voting information, local and national Democrats Abroad events, and new or modified legislation that not only affects us as we live abroad but to our family and friends in the US!   We do this through our emails, Facebook Groups and soon to be Alicante chapter website.
Over the 2020 election cycle Democrats Abroad had over 18,000 volunteers from across the globe that were critical in the victory to win back the presidency, regain the Senate and retain the House majority.  DA Alicante played its role in that effort.
Our chapter members volunteered in many of the DA Global and DA Spain efforts that helped swing the election. To name a few…..
Ø  We had the largest Spain phone banking team that helped make 300,000+ calls to DA Global members
Ø  Developed "Why I Vote" stories that were part of a digital ad campaign targeted across the EU that increased voter registration, ballot request and returns
Ø  Participated in the GOTV military campaign in Roto Spain
Ø  Developed and continue to maintain the Our Voices, Our Future youth and issue based campaign through various social media platforms to energize and give a voice to those who live abroad
Ø  Developed and executed a banner ad media strategy that reached 25 major news networks across the world that yielded record breaking voter membership, voter registration, ballot request and returns.
Ø  Assisted in stateside races and donated to campaigns
Community Engagement
Due to Covid 19 there are still no in-person activities.  We are currently developing new online events that we hope will interest you.  In addition, we keep our members up to date on any DA Global or DA Spain (national) events. 
We are always looking for new and interesting ideas to engage our members!  If you have any ideas please don't hesitate to let us know. 
We hope in the near future to start having some fun in-person events. We are looking forward to meeting all of our members at these events.
2022 Midterm Elections
The closer we get to these elections, the more we will be looking for volunteers. We hope you will help so that Democrats can maintain or increase their majorities in the House and Senate. 
Your DAA Executive Committee
Mary Elms, Chair
Daniel Garcia, Vice Chair
Brett Specter, Secretary
Robin Kaplan, Treasurer
Questions
Feel free to contact us anytime at: [email protected] 
If you haven't done so, please join our Facebook group at: www.facebook.com/groups/DemocratsAbroadAlicante
Sincerely, your DAA Executive Committee
Do you like this post?