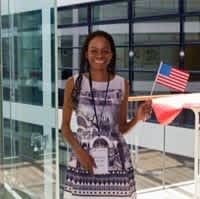 Joe Biden and Kamala Harris prepare for their swearing in on 20 January even as many of us are collectively holding our breaths, hoping that everything comes off as well as possible under these trying circumstances.
This month we have as our special guest Western Sweden's own Democratic National Committee (DNC) member Adrianne George, joined by fellow DA/DNC members:
Julia Bryan (Czech Republic, chair of Democrats Abroad),
Martha McDevitt-Pugh (Netherlands, DA LGBT caucus co-chair),
Katie Solon (Germany, former DA chair),
Joe Smallhoover (France, DA counsel) and
Ken Sherman (Canada, former DA chair, former DA vice chair).
Adrianne and the others will be there to talk about their work on the DNC and their experiences there, as well as to answer questions. If you have something you've been dying to know, here's your chance!  RSVP for details on how to connect.
WHEN
November 24, 2020 at 6pm - 9pm Stockholm Time
CONTACT
Joel Parthemore · · +46 70 272 38 49
Who's RSVPing
Do you like this post?