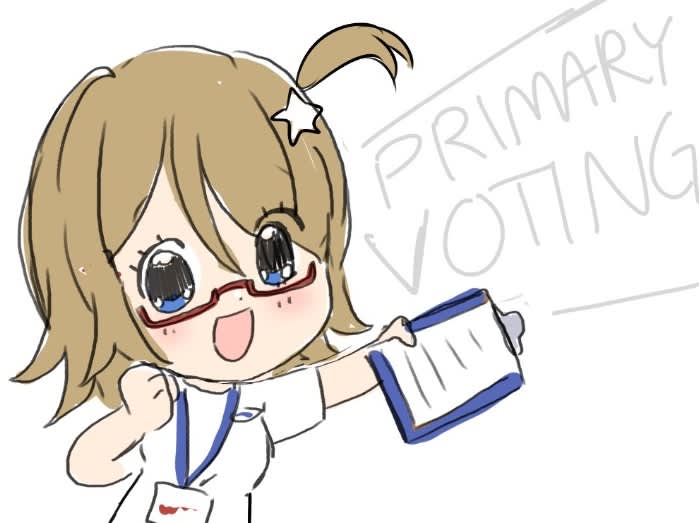 Primary Voting is finally here!
That means we can all choose a presidential candidate to vote for in the Global Presidential Primary for Democrats Abroad!
First make sure you are a member of Democrats Abroad and have an account, and here's all the ways you can do it!
Cast a Primary Ballot Online!

The fastest method!
The fastest way to cast your ballot is to do it remotely from your PC and e-mail it in! It's quick and easy to get a ballot filled out and sent over to Democrats Abroad Global, and you don't even need to be a resident of Japan - any member of Democrats Abroad can cast their ballot this way! Voting is open until March 10th, but don't wait!
Follow the steps here to download your ballot and submit it via e-mail!
Cast a Primary Ballot at a Voting Center on Sunday, March 8th, 2020!
The easiest method!
If you live near a population center, you can come to a voting center! A voting center can help you with all your options for the 2020 election!
When you go to a voting center you can get help with the following options!
- Voting in the Global Presidential Primary!
- Requesting a Ballot from your State for the 2020 General Election!
- Verifying your Democrats Abroad Membership!
- & Joining Democrats Abroad if you're a new voter and it's your first time reading anything like this! We will be there to help!
We will have three voting centers open on Sunday, March 8th, 2020! Here's the location with a Google Maps pin to each!
Kanto Voting Center (Tokyo)
Tokyo GS Heim Satō Bldg
GS Heim Satō Bldg #302, Yoyogi, 2-7-6, Shibuya-Ward, Tokyo
(JP): 東京都渋谷区代々木2-7-6 GSハイム佐藤ビル302
Voting Center Google Maps Pin: http://goo.gl/maps/ttkpwrWxCdZgCwaw7
Time: 12:00PM to 7:00PM

Kansai Voting Center (Osaka)
Sauce Boss Osaka
1-chōme-5-13 Kitahorie, Nishi-ku, Osaka, 550-0014
(JP): 大阪府 大阪市西区 北堀江 1-5-13 550-0014
Voting Center Google Maps Pin: http://g.page/saucebossosaka
Time: 12:00PM to 9:00PM
Tokai Voting Center (Nagoya)
Shooters Sports Bar & Grill
Nagoya-shi, Naka-ku, Sakae 2-9-26 Pola Building 2F 460-0008
(JP): 〒460-0008 Aichi, Nagoya, Naka Ward, Sakae, 2 Chome−9−26
ポーラ名古屋ビル
Voting Center Google Maps Pin: http://goo.gl/maps/ByxvJrffXZMM8tNRA
Time: 12:00PM to 7:00PM
Send a Primary Ballot via Snail Mail!
The Traditional Method!
If you don't have reliable computer access or just want to mail it out, our Remote Ballot Warden, Dave, is here to help out! You can mail a remote ballot directly to him and as long as it's received by 9:00PM JST on Wednesday, March 11th, 2019. That means you should mail it right away!

Mail your filled out ballot to:
Dave Brauer
6-40-4 Todoroki
Setagaya-ku, Tokyo, Japan 158-0082
or, Fax it to:
+1 (202) 217-4277 by 11:59PM Tuesday, March 10th, 2019
That's everything!
Remember that casting a primary ballot is internal to the party, and you can still request you 2020 General Election Ballot by visiting VoteFromAbroad.org! Do that first if you've never voted overseas before!

Happy voting!
Do you like this post?