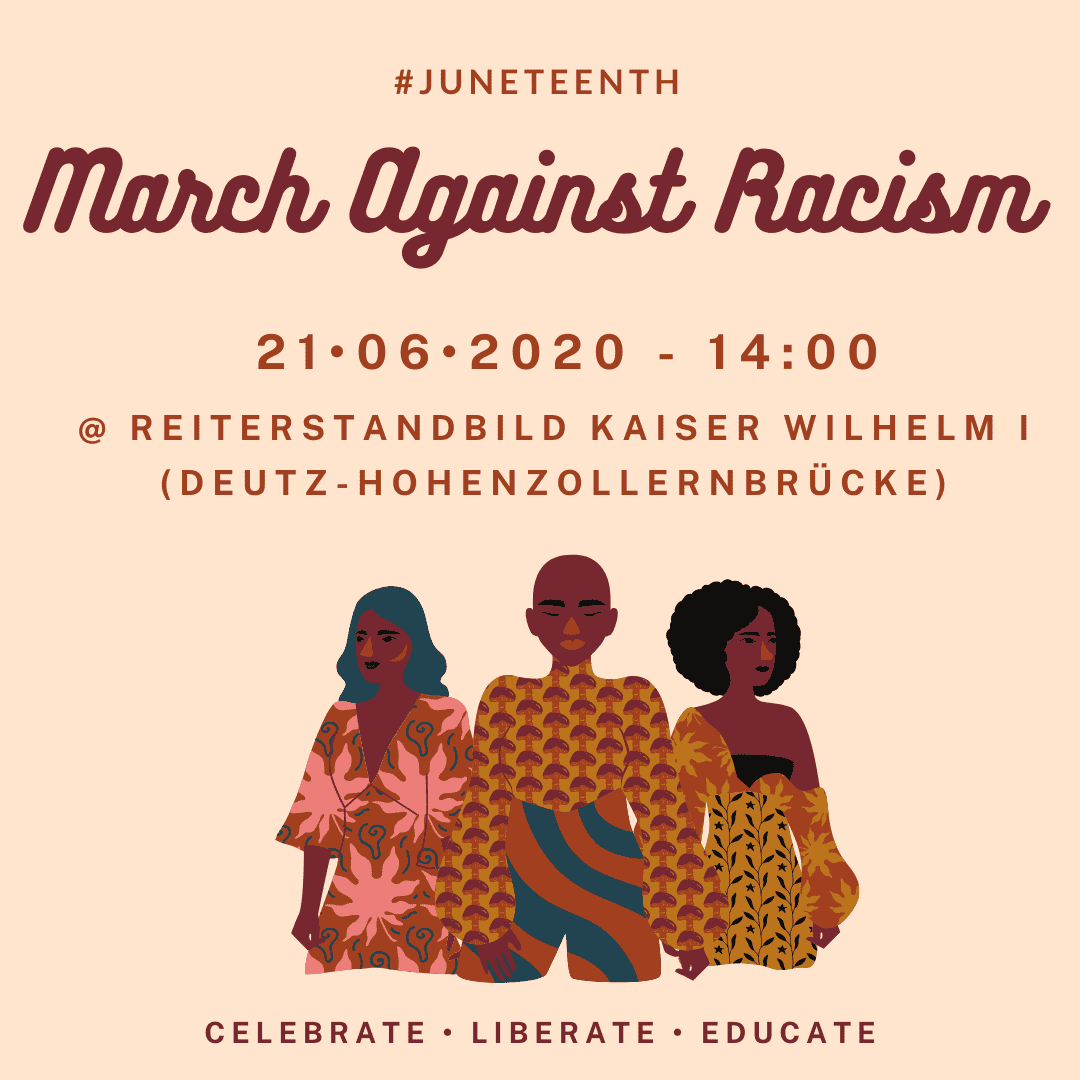 Juneteenth is a holiday that celebrates the freedom of slaves in the Confederate states per the Emancipation Proclamation. We want to take time to celebrate that formal freedom from bondage, but also take time to recognize that the struggle for liberation for black and brown people in the US and elsewhere still continues to this day.
No matter the race, no matter the nationality, all are welcome to join our peaceful protest against racism and police brutality!
Join us beginning at the Reiterstandbild Kaiser Wilhelm I (Equestrian Statue of Kaiser Wilhelm I near Hohenzollernbrücke- Deutz side) to begin with a roll call of lives who have been ended by injustice. We will then march across the Hohenzollernbrücke, ending at Roncallliplatz near the Kölner Dom where our official program of speakers begins.
At Roncalliplatz, we will also be offering information and assisting Americans in requesting their oversees ballot.
Join us and show solidarity to the worldwide movements against racism.
2:00 – Meet @ Equestrian Statue of Kaiser Wilhelm I in Deutz
2:10 – Welcome by Ben Cole, member of Democrats Abroad, and Begin Roll Call
2:15 – Begin Marching across bridge
3:00 – Arrive at Roncalliplatz, Vote From Abroad by Daniela
3:10 – Speech on Slavery, Juneteenth, and Structural Racism in America by Ben
3:25 – Speech on Structural Racism in Germany by Black Lives Matter Köln
3:45 – Speech by Wandi, Organizer of We See You Demo; Open Mic for Expressions
4:05 - Discussion of Changes We've Seen in Past Weeks
4:10 - Discussion of Actions to Take in Everyday Life
WHEN
June 21, 2020 at 2pm - 4pm Berlin Time
Who's RSVPing