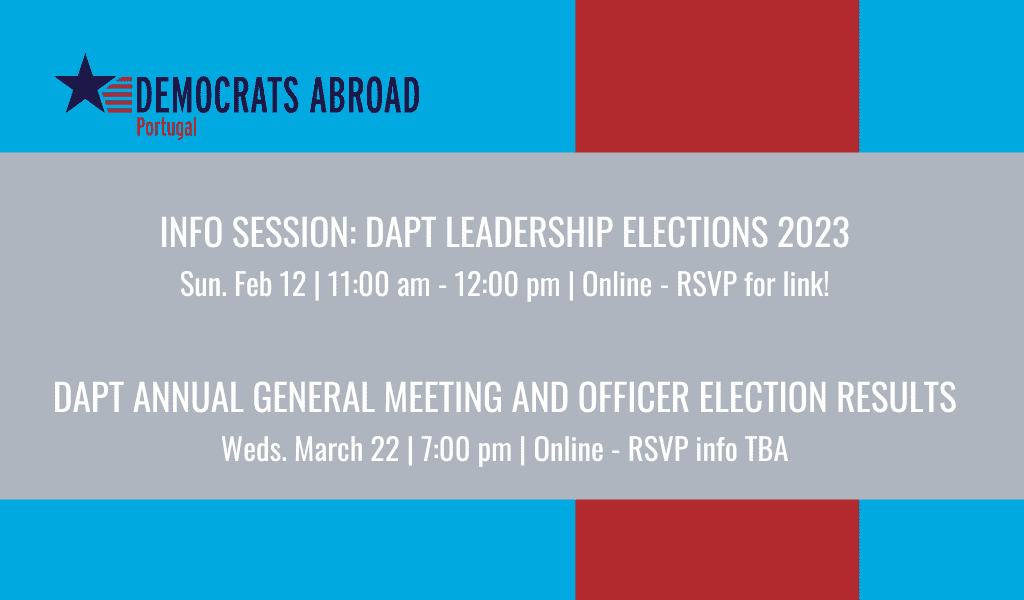 Our Democrats Abroad Portugal Annual General Meeting and Officer Elections will be held on March 22, 2023, at 7 pm. 
As previously announced, we are kicking off the 2023 DAPT leadership elections process. Our leadership team is an engaged, dynamic, fun group who coordinates the many volunteers who help register voters, ensure Americans in Portugal vote in the US, and organize events. 

Interested in learning more about leading DAPT? Join us for a Sunday morning chat (bring your cup of coffee or tea!). The DAPT Nominations and Elections Committee (NEC) will be hosting an online Information Session on February 12 at 11:00 am WET, so you can ask questions about becoming a candidate, nominating a member, and voting. 

In this Democrats Abroad Portugal leadership election, our members will elect multiple positions, including: Chair, Vice-Chair, Secretary, Treasurer, Counsel, several At-Large Executive Committee Members, 1 DPCA Voting Representative, and 1 Alternate DPCA Voting Representative. 

Please stay tuned for more specific information about these elections. In the meantime, please mark your calendars for these important dates:

March 5 - Nominations Close
March 6 - Early Voting Opens (electronic)
March 14, 7:00 pm -  Candidate Town Hall - Meet the candidates at a virtual town hall 
March 21, 12:00 pm -  Voting Closes
March 22, 7:00 pm - DAPT Annual General Meeting and announcement of election results by NEC

More information about the nomination and voting process will be provided soon. In the meantime, we welcome inquiries at [email protected].