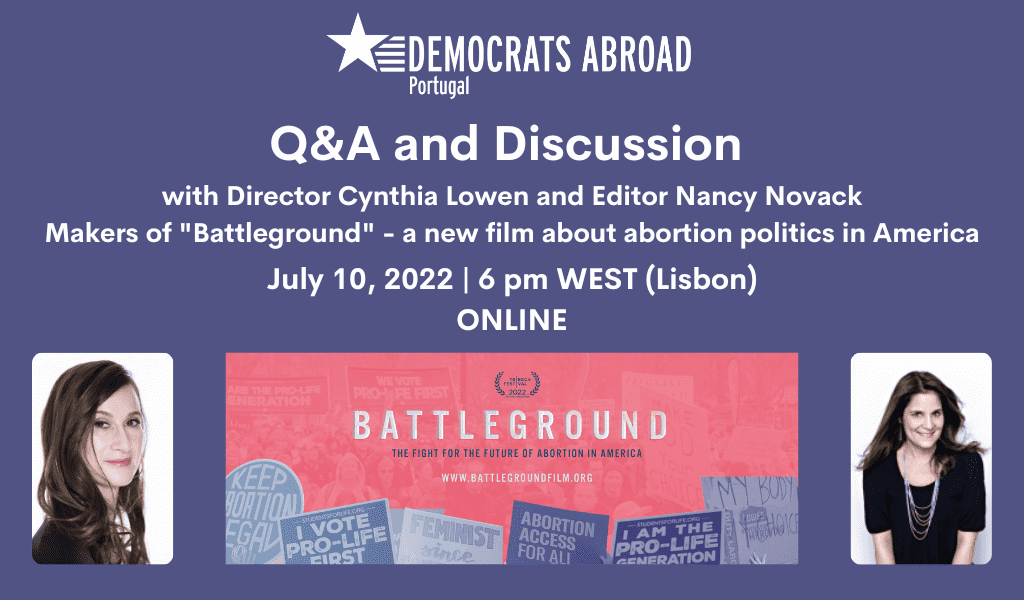 Please join us for a very timely discussion with DA Portugal member Nancy Novack, film editor, and Cynthia Lowen, director, who recently completed work on "Battleground," a new film about abortion and politics in America. "Battleground" debuted at the Tribeca Film Festival in June and is available for online viewing only until July 3. We will hold a Q&A and discussion online with Nancy and Cynthia on Sunday, July 10 at 6 pm.
The film follows three women who lead formidable anti-abortion organizations. We bear witness to their well-organized networks, politically potent activism, and their policy gains under Trump. With first-rate access to protests, conferences, and recruiting campaigns, this may prove to be an illuminating portrayal of anti-abortion advocates for those on the other side of the debate. As Roe has been overturned and numerous states pass unconstitutional abortion bans, the film also depicts those on the front lines of the fierce fight to maintain access to reproductive rights.
You can view the film before streaming access ends on July 3. You will need to use a US-based VPN to access the film and there is a cost of $20. Please RSVP here for instructions on how to access the film and for a link to log in to the July 10 event.
If you are not able to view the film, please RSVP to attend the July 10 discussion anyway. It is sure to be an enlightening and powerful discussion about abortion rights in America, and we will be sharing resources for action and outreach, as well as learning more from Nancy and Cynthia about the film itself.

Learn more about the film at www.battlegroundfilm.org. 
WHEN
July 10, 2022 at 6:00pm - 7:30pm Lisbon Time
CONTACT
Kristi Espineira · · +1 720 314 8626
Who's RSVPing
Do you like this post?