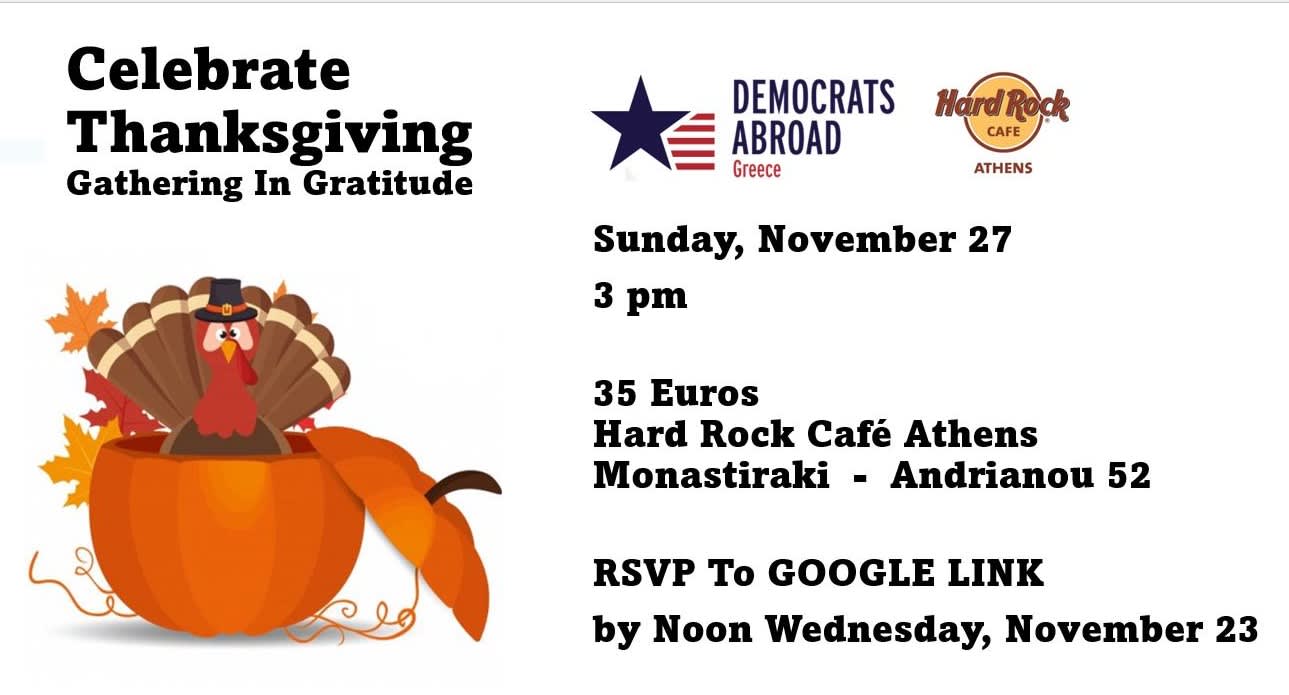 Democrats Abroad Greece is Gathering in Gratitude to Celebrate Thanksgiving.
Save the date, mark your calendar and follow our google link to RSVP your place at our table!
SUNDAY, November 27
at 3pm at
Athens Hard Rock Café
Adrianou 52, Monastiraki, Athens

Please follow the google link here:
Deadline for reservations is Noon, Wednesday, November 23
Along with a delicious traditional Thanksgiving menu to feast upon in the company of other Democrats and their friends and family, there will be some challenges and some laughs. 
Turkey Of the Year—a longstanding DA Greece tradition will be a part of the festivities as well as Thanksgiving Trivia and Hink Pinks, Toss the Turkey, Wobble Gobble, Tic Tac Turkey, Floating Feathers, Turkey Bingo and Unstuffing Political Turkeys!
And of course, there will be t-shirts, buttons, and all kinds of good stuff available as well to take home!!
Cost--35 Euros
Upon arrival there is a 5 Euro entry donation that will go directly to Democrats Abroad Greece Sustainability Fund to pay on the ground costs of maintaining our non-profit in Greece.
On the ground costs include paying our annual accounting fees, tax fees, office supplies, etc.
You are welcome to contribute more than 5 euros per person attending.
You can make your donation in cash or using your debit or credit card.
Only US citizens can make this donation by Federal Election Commission regulations. If you have non-US citizens in your group, you, as a US citizen, will be responsible for contributing on behalf of your group.
30 Euros per person will be paid directly to the venue--Hard Rock Cafe Athens with cash/cc (not including the gratuity for the wait staff at the venue--recommended amount 5 to 10 percent of your final bill)
The Menu:
STARTER
Caesar Salad or Blue Cheese Chopped Salad
MAIN COURSE
Slow - Roasted Turkey breast with gravy, classic stuffing, mashed sweet potatoes, fresh vegetables, cranberry sauce
DESSERT
A slice of classic pumpkin pie topped with caramel sauce, whipped cream
Beverage (One glass per person) 
Soft drink or House Wine or Draught Fix Hellas Beer
If you order additional items or more than one soft drink, mug of beer, glass of wine, cocktail or coffee you will also be obliged for that additional cost beyond the 30 Euros.
For those individuals who would like to have a gluten free menu or a vegan menu, you are free to order a la carte off the current Hard Rock Menu Athens at your own expense
You can also make a donation to our Sustainability Fund if you do not attend the Thanksgiving Celebration to show your support for our efforts in defending democracy in the USA.
To help sustain our work for operations on the ground in Greece for Democrats Abroad:
DAGR BANKING INFORMATION
EUROBANK
Beneficiary:  ΣΥΛΛΟΓΟΣ ΔΗΜΟΚΡΑΤΙΚΟΥ ΚΟΜΜΑΤΟΣ Η.Π.Α.
Account:  0026.0025.45.0201996842
IBAN: GR0802600250000450201996842
BIC: ERBKGRAA
Please note on the deposit: SUSTAINABILITY
You can forward your deposit slip to our treasurer at [email protected]
For questions or concerns please contact:
Stacey Harris-Papaioannou
Country Chair Democrats Abroad Greece
[email protected], [email protected]
0030 6942 940 720 (WhatsApp)
WHEN
November 27, 2022 at 3:00pm - 6pm Athens Time