A Retrospective and Discovery

by Gina Billy

Author's Note: Most members knew Steve Medeiros, long-time DAGR volunteer and board member, vice chair 2015-18 and country chair 2019. I did not. I never met – or even had heard of – Steve during his physical lifetime. So, in order to weave together this portrait of Steve in a way that I hope conveys some of the great richness and beauty of his life, I depended on written records of Steve's life journey and, most importantly, first-hand accounts from people who had had the joy of experiencing Steve "Live." ~ Gina Billy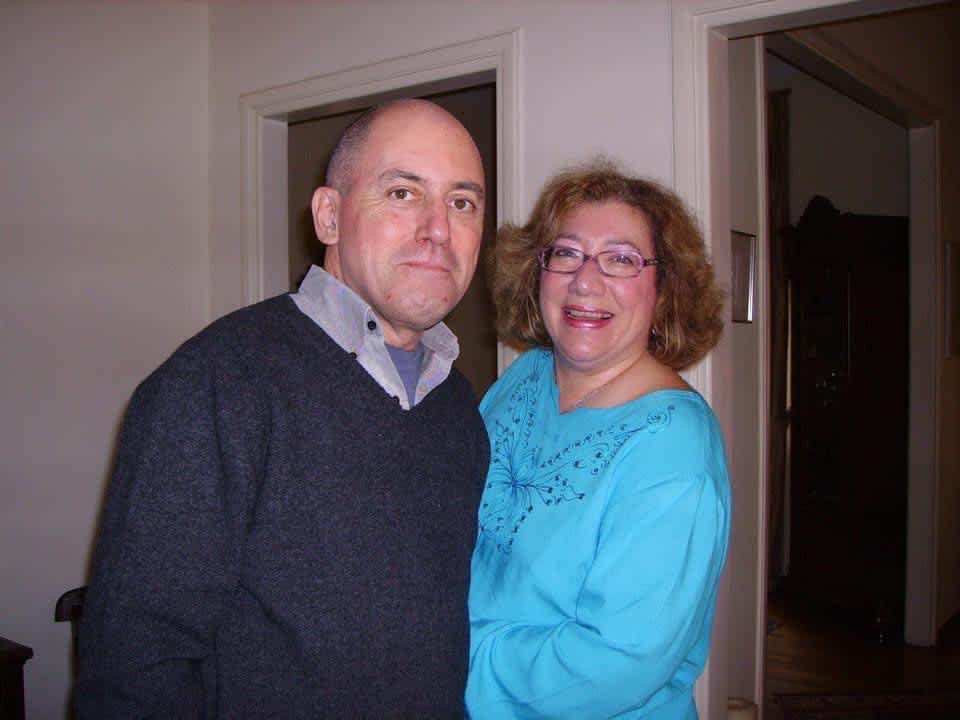 "First and foremost, Steve was a lovely human being. He was such a kind, loving soul. I miss him every day." Nikki Fellouris shared these and other memories of Steve Medeiros with me via email and video call. I'm very grateful to Nikki and the other wonderful, lovely human beings who let me "get to know Steve" a little through them. 
Steve and Nikki's friendship began when they were high school classmates still living in New Bedford, Massachusetts. Steve took his first breath of air there on February 27, 1956. Born into a family of Portuguese heritage, Steve reveled in the way his large extended family kept the old Portuguese traditions and customs. "He was proud and glad to be a Portuguese-American," Nikki mentioned.
Steve and Nikki, ca 2009, Athens  


Then Nikki went on to tell me that at school, she and Steve shared a passion for theater and were very active in the drama club both on and off the stage. "Our school's drama club used to travel by coach to NYC to take in a whirlwind of Broadway shows over a weekend," Nikki told me. "Once, I had a really bad seat. It was during the performance of Jesus Christ Superstar. I couldn't see the part of the stage where the crucifixion scene was happening! Steve noticed, and the next thing I knew, he's organized things so that I was basically lying across the laps of others in the group, so I wouldn't miss anything."
After their graduation, Nikki and Steve's friendship continued and grew through their university years. Nikki attended Wellesley and Steve went to Yale, where he earned his BA in English Literature.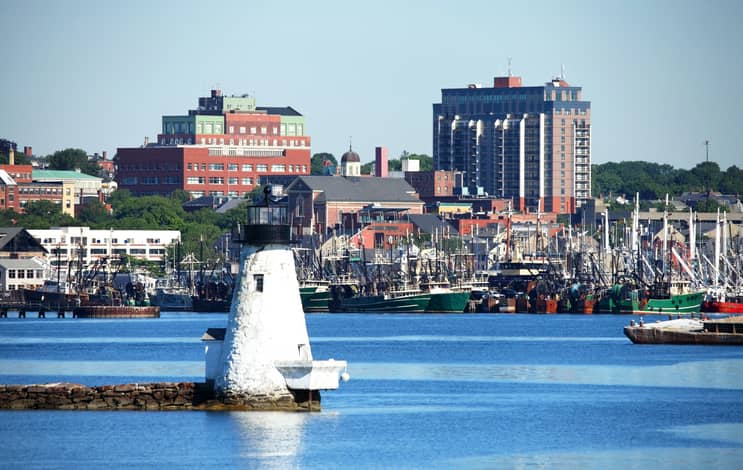 The harbor at New Bedford, MA
"He was always crazy about knowledge," Steve's husband, Dr. Tony Rompos, explained in a moving phone call. "Steve was a life-long learner and was always studying something, poetry…literature. For 40 years of my life, at home, Steve was always next to me with a book." 
Tony went on to note, "He was also like an absent-minded professor, always working, writing and studying. So, he forgot often about things like paying his Greek road tax on time and would end up having to pay twice the bill. Once, he even accidently threw away an envelope with his entire month's salary."
"Really?" I said and asked, "And did he ever find it?
"No. It was gone forever," Tony replied. "But it was only money, and well, Steve was always terrible with money. He was always giving money away to help people in need. We both did that, actually, but Steve always wanted to double what I thought we could give."

The homes Steve and Tony shared over their four decades together were primarily in Greece. Via a tribute to Steve written by the present DAGR Chair, Stacey Harris-Papaioannou, we can hear in Steve's own words a short version of how he ended up in the land known as the "Birthplace of Democracy" — and met his soul-mate, love of his life, and when marriage became legal for all couples in the USA, his husband. In Steve's words:
"I arrived in Greece in 1981, for a two-year stint as a teacher. Thirty-eight years on, I am still here! I met my future partner and husband, Dr. Anthony Rompos, in 1982.
In 2013, we were married in Massachusetts; in 2016, we had our 15-minutes of fame as the first gay couple to be granted a civil partnership in Greece.
Social and political changes have had a profound personal impact on our lives together. It's a lesson I carry with me every day."
Tony and Steve at that first DAGR Athens Pride booth, 2016
Independently of Steve, Nikki immigrated to Greece in 1983. As she explained, "So much of my life in Greece has to do with Steve. In fact, he's the one who got me actively involved in Dems Abroad in the first place! It was 2015 - the year he was running for Vice Chair of DAGR and Karen Lee was running for Chair. Steve called me up and asked me to come to the annual meeting. He was worried that the group wouldn't have a quorum. I agreed to do it, but when we got there, he said, 'You really should also volunteer for something and be involved.'"
Nikki said she looked through the list of volunteer opportunities, saw the one for events, and then found herself saying, "Well, since my background is in advertising and marketing, I can help out with events. By the end of the meeting, after the vote, Karen came over to me and said, "So, OK, you're the new Events Chair!"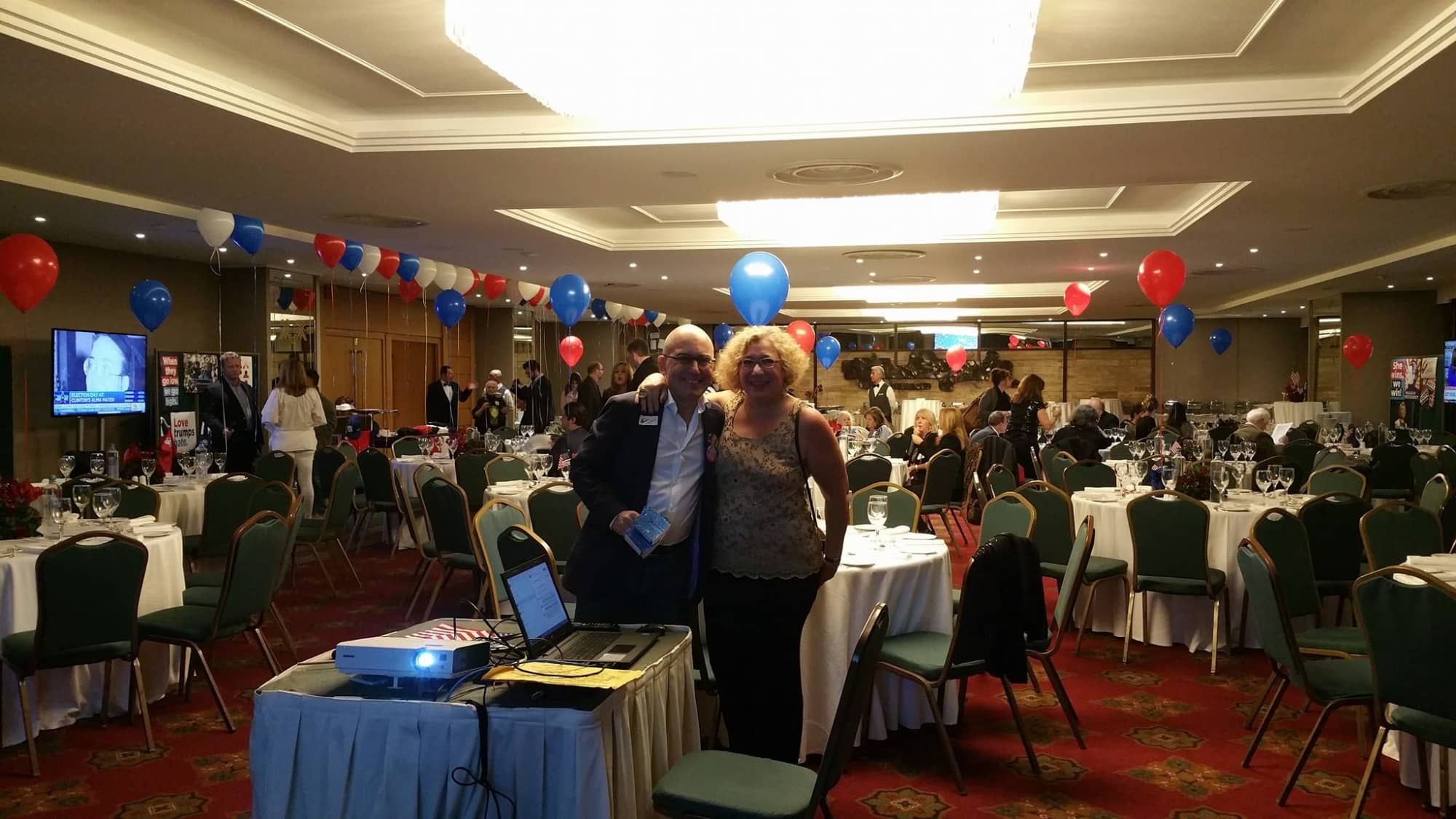 Steve and Nikki at the 2016 Election Watch party
Nikki retains that position today — with five 4th of July celebrations, countless film nights, debate and election watches and two DA regional meeting bids to her credit.
"Steve did a lot for Dems Abroad Greece and the LBGQT movement here in Greece, so it's fitting that he be remembered. But he would hate to be portrayed as a saint!" Nikki added – and we both laughed. I find myself wishing I had had the chance to laugh with Steve, too, and ask him directly about this "saint" business.

But saint or not, Steve dedicated large amounts of his "free time" to his activism and volunteer work, especially with DAGR. As Stacey wrote in the tribute to Steve linked above, "Democrats Abroad enjoyed his leadership skills first as Counsel (2012), next as Athens Chapter Chair (2013), then Vice-Chair (2015, 2017) and DAGR Chair (2019).
As 2015 chair, Karen Lee, said, "DAGR had had some upheavals after 2008. It takes time to regain lost momentum. Yvette Jarvis held one term; Alec Mally stepped up for another. When Alec decided not to run for a 2nd term in 2015, Steve and I were 'next in line,' but he was still working fulltime at ACS. I was semi-retired. So, I went for chair and he took vice chair. I often said we were like Siamese twins, joined at the heart and brain. Over the next four years, Steve attended every monthly regional call (online) with me, and usually an hour on the phone afterwards, discussing our take-aways for action. Those were in addition to usually an hour by phone every Saturday (Steve's day off 1) and a lot of Sundays at the edra (headquarters) cleaning, painting and plotting. We shared a respect for: plan, execute, evaluate, plan again." For more on Steve's work in DAGR, 2015-2018, go here.

By the time Athens PRIDE was held on the 8th of June, 2019, Steve had already been living with prostate cancer for some four and a half years. He'd undergone various medical treatments to slow the disease's progress, including an experimental therapy in Germany. Tony told me that, "Steve made jokes about it and said, 'They are giving me radiactive waste.'"
Tony, who is such an amazing man in his own right, spoke with me candidly -- and heartbreakingly -- about this time in his and Steve's life together. "There were already metastases, there was no hope for a cure. But Steve didn't give up – he never gave up. He had kept travelling for his work until he retired from the American Community School in 2018. He knew he had a deadline. He also spent hours with his work for the Dems Abroad. It gave him happiness and strength. He was always so devoted to PRIDE week, too. He was so brave and never complained about his pain, but would just always say, "It will pass."
Despite his deteriorating condition, Steve was able to attend the 2019 Athens Pride Event and remarked at the time, "Amazing to watch out and proud Athenians come together with their fellow citizens to celebrate Pride and support and promote the rights of LGBTQ citizens in Greece. DAGR is proud to have once again been a part of this clarion call for dignity, freedom and equality for all! Though much has been accomplished, this is no time for complacency. Under the Trump administration, LGBTQ rights are again under attack across America. We must remain vigilant and keep up the fight."

During Steve's time as DAGR Chair, Stacy was serving as the group's Vice Chair. In my explorations of Steve's life, I asked Stacey to share with me a favorite memory or thought about Steve. Here is her reply in its fullness.
"The last time I was with Steve was on September 11. We had agreed to meet to review some venues surrounding the Acropolis for the upcoming Democrats Abroad Regional meeting. He had spent the better part of the spring and summer commuting back and forth to Germany for experimental treatments to try and halt his cancer. On that day, we probably covered two kilometers in the beating sun on a 30° Celsius Athens morning. He finally had to take a break. He was already so thin.
As we sat on a bench under the sacred rock and he guzzled water, I asked when he was going back to Germany and if that would interfere with our work for the regional meeting. He told me there would be no return. The treatment had failed. There was nothing more to be done.
I froze. He was on a ticking clock that at some point would stop. He joked that he was "already past his 'expiration date' as he had survived for five years" since his initial diagnosis. Steve had no notion of how much time he had left and yet, he was dedicated to doing whatever he could to make the conference a success. It was actually one of his last acts on behalf of Democrats Abroad Greece.
If it had been me, I probably would have been checking items off the bucket list of travel and adventure. Instead, he was in Athens, pounding the pavement with me in search of venues. After that he deteriorated rapidly and was unable to attend the conference that ran in early October. But he was dedicated to doing good for the organization for as long as he could… Two months later we attended his memorial service.
Steve did keep up the fight, but, "He knew, I knew he was dying," Tony said. "As the time came ever closer, he told me, 'Finally, I am very curious to find out about what death is … I'm not afraid.'"

The 2019 ExCom and friends, AGM, January. Three generations: Stacey, front left, just elected vice chair; Steve, behind, new chair, next to Karen, outgoing chair, and Nikki, front right.

On November 7, 2019, Steve Medeiros breathed his last breath at the age of 63. "He died at our home and in my arms," Tony told me quietly, in a calm, yet sad voice.
In sharing about his life after Steve's passing and especially when talking about his year of mourning in lockdown here in Greece, Tony said, "I have discovered a wisdom of loneliness…I know I am privileged because I lived a life with Steve that was filled with a love that many people can only dream about. Steve taught me so many things and changed me in so many ways. He was calm, educated, an exceptional teacher…and stubborn and passionate and persistent about working for justice and human rights. I thank the universe for him because the life I had with Steve makes me so full and complete. And, well, he lives on in me."
Stacey, who became DAGR Chair after Steve's passing told me a bit about what she had learned from him – and how he continues to inspire her.
 "Steve was one of the most patient individuals I have ever met. Perhaps it was a carry-over from his talent as an educator but I want to believe that was an innate ability he carried with him throughout his life. He listened to people, heard them out, no matter how far out the discussion. And we were privy to some doozies at both our local and global meetings. When I suddenly found myself grieving the loss of a dear man and going from his shadow to number one for the organization, it was Steve's example of patience and tolerance that helped me take on the mantle of country chair for Democrats Abroad Greece. 
To begin wrapping up, no portrait, or color-saturated tapestry of Steve's life can be complete without acknowledging his amazing dedication to his profession as a teacher. He was an intellectual and ethical educator who believed in putting students first. He began his almost four-decade long career at the American Community School Athens as a faculty member and from there, went on to serve as the school's Principal, then Dean of Academic Affairs and as the first ever Dean of the Institute of Innovation and Creativity. This central part of Steve's life is captured in a moving November 2019 video tribute.  
Perhaps, though, the best judges of Steve's teaching are the students fortunate enough have been in his classroom, for example:. "At a time where true sensitivity, ethos and vision were a rare find, Steve Medeiros was one of those people who dropped a golden seed in our hearts and taught us to think, to dream and to be better people."
It seems to me, having spent a few days in June of 2022 having an intensive course into the life of Steve Medeiros (without him being here to help teach me,) it is only fitting to leave the "last words" in this portrayal to Tony. Here's his account of how he and Steve met.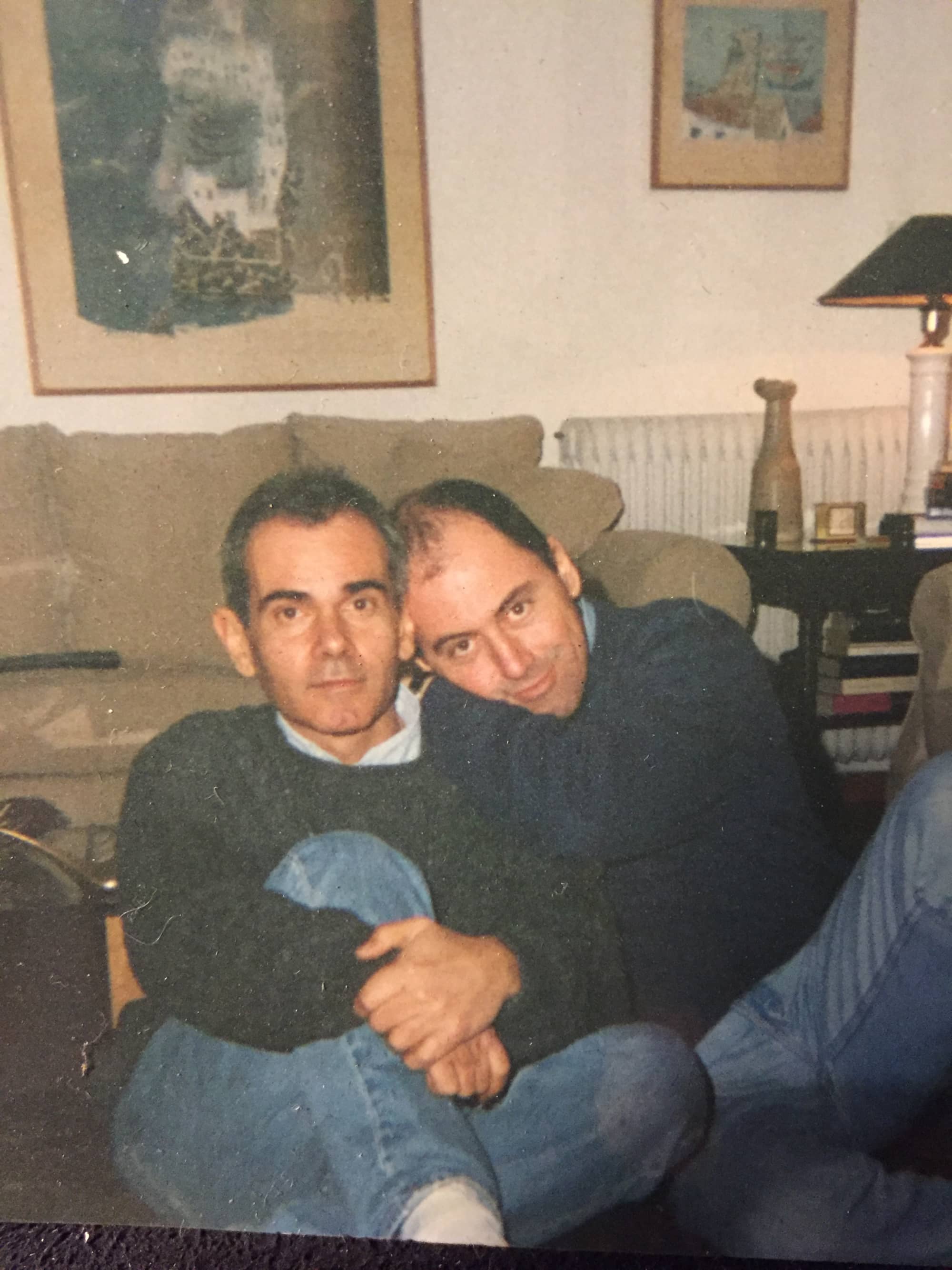 "It was in at the time, one of only two gay bars in Greece," Tony explained. "He was smoking, he was a heavy smoker and I thought, "What does this guy from an Athens suburb want with me? We spoke together. I was convinced he was Greek. Then, he tried to ask me to speak more slowly, but he mixed up the Greek words, and instead, asked me to speak in a lower, quieter voice — but I hadn't been speaking loudly at all. So we switched to English and then, I first saw his soul. We  just enjoyed the presence of each other"
Tony then told me that during their long and loving life travelling side by side, he and Steve never had what you could call a "major fight," or horrible harsh words. Though it is true that Steve apparently had some habit with the toothpaste tube that caused a tiny, daily conflict. small daily bit of irritation.
So it seems, I have managed not to create a Saint Steve after all.And yet…getting to know Steve even in this limited, retrospective way has inspired me. (And isn't that the point of saints?) By inspired, I don't mean just to "think about Steve," in a "thoughts and prayers" way, but to act, to concretely answer what he called the "clarion call" and devote more of my time, energy and effort to achieving (and keeping!) for all people:  Dignity. Freedom. and Equality.
As Karen summed it up shortly after Steve's concrete work had to end:
"We honor his service by picking up the baton and carrying it forward!"


###
Do you like this post?