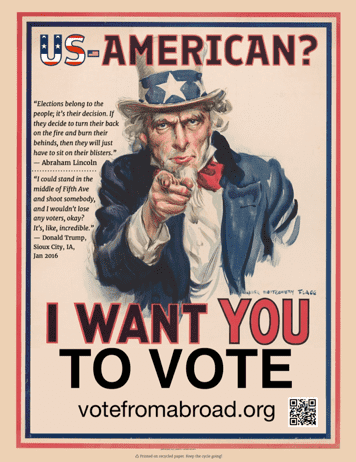 As I am sure many of our members know, the Nov 3, 2020 election is a very consequential electoral event. It is vital that all of our members register in their home state, request a ballot, and send it in. Each state has different registration requirements and deadlines so please, visit https://www.votefromabroad.org/ and get this information for your state.
I want our members to know that DA Canada is working tirelessly to help chapters develop new methods of outreach to our members locally. I have attended and will attend many web-based sessions on social media, print media, and a whole assortment of ideas on how to do outreach "not in person".
Please do contact us and tell us how you are doing. Talk with us about any ideas you might have about ways to contact members at this unusual time. I will be sending emails with information on how we are doing outreach. I hope that many of our members join in on these efforts.
One constant in this outreach is PHONE BANKING. DA has always done this and now this method of outreach has new meaning. This isn't the kind of calling you might be thinking – it's not a cold call asking for money. No, this is DA members calling other DA members reminding them to register, request and send in their absentee ballot. There is info on the web page: https://www.democratsabroad.org/phonebanking Take a look, sign up and get ready for the next calling campaign.
Please stay safe and even as you socially distance, don't forget to ask those you know if THEY are a US citizen (hey, you never know). And if you find one, tell them to go straight to votefromabroad.org and request their absentee ballot and check for their state's requirements.
Randi Weitzner
Chair, Democrats Abroad Montreal
chair-montreal@democratsabroad.ca
http://www.facebook.com/democratsabroadmontreal/
Do you like this post?